Verizon has announced it will launch what it claims is the first nationwide commercial 4G LTE Category M1 network in the US.
The new network will span 2.4 million square miles, built on a virtualized cloud environment, to target customers seeking wireless access solutions for IoT. Verizon claims he Cat M1 is a new class of LTE chipset that is designed for sensors, requiring less power, while supporting an array of use cases in the burgeoning IoT segment…
Years after many of its competitors had already done so, O2 UK has finally switched on VoLTE (naming it 4G calling) and wifi calling.
The accompanying propaganda is pretty standard: VoLTE provides clearer calls and better indoor coverage, while wifi calling provides an alternative source of connectivity in cellular not-spots. Initially, however, both services will only work on eligible iPhone 7 phones, with other devices following in due course…

While the digital economy is driving diversification and fragmentation, traditional broadcasters haven't got too much to worry about just yet.
That was the view of the panellists at TV Connect, who played down the death of traditional TV. Yes there is a clear and marked transition through to the connected world, where content can be consumed through a variety of different channels and an assortment of scenarios, traditional media is far from dead and buried…
NTT Communications is launching a suite of services intended to enhance programmable networking and cloud infrastructure environments.
SDx+M (Software Defined Everything and Management) will include components like hybrid cloud, which will allow customers to combine cloud services from multiple providers with their on-premises systems to connect global offices, Internet of Things (IoT) devices, and smartphones…

Swedish equipment vendor Ericsson is facing more challenges. The company announced today that it will have restructuring charges of between $1.8 billion and $2.4 billion this year as it tries to revamp its struggling business amid slowing sales of 4G equipment and increased competition from Chinese vendors like Huawei and ZTE.
CEO Borje Ekholm, who joined the company in January, said that Ericsson had been spreading itself too thinly and will focus on core businesses like the networks, digital services, IT, and the cloud. The company also said it may consider selling its media and cloud infrastructure hardware businesses that have been unprofitable…

The European Telecommunication Standards Institute (ETSI) changed the name of its Mobile Edge Computing (MEC) Industry Specification Group (ISG) to Multi-access Edge Computing to better reflect the challenges and requirements that non-cellular operators face.
The focus of the group is being expanded to deal with multiple MEC hosts being deployed in multiple networks, owned by various operators that are running edge applications collaboratively. This reflects the group's desire to not limit itself to mobile and to offer support for both wired and wireless technologies…

New research from Strategy Analytics estimates the number of cellular IoT connections will increase to 2.4 billion in 2025.
The growth itself will primarily be fuelled by the automotive, utilities and security segments, accounting for over 46% of the total global IoT cellular connections by 2025. The Automotive segment will not only retain its position at the top of the pile, but will increase its market share throughout the period also…
The Dutch Internet connectivity provider A2B Internet selected Juniper Networks' vMX virtual routers as the first virtual network function (VNF) in its network.
A2B Internet provides connectivity to Internet service providers as well as to cloud, hosting, and enterprise customers. Its previous routing solution was no longer able to handle the scale of A2B Internet's data connections. And the company also wanted to speed the "convergence time" between a link failure or change and the time it took to recompute its routing tables…

UK telecoms regulator Ofcom has found BT guilty of a 'serious breach' of its rules regarding compensation payments for late installations to Openreach customers.
As a result Ofcom has hit BT with a record £42 million fine, reduced from £60 million due to BT's acceptance of full liability and its agreement to make up the difference in compensation owed to those customers, which could amount to £300 million, according to BT's estimates of how the subsequent negotiations will play out…
Arris expects to grow by increasing market share, based both on new technology developed in-house and on acquired technologies, the company told investors today.
Arris recently said it was buying the Wi-Fi assets of the former Ruckus Wireless, which are now owned by Brocade, as well as the ICX product line of campus switches from Brocade. (These assets will be purchased from Broadcom, which is in the process of buying Brocade)…
Google's attempts to contain its YouTube advertiser crisis seem to be failing with AT&T and Verizon both pulling all their ads from the platform.
Recode published statements from both companies. "We are deeply concerned that our ads may have appeared alongside YouTube content promoting terrorism and hate," said AT&T. "Until Google can ensure this won't happen again, we are removing our ads from Google's non-search platforms."
"Once we were notified that our ads were appearing on non-sanctioned websites, we took immediate action to suspend this type of ad placement and launched an investigation," said Verizon. "We are working with all of our digital advertising partners to understand the weak links so we can prevent this from happening in the future."…
Nokia has made a jump-start on the low-band 600 MHz spectrum, through completing the first pre-standard 600 MHz LTE call using commercially-available hardware.
The 600 MHz is an attractive one to the FCC and operators primarily because of the range which it offers in terms of mobile broadband. When you look at the vast expanse of the US and the number of rural communities which are currently being underserved in an increasingly digital world, the band becomes even more attractive…
At a cable event in Denver this week, it looked like cable operators might finally reveal what they're doing in their networks in terms of virtualization, but alas, that was not to be.
Jeff Finkelstein, executive director of advanced access architectures with Cox Communications, could have talked about the company's virtualization work in his keynote to the audience of cable operators and vendors at Light Readings' Cable Next-Gen Technologies & Strategies event. But instead, he re-hashed Cox's technology history…
AT&T has taken one of its first significant steps towards the IoT-centric world, announcing a new tie up with IBM Watson focused around Industry IoT.
The partnership will make use of AT&T's footprint in the enterprise market and the artificial intelligence platform of IBM Watson, to help customers move towards the much promised and early awaited proactive business model.
"We have more than 30 million connected devices on our network today and that number continues to grow – primarily driven by enterprise adoption," said Chris Penrose, President, IoT Solutions, AT&T.  "Businesses are eager for actionable data insights from their connected devices that help improve their processes and take the guesswork out of decision-making.  Integrating the IBM Watson Data Platform into our IoT capabilities will be huge for our enterprise customers."..
Mariner xVu™ is pleased to announce that TDC Group, Denmark's largest telecoms operator, will deploy Mariner's multi-award-winning xVu software as part of its announced strategic initiative to deliver best-in-class customer satisfaction and to enhance the organization's Service Experience Monitoring (SEM) project. TDC's SEM team saw value in the xVu software's excellent reputation for delivering end-to-end network and content visibility on a massive scale, while immediately enhancing its ability to respond to in-home problems, where customer issues often start.
Mariner xVu, a leading global provider of IP video solutions for pay TV, streaming, and broadband/Wi-Fi networks, was chosen for its real-time capabilities, customer care applications, and efficiencies gained through implementation of proven industry best practices. By providing deep and comprehensive analytics across various delivery platforms, the TDC will have a customer view that includes traffic utilization, CPE devices, applications, and services, allowing them to more proactively handle and resolve both network and individual customer issues….
Telco group Altice has entered into an agreement to acquire online video advertising marketplace Teads in a deal worth €285 million.
The acquisition adds another component to Altice's global advertising strategy, which will see the telco provide customers with data-driven, audience-based advertising solutions on multiscreen platforms including TV, digital, mobile and tablets.
Altice was quick to mention the Teads business itself is a strong enough performer to stand-alone following the acquisition, however it believes the first-party data which the telco can provide will enhance the proposition further. Teads is claimed to be the leading video advertising marketplace worldwide, with an audience of more than 1.2 billion unique visitors including 720 million via mobile…
AT&T said it used an internally developed software-defined networking (SDN) controller to help the company complete the first part of a multi-phase trial testing 400 Gb/s Ethernet (GbE) data speeds. During the trial, AT&T was able to establish a 400 GbE connection between New York and Washington, D.C.
An AT&T spokesman told SDxCentral that the SDN controller operates in the company's Enhanced Control, Orchestration, and Management (ECOMP) framework using an OpenDaylight design. AT&T originally created ECOMP, but the platform is now in the process of being merged with the Open-O project by the Linux Foundation. The new name for the combined group is the Open Network Automation Platform (ONAP)…
A quirky addition to the Openreach charm offensive sees BT using virtual reality to give prospective engineers a taste of telecoms glamour.
The underlying message is "we're recruiting loads more Openreach engineers to improve its service so just back off Ofcom, Sky, etc." In an attempt to score a double PR win BT is focusing on trainees, so it will be able to use worthy phrases such as 'investing in Britain'.
But it seems not every aspiring young professional views laying cable as their dream vocation, so BT is employing the latest technology to help them appreciate the buzz of being a field engineer. Strapping on a VR headset will transport the budding worker from their humdrum daily lives to a magical alternative reality that might include climbing a telephone pole or exploring the local exchange…

The mobile virtual network operator (MVNO) is a concept that has been around for more than a decade, but with the advent of 5G and network slicing, the virtual operator of the future could look a lot different than it does today.
Today, MVNOs like Boost Mobile or Tracfone offer wireless services to consumers, but they do not deploy their own network infrastructure. Instead, they pay wireless operators like Sprint for the network capacity that their customers consume…
Software-defined networking (SDN) to date has been around virtualizing and controlling Layer 1/2/3 services inside a fixed amount of optical capacity.
And when optical vendors are quizzed as to why they aren't using SDN, they say "it's hard." They'll often say that optical transport is as much an art as a science. There are all kinds of variables that come into play at the optical layer where different colors of light are shot down a piece of fiber. Those variables include the fiber itself, as well as changing temperatures and impurities that can impact the wavelengths of light…
As part of the Facebook-initiated Telecom Infra Project (TIP), Telia Carrier trialed Facebook's new Voyager white box transponder on one of its network routes in Europe.
Voyager is based on an open source system that combines packet technology for switching and routing, along with optical transponder technology. Facebook is making the Voyager converged transponder and IP/MPLS white box solution available to those involved with TIP.
Telia Carrier owns and operates a global fiber-optic network infrastructure, servicing customers in 80 different countries. Facebook completed a successful trial of 100G and 200G using Voyager gear on Telia Carrier's 677-mile Stockholm to Hamburg route…
Vodafone Spain has signed a wholesale deal with Telefónica to use its fibre network, even in areas where there is no regulatory compulsion to play nice.
While the deal is reminiscent of the situation in the UK, where former state monopoly has to offer wholesale fixed network services via Openreach, this one seems to be wholly commercial as it goes beyond anything mandated by Spanish regulators…
Verizon's new Exponent venture offers digital technologies to other carriers, particularly non-competing carriers outside of the U.S.
Exponent offers a foundation for other carriers to fuel their digital transformation through five technologies: big data and artificial intelligence (AI), Internet of Things (IoT), media services, Internet services delivery, and cloud computing and storage…
The European Commission has given AT&T the thumbs up for its $85 billion acquisition of Time Warner, meaning US regulators are the final hurdle for the deal.
Gaining approval from the European Commission was not an inconsequential step for the team, as the boresome bureaucrat has a habit of being awkward in situations which involve competition. The deal is now expected to close by the end of the year.
"This is an important approval from a highly respected authority," said said Bob Quinn, SVP of AT&T's External and Legislative Affairs. "The global clearance process is on track, and we look forward to creating a company that will lead the next wave of innovation in the media and telecommunications industries."..
AT&T says it could deliver mobile commercial 5G services to consumers as soon as late 2018. Previously, the operator had indicated that commercial 5G services would not be ready until late 2019 or even 2020.
In a blog post, AT&T's CTO and President of AT&T Labs Andre Fuetsch praised the 3GPP for fast-tracking the non-standalone 5G New Radio (NR) specification to December 2017 instead of March 2018. This acceleration, Fuetsch said, means that key components of the 5G standards, like chipset development, can be completed months ahead of the full release of the 3GPP Release 15 5G standard…
Nokia got a big win with Vodafone Group to help the service provider virtualize its data centers around the globe. Vodafone's virtualization project is internally named "Project Ocean." It's a group-wide transformation to virtualize its network and compute infrastructure and to use cloud technology.
Nokia's Nuage Networks business unit will be the supplier of software-defined networking (SDN) for all of Vodafone's data centers. Nuage's Virtualized Services Platform (VSP) is at the heart of the efforts…
It looks like Yahoo got the better of negotiations with Verizon following the revelation of a number of major data breaches after the initial take-over bid.
A few weeks ago it was announced that Verizon had managed to shave $350 million off the price of acquiring the core internet business of Yahoo in the light of the beaches. At the time that seemed quite a small proportion of the nearly $5 billion acquisition cost of the company, considering the severity of the incidents, and a recent Yahoo filing reveals Verizon wanted almost three times as much off.
Reflecting on conversations between the top brass of each company in the light of the security revelations, the filing reviewed the options proposed at the time. "Verizon could complete its evaluation of the impact of the Security Incidents on the Business over the next several months, after which Verizon would decide how to proceed and whether to assert any legal rights against Yahoo…
The telecom service assurance market size is estimated to grow from USD 4.30 billion in 2016 to USD 7.01 billion by 2021, at a Compound Annual Growth Rate (CAGR) of 10.3%. The market is driven by factors, such as need for high optimization & increased cost savings, voluminous increase in the number of subscribers, and ability to measure the performance of a service and Quality of Service (QoS)
The Global Telecom Service Assurance Market is valued at USD 3.68 billion in 2016 and is expected to reach a value of USD 5.71 billion by the end of 2022, growing at a projected CAGR of 7.6% during the forecast period of 2017 – 2022.
BARCELONA, Spain — Cisco CEO Chuck Robbins told a group of journalists today at a meeting at Mobile World Congress that "We will lead the networking industry in SDN." He said Cisco will lead with a defined architecture for software-based automation.
But true to Cisco form, Robbins championed the continued value of hardware. "The Internet and the traffic that runs on the Internet I think is increasing," quipped Robbins. "I don't think increased traffic loads is going to result in a demand for less hardware. Software gives the capability to run these infrastructures in these networks in a more efficient and automated way. But I think there will always be a need for hardware."…
BARCELONA, Spain — AT&T now has more than 80 zones in its AT&T Integrated Cloud (AIC), according to Andre Fuetsch, president of AT&T Labs and chief technology officer. AIC, which runs on OpenStack, forms the foundation for its network virtualization efforts.
"AIC zones are the physical locations around the world where we run virtual network functions," writes Fuetsch in an AT&T corporate blog. "AIC is how we're bringing the network to the cloud. We have more than 80 AIC zones now, and we plan to have over 100 by the end of the year."…
At TM Forum Live! 2017 in Nice in May, Dr. Vikram Saksena, Chief Solutions Architect – Office of the CTO, NetScout, will deliver a case study with Swisscom on service assurance in the era of virtualization. Here he looks at the changing role of service assurance in  virtualized networks.
As we continue to move towards 5G, carriers are under more pressure than ever to deliver a consistent Quality of Experience (QoE) for a user base now heavily reliant on data services. This is having a direct impact on the way they look to approach new service rollout, and also service assurance. Carriers are increasingly making plans to virtualize new service offerings and phase out physical network hardware and make way for virtualized alternatives that are designed to simplify operations and improve network functions previously performed by proprietary hardware. But they are also realizing that making this a reality will not be straightforward…
Arris' rumored acquisition of Brocade's IP networking business became a partial reality today when the cable-equipment vendor announced that it will buy the Ruckus Wireless and ICX Switch business for $800 million in cash.
Ruckus COO Dan Rabinovitsj would lead the business as a separate unit within Arris. He would be joined by an additional 1,600 Ruckus employees…
Verizon says it will offer pre-commercial 5G services to pilot customers in 11 markets by mid-year. Those markets include Ann Arbor, Michigan; Atlanta; Bernardsville, New Jersey; Brockton, Massachusetts; Dallas; Denver; Houston; Miami; Sacramento, California; Seattle; and Washington, D.C.
Verizon says its 5G pre-commercial network currently includes several hundred cell sites covering several thousand customer locations. The pilot markets will leverage technology that it has deployed in collaboration with its 5G Technology Forum partners…
Comcast Cable is working with the Central Office Re-architected as a Datacenter (CORD) open source project to virtualize the cable modem termination system (CMTS), SDxCentral has learned.
Millions of cable subscribers throughout the United States access the Internet via residential cable modems. These modems connect to hybrid fiber coaxial cables, which terminate at a piece of equipment — a CMTS — typically located in a cable company's headend…
The 3GPP has unveiled the official 5G brand, in apparent resignation to the inevitability of everyone banging on about 5G regardless of whether it officially exists.
Now there is nothing to restrain rabid telecoms marketing professionals from coating every minute gesture made by their employers with a wash of 5G-ness. 'If you like 4G you're going to love 5G' is the thought process driving marketers into a frenzy of messaging and evangelising. It's one more you see. 5G is one better than 4G – what's not to like?
As if they needed any further encouragement the 3GPP is actively encouraging indiscriminate use of the logo. "Implementers wishing to declare conformity to the 3GPP specifications may mark their equipment and documentation with the 5G logo," urges the announcement…
Microsoft's Azure Stack picked up another big-name server vendor, as Cisco today announced it will offer the software on UCS hardware.
Azure Stack is essentially a slice of the Microsoft public cloud that an enterprise can run in private, either inside its own data center or at the customer premises…
Nokia fancies itself as a software player, so what better way to start than the acquisition of a Finnish OSS company?
That seems to be the logic behind dropping €347 million on Comptel, which has been involved in telecoms software for 30 years. As Nokia detailed at its recent capital markets day diversification is vital in an era when operators are reluctant to spend in networking gear and a standalone software business was identified as the single most important direction to move towards (see slide below)…
Mobile phones have become really important, we're told, while spectrum is, like, the air that the internet flies around in.
Apart from the apparent need to explain 5G in words of one syllable the Ofcom document, entitled 'Update on 5G spectrum in the UK', seems to have been published to show what a central role Ofcom is playing in bringing 5G about. "Ofcom is playing a leading role internationally in the identification of spectrum bands for 5G having acknowledged the need for different spectrum bands with different characteristics to meet the requirements of future 5G services and networks," the report proudly announces…
Google has found a surprising friend in BT for its battle to prove it doesn't have monopoly intentions with its Android operating system.
Executives at BT, which also happens to own the UK's largest mobile operator EE as well as wholesale business Openreach, have written to the European Commission (hereafter known as the Gaggle of Red-tapers) to show its support in Google's on-going anti-trust battle with the bureaucrats. Google is accused of using its dominant position to suffocate competition as handset manufacturers and operators have to pre-install Google apps.
Google has been formally accused by the Gaggle of Red-tapers of locking out competitors in the mobile web browsers and search segments, an area which has clear overwhelmingly dominated since Google's entry.
"Google has come up with many innovative products that have made a difference to our lives," said Margrethe Vestager, the top Red-taper for competition, back in July. "But that doesn't give Google the right to deny other companies the chance to compete and innovate."…
New research from XCellAir claims the industry is missing out on a $6.7 billion payday, as the managed wifi segment continues to be largely ignored.
XCellAir, which it should be noted operates in the managed wifi segment, believes 15% of consumers would be willing to pay for a wifi service to be managed by their service provider or a third party, paying on average $34 per year. While those numbers may not appear to be massive, XCellAir has calculated the its $6.7 billion figure through revenue lost from consumers willing to pay for managed wifi services, as well as OPEX savings from a reduction in helpline calls and engineer visits. Cash received from the service would total $3.3 billion, whereas savings would be 'as much as $3.4 billion'.
While the claim seems to make sense, there is a degree of creativity around the numbers. Demonstrating money saved is a difficult one, and the use of 'as much as' is a very good way of extending a number to as high as possible. That is not to say there is not money to be made in the segment; if something can be outsourced by the increasingly lazy and demanding millennials, they will most likely pay for it…
Commercial 5G networks may not launch until 2020, but subscriber growth on the new networks will likely be fast. According to Cisco's annual global mobile data study, 5G connections will top 25 million by 2021 and will generate 30 Gigabytes of data per month, nearly 5 times the amount of data generated by 4G connections in 2016.
The study also says that 5G will account for about 1.5 percent of mobile data traffic in 2021. 2G data, meanwhile, will drop to less than 0.6 percent of mobile data traffic as wireless operators globally migrate traffic to higher speed networks.
Nokia today announced Cloud Packet Core, a product that spans mobile technology as well as IP networking.
Now that Alcatel-Lucent has been merged into the company, Nokia is starting to roll out products based on its larger technology portfolio. And it didn't want to simply virtualize existing products, but rather it wanted to consider the bigger picture of technology for the future…
February 3, 2017: Arista Adds DANZ Monitoring to its Universal Leaf and Spine
Arista Networks is adding its DANZ monitoring capabilities to its R-Series of switches.
The company first rolled out DANZ in 2013, and not much has been heard about it since. But Arista says the 2017 version of the technology now supports its R-Series Universal Leaf and Spine, which is its combined switching/routing platform.
Previously DANZ supported the company's 7150 switches.
"We're bringing it to more generally applicable hardware platforms," says Joe Hielscher, Arista's director of strategic technologies.
The analysis technology is a feature set in the company's Extensible Operating System (EOS) software…
Synergy Research has released its latest findings for the global cloud computing market, painting a worrying picture for any challengers looking to cash in on the craze.
AWS has unsurprisingly maintained its position as the number one player, as well as Google Cloud, Microsoft Azure and IBM controlling the next three positions, but the chasing back are falling further behind for another quarter. Together, all four now account for 63% of worldwide public IaaS and PaaS revenues, with a huge number of other companies fighting for the remaining scraps. This is in fact five percentage points more than the same period in 2015…
Many service providers have deployed network function virtualization (NFV) software but few have the tools in place to orchestrate and manage NFV software from multiple vendors. To foster interoperability, a series of initiatives and services have been launched to help organizations determine what NFV software is compatible with a specific management and network orchestration (MANO) platforms.
Here is a list of some of the NFV interoperability initiatives:

ETSI has launched a series of "plug-fest" events as part of its role in defining standards for the telecommunications industry. Participants include nearly 30 leading vendors.
Canonical has launched a VNF Performance Interoperability Lab that is an extension of the interoperability work is performs for the OpenStack community.
CNLabs has developed a series of NFV interoperability test programs.
CableLabs' subsidiary Kyrio has an SDN/NFV interoperability lab available to all network operators and equipment vendors.
The University of New Hampshire has an Interoperability Lab that is organizing plugfests and providing testing services for a fee.
Spirent provides access to a suite of NFV and SDN testing services as part of its professional services offerings.
IXIA has worked with partners to create a suite of NFV interoperability tests that organizations can employ to test both performance and portability.
The New IP Agency (NIA) and EANTC have published the results of a series of NFV interoperability tests.
Cisco, Ericsson, Huawei, and Nokia have signed a Memorandum of Understanding (MoU) to create the NFV Interoperability Testing Initiative.

Plus, vendors that have made major investments in MANO platforms for NFV environments are also validating NFV interoperability across their platforms. HPE, for example, has an OpenNFV partner program through which it tests and validates NFV interoperability…
Traffic visibility company Gigamon reported weak fourth-quarter earnings today, as expected, and followed up by saying its first-quarter outlook is significantly lower than recent quarters'.
For its fourth quarter, Gigamon reported revenues of $85 million — in its expected range of between $84.5 million and $85 million stated in its pre-earnings announcement. The company's originally guided range was between $91 million and $93 million…
The industry promised us it was going to work together to deliver 5G, and maybe we should be grateful it lasted this long, but AT&T's latest announcement signals 5G friendliness is over.
Instead of waiting until 2020 and finishing the 5G race with everyone else, AT&T is making its move with the announcement of 5G Evolution Markets in Austin and Indianapolis at an event attended by Light Reading. With both cities being marked as testbeds for the 5G ambitions of the telco, the team claim it will produce a wireless network to offer theoretical peak speeds of 400Mbps.
The testbeds will include dedicated 5G outdoor and indoor test locations, as well as flexible infrastructure to allow modifications and updates as 5G standards develop, in what seems to be a token gesture to standardization bodies who are desperately trying to avoid the same fragmentation issues which were seen during the 4G migration…
Actually, it's not that great, but not that bad either. Facebook has launched a new feature on its news feed which will use artificial intelligence to try to reduce misleading, sensationalist or fake news.
The News Feed will now assess the relevance and authenticity of a post on how well received it is by others in your network. If there is a topic which you have previously indicated interest in this will normally feature on the News Feed, though now Facebook will measure the number of comments to measure the authenticity of the post, and judge whether it is more or less relevant to you, dependent on who commented on it…
AT&T finally made it official and today announced its ECOMP platform as an open source project hosted by the Linux Foundation.
AT&T developed the Enhanced Control, Orchestration, Management, and Policy (ECOMP) software in-house. It provides a framework for real-time, policy-driven software automation of virtual network functions (VNFs). The carrier says it is already production-ready, having been in use for two years, internally…
AT&T quietly revealed yesterday that it has agreed to acquire FiberTower and its millimeter wave (mmWave) spectrum assets as part of its 5G network strategy. Financial details of the transaction were not revealed.
The carrier said it plans to deploy small cells using a centralized RAN (C-RAN) architecture that incorporates mmWave spectrum. The goal is to use small cells to densify its network in urban areas, which in turn will add capacity and provide the foundation for 5G. The company added that the C-RAN architecture will allow it to store all the "brains" of each small cell or tower in one location. That strategy will then make it easier for AT&T to transition to a network that relies on software-defined networking (SDN)…
Nokia has announced Sky has deployed its Velocix Content Delivery Network to underpin its expansion of on-demand premium video offering.
Deployment of the Nokia Velocix CDN allows Sky to temporarily cache content closer to customers in localized cloud data centres to reduce transportation costs and improve the customer experience. While Sky would still be considered one of the leading content providers in the UK, it has been facing tough competition from the likes of BT and Netflix…
In June 2016 Cisco unveiled its big Tetration Analytics platform to monitor everything in data centers. Analysts quickly added up the listed prices for the equipment and software, estimating a cost of $3 million for Tetration.
Today, Cisco announced a smaller-scale version of Tetration and provided updates on the costs of the platform…
UK telecoms regulator wasted no time reminding BT who wears the trousers after the giant telco unveiled a couple of supposedly independent Openreach board members.
Establishment stalwarts Sir Brendan Barber and Edward Astle have been appointed by Openreach to its newly-formed board, chaired by Mike McTighe. The board immediately had a meeting to show what a proper, fully-functioning board it is, and the meeting is thought to have gone well.
The fact that Barber and Astle are apparently employed by Openreach in no way affects their independence, whatsoever. For those bitter cynics still not appeased by this move BT has added Clive Selley, Openreach CEO; Clare Sadlier, Openreach CFO; and Simon Lowth, BT Group Finance Director to the board which will, as a consequence, be more independent than a hermit reading the Independent on Independence Day.
"I understand that customers sometimes feel let down by Openreach because we haven't always delivered the service they expect or that we hope to provide," said McTighe. "We have made a lot of progress since Clive Selley joined as CEO a year ago – for example on halving the number of missed appointments, making our fibre network available to millions more people and accelerating our plan to introduce a new generation of ultrafast technology…
The OSS BSS system and platform market is highly fragmented and the top five players held approximately 40% of the market in 2015. The leading players – Telefonaktiebolaget LM Ericsson, Amdocs Ltd., Accenture Plc, Hewlett-Packard Company, and Nokia Siemens – are focused on expanding their OSS/BSS businesses in emerging economies.
Transparency Market Research notes that there is intense competition in the industry owing to low entry barriers. In order to sustain in this highly competitive environment, most companies are aiming for long-term alliances with MNOs. Companies are also offering comprehensive OSS and BSS solutions along with service delivery platforms to gain a competitive edge over their counterparts.
Get More Information :
www.transparencymarketresearch.com/sample/sample.php?flag…
The opportunity presented by the global OSS BSS system and platform market amounted to US$29.11 bn in 2015 and is slated to be worth US$70.97 bn by the end of the forecast period, advancing at a CAGR of 10.5% therein.
Increased Implementation of OSS BSS Systems and Platforms in North America
By component, BSS dominated the overall market with a 42.5% share in 2015. OSS followed closely behind with a 40.6% share that year. Within the OSS market, service assurance is expected to lead the market through 2024 and also exhibit a strong growth rate during the forecast period. Within the BSS market, customer management emerged as the leading sub-segment, while revenue management will expand at a rapid pace.
North America recorded highest level of implementation for OSS BSS systems and platforms, holding nearly 33% of the global market in 2015. Asia Pacific, on the other hand, is anticipated to witness the fastest growth over the forecast period, expanding at a CAGR of 11.6% from 2016 to 2024…
AT&T is moving forward with Project AirGig and is talking with power companies about testing the technology in at least two markets by this fall. At least one of those markets will be in the U.S., the telco said. The technology is being eyed as a possible key element to the company's 5G deployment because it could conceivably carry high bandwidth traffic at multi-gigabit speeds.
AT&T Labs first unveiled Project AirGig last September and said the technology will allow the company to transmit wireless signals over power lines rather than using fiber. Those initial AirGig experiments led to the development of a new technology called radio distributed antenna system (RDAS), which AT&T said could potentially deliver low-cost broadband connectivity anywhere there are power lines, including small towns and urban markets. Plus, AT&T can leverage the technology outside the U.S. as well…
Nokia is updating its Internet of Things (IoT) platform, called Intelligent Management Platform for All Connected Things (Impact). The goal is to make it easier for customers to deploy new services for IoT such as smart parking, smart lighting, and connected cars.
Nokia Impact was first launched in June 2016 to give service providers, enterprises, and government organizations a standards-based platform to build and scale IoT services. The platform manages data collection, event processing, device management, data contextualization, data analytics, and applications enablement for any device…
Telefónica selected Huawei to build a large-scale virtual evolved packet core (vEPC) network in 13 countries as part of its Unica network virtualization program.
The two companies will deploy the vEPC on 4G LTE networks in 11 countries in Latin America: Brazil, Argentina, Uruguay, México, Colombia, Peru, Panama, Costa Rica, Nicaragua, El Salvador, and Guatemala; and two countries in Europe: Germany and Spain…
Agilent spinoff Keysight is acquiring test-equipment vendor Ixia for roughly $1.6 billion, the companies announced today.
The deal, expected to close by the end of October, would have Keysight paying $19.65 per share for Ixia, a 45 percent premium over Ixia's Dec. 1 price. (Ixia stock climbed significantly after that day as acquisition rumors spread.)..
The testing and measurement industry is set to undergo further consolidation with Keysight adding Ixia to its M&A crusade for $1.6 billion in cash.
Keysight, which was spun out of Agilent in 2014, makes all kinds of electronics testing gear, while Ixia focuses specifically on the telecoms side of things (one of its past acquisitions having been the N2X product line from Agilent back in 2009). Among the usual talk of synergies and end-to-end solutions Keysight seems to be saying a stronger telecoms offering will make it a better business.
"The proposed acquisition of Ixia is in direct alignment with our strategy to transform Keysight for growth and is 100 percent complementary to our business," said Ron Nersesian, Keysight boss. "The combination creates a powerful innovation engine to fuel growth, expands our software-centric solutions and builds new opportunities through sales and technology leverage. Ixia also brings a world-class level of talent, and together, we will provide leading-edge solutions that address the fastest-growing communications and networking trends including 5G, IoT, visibility, security and application performance."..
Nokia and Orange have announced yet another partnership focused on the development of services on 5Gnetworks.
As part of the agreement, the pair will focus on making the transition from 4G to 5G network connectivity a pain free job, to pave the way for such innovations as smarter cities, connected vehicles and remote healthcare. This work will also include the application of ultra-broadband leveraging new frequency bands, cloud RAN and massive MIMO, IoT, end-to-end network slicing techniques and energy efficiency.
Rumour has it two of the largest telcos in the US are having hushed conversations over a potential merger of Verizon and Charter.
According to the Wall Street Journal, representatives from both sides are having preliminary talks though nothing has been put on the table yet. Verizon is currently the largest wireless provider in the US, and following Charter's acquisition of Time Warner Cable, it is the second-largest provider of cable, only behind Comcast, a merger between the two would create one of the largest telcos worldwide.
Although such a deal would have faced heavy regulatory scrutiny in the previous administration, the appointment of Republican Commissioner Ajit Pai as Chairperson of the FCC could see a change in the regulatory environment. Pai is one politician who has typically been sympathetic to the pleas of the telco industry, many of whom have suffered under the success of the OTTs, and does seem to be open to new ideas…
The access part of networks has largely been left out of the discussion when it comes to software-defined networking (SDN). But this week Calix announced some technology that expedites software improvements in the access network — its AXOS Sandbox.
Calix's products facilitate last-mile connectivity to residences and businesses. That last mile connectivity could include DSL, fiber, GPON, and active point-to-point gigabit Ethernet. The company's customers include both Tier 2 and Tier 3 telcos and cable providers worldwide. It has provided access hardware systems since the founding of the company 17 years ago…
Software-defined networking (SDN) is having trouble moving beyond the trial phase. According to a research note by IHS Markit analyst Cliff Grossner from the 2016 Data Center SDN Strategies Global Service Provider Survey, only 22 percent of service providers are in live production of data center SDN.
Meanwhile, 28 percent of service providers are in production trials and two thirds are still only conducting lab trials of data center SDN — down from three-quarters in 2015.
The number of respondents that are either in production trials and live data center SDN deployment in 2016 was lower than expected based on the answers respondents gave last in 2015. Grossner expected that 89 percent of respondents would be in either lab or production trials of data center SDN and 60 percent would have live deployments by the end of 2016…

Surveys, such as a recent one from Interop ITX and InformationWeek, find that the use of public clouds is growing, while private cloud usage is dropping…
Verizon said it is in the midst of launching 10 5G market trials across the country in both dense urban and suburban areas beyond its incumbent local exchange carrier (ILEC) footprint. During the company's fourth quarter earnings call with investors, Matt Ellis, Verizon CFO and executive vice president, said that the goal is to test the 5G service in different neighborhoods as the company prepares for commercial launch.
Verizon has said it will trial what it calls "wireless fiber" using the company's pre-specification gear. The company released its own 5G specifications to vendors last summer, which it said was intended to help vendors develop interoperable 5G equipment for pre-standard testing and fabrication…
Yahoo is reportedly being investigated by the Securities and Exchange Commission (SEC) to decide whether the team was quick enough in disclosing the hacking scandal to investors.
The investigation will help the SEC decide whether Yahoo complied with civil securities laws, appropriately disclosing information regarding the security breaches, according to the Wall Street Journal. Verizon executives are have continued to maintain their silence with regard to the $4.8 billion acquisition of the internet firm, however it remains to be seen whether the investigation has had any material impact on the deal…
Software testing company Tricentis today has raised $165 million in a Series B led by private equity and venture capital firm Insight Venture Partners.
In 2012 Tricentis raised $9 million as an early-stage investment from venture firm Viewpoint, which is now part of Kennet Partners. Insight purchased Kennet's stake in the testing company and is now the only shareholder, Reuters is reporting. Additionally, as part of the transaction, Insight's Managing Director, Mike Triplett, will join Tricentis' board of directors…
The software-defined wide area networking (SD-WAN) vendor Aryaka secured $45 million in Series D funding today led by Third Point Ventures and adding new investor Deutsche Telekom Capital Partners. The round also included participation from existing investors.
In October 2016, Aryaka said it had raised $75 million in funding at that point. The company is aiming for a valuation of more than $1 billion for a potential IPO in 2018…
The funding behind a new Ethernet-based network, connecting 11 metropolitan markets across North America, can be traced to billionaire Patrick Soon-Shiong. One of his companies, PacketFabric, deployed the new Layer 2 connectivity platform, which uses custom-built software-defined networking (SDN) technology.
The network will be used by PacketFabric's parent company NantWorks, which is involved in medical research. But it also offers connectivity to third-party customers…
Struggling unified comms vendor Avaya has announced a cunning new business strategy consisting of filing for bankruptcy, then rising once more like a phoenix from the flames.
The stated reason for opting for Chapter 11 protection is to enable the company to restructure its balance sheet, which seems be another way of saying 'do something about the crippling amount of debt we're in'.
It is, of course, standard business practice to euphemise frantically when things go wrong, and one person's restructuring is another's corporate panic attack. But filing for bankruptcy must surely only ever me a last, desperate course of action taken when all other options have been exhausted…
Service providers are decreasing marketing on their cable, satellite, and IPTV products that offer managed quality of service in favor of new products that use over the top (OTT) technologies to compete with Amazon and Netflix. With OTT competition significantly increasing in mature pay-TV markets, ABI Research forecasts that live linear OTT video services will grow to approximately $7 billion dollars of worldwide revenue by 2021, from a little more than $1 billion in 2016.

The most recent OTT service launch is DirecTV Now, an AT&T national product with live linear TV. "These services meet the consumer demand for anytime, anywhere programming and mobile-centric viewing while targeting a larger national audience," says Sam Rosen, Managing Director and Vice President at ABI Research. "The services fit within carriers adopting mobile-first mindsets as mobile subscriber bases and revenues exceed fixed line revenues, largely due to per-consumer as opposed to per-household connections. This helps win the battle for exclusive content rights but poses strong technical challenges."

Delivering these services comes with many technical challenges. Developing robust content management systems, video transcoding and storage pipelines, application ecosystems, and piecing together adequate video distribution networks are just the beginning. Quality of service assurance, network congestion management, content protection including analytics-based protection, such as modules which limit password sharing, and business analytics are some of the technical challenges to offer mobile OTT services. As mobile video consumption increases, mobile operators are exploring policy-based approaches to meet customer expectations and manage the effects of video services on mobile data caps…
January 19, 2017: The VoLTE (Voice over LTE) Ecosystem: 2016 – 2030 – Opportunities, Challenges, Strategies & Forecasts
VoLTE (Voice over LTE) technology allows a voice call to be placed over an LTE network, enabling mobile operators to reduce reliance on legacy circuit-switched networks. Powered by IMS (IP Multimedia Subsystem) architecture, VoLTE brings a host of benefits to operators ranging from the ability to refarm legacy 2G and 3G spectrum to offering their subscribers a differentiated service experience through capabilities such as HD voice and video telephony.
First deployed by South Korean operators in 2012, VoLTE is beginning to gain momentum globally. As of Q42016, more than 80 mobile operators have commercially launched VoLTE services, and several roaming and interoperability agreements are already in place.
SNS Research estimates that VoLTE service revenue will grow at a CAGR of 34% between 2016 and 2020. By the end of 2020, VoLTE subscribers will account for more than $200 Billion in revenue. Although traditional voice services will constitute a major proportion of this figure, nearly 15% of the revenue will be driven by video calling and supplementary services…
A Time Warner shareholder has reportedly filed a lawsuit against TW execs for offering an misleading financial picture to its shareholders.
According to the Hollywood Reporter, Richard Collura has filed a putative class action lawsuit with a New York federal judge, alleging Time Warner has only disclosed non-GAAP financial measures in management forecasts, instead of generally accepted accounting principles, which would give a clearer picture of the current state of financial affairs in the business.
It's a distraction which will not be welcomed by AT&T as the vote to press ahead with the merger will be taking place on February 15. Any complications now could be disastrous, considering the importance AT&T is placing on the deal for its new content-orientated strategy…
With the service provider software defined network (SDN) market forecast to grow from $289 million in 2015 to $8.7 billion in 2020, and the global network functions virtualization (NFV) market estimated to be worth $15.5 billion by 2020, the race is on among communications service providers to grab market share. That means that the ability to be agile and launch new services quickly and realise business benefits is more critical than ever.
However, as virtual services are deployed, even greater importance is required on assurance systems to better prepare the operations and customer facing teams to operationalize SDN/NFV services.  Service providers require tools for end-to-end and top-to-bottom service visualisation and real-time analytics so that any performance issues can be quickly identified, correlated and remediated. This will offer a seamless and high quality experience that will help retain customers, as well as promote business growth, which is the ultimate goal…
CenturyLink is launching big data-as-a-service using Cloudera's managed service platform. The telco plans to use the service to help companies rapidly analyze large and complex data sets.
Many companies lack in-house data experts. And the need for analytics is growing as enterprises deploy Internet of Things (IoT) platforms that have data-intensive workloads. In a 2016 survey by CrowdFlower, as reported by MIT News, data scientists said that on average they spend 80 percent of their time collecting and organizing data and only 20 percent analyzing it…
While its very existence is still hotly debated, research from App Annie has confirmed the app economy is real and growing fast.
Total usage of apps across the course of 2016 increased 25% in comparison to 2016, with consumers having their heads down for a total of roughly 900 billion hours. While this might seem like an extraordinary number to begin with, the growth was primarily fuelled by the developing markets where smartphones sales are holding up the sluggish industry. Brazil accounted for the biggest rise, whereas India topped the list for collective time.
Total downloads are another area which showed growth, increasing by 15% year-on-year to 90 billion. Once again, this growth was underpinned by the developing markets, as the number of apps per user remained steady, though countries like India, Mexico and Brazil saw an increase in the number of smartphone users…
The good news is there has been a lot of progress establishing interoperability labs for products and services based on network function virtualization (NFV) software. The bad news is the existence of all these initiatives only highlights just how fragmented the NFV vendor community really is.
But fragmentation should not come as a surprise. Networking vendors are essentially jockeying for position before engaging in inevitable NFV standards conversations. As the industry enters 2017, there are some very big NFV deadlines imposed by telecommunications carriers. These operators are anxious to deliver 5G services, and networking vendors need to keep that in mind. Many of these operators have made an open software-defined network (SDN) capable of deploying NFVs a cornerstone of their 5G strategies…
January 17, 2017: Qualcomm Report Touts 5G as a Trillion-Dollar Opportunity and Job Creator
A Qualcomm report and a CTIA Wireless Association report both released in the last week are championing 5G technology for its potential to create millions of jobs and contribute trillions of dollars to the economy.
In the Qualcomm report, which was produced by IHS Markit, the analyst firm said that 5G will impact virtually every industry sector and could result in $12.3 trillion in global sales by 2035…
ETSI has launched a new Industry Specification Group which will focus on the development of IoT for smart cities applications and beyond.
The Context Information Management (ISG CIM) will focus on developing specifications for a common context information management API, data publication platforms and standard data models. In other words, it will standardize the technology which will act as a clearing-house for publishing, discovering, monitoring and maintaining data. The aim will be to provide context to the growing surge of information which is now available…
Brocade's networking and IP business unit is expected to have a buyer any day now, and Reuters is repeating the theory that Arris might be the buyer.
In November, SDxCentral reported that the cable-network equipment vendor Arris Group could be a potential buyer, based on an analyst's unusual theory. Mitch Steves of RBC Markets thinks the vendor could use Brocade's Ruckus division to sell wireless LAN equipment to its cable-provider customer base…
IDC has estimated sales of infrastructure products grew 8.1% year-on-year to $8.4 billion in Q3 of 2016, with companies traditionally from networking segment upsetting the status quo.
IDC's Worldwide Quarterly Cloud IT Infrastructure Tracker, which accounts for all products relating to cloud IT, including public and private cloud, states cloud IT infrastructure now accounts for 39.2% of all IT infrastructure spending in Q3, up from 34.7% in 2015. Revenues from private cloud grew 8.2% to $3.3 billion and 8% to $5.1 billion for public cloud. By way of comparison, revenues for non-cloud IT infrastructure decreased 10.8% y-o-y…
SK Telecom's new CEO Park Jeong-ho told BusinessKorea that his company will invest $9 billion over the next three years in artificial intelligence (AI), Internet of Things (IoT), autonomous vehicles, and 5G.
Specifically, Jeong-ho said the company will spend $4.17 billion on a new information communications and technology (ICT) system that will transform the company from a service provider into a platform operator. The company said its ICT system will include big data and storage, autonomous and connected car, smart home and energy management, and media and content…
Veteran telecoms industry analyst Tom Nolle reckons this is the year the cost of delivering data becomes greater than the revenues derived from doing so, according to a Light Reading report.
This bleak assessment is the result of a survey of 47 operators around the world, in which the vast majority saw their revenues-per-bit falling below their cost-per-bit at some point in 2017.
The central problem is that, while data consumption continues to increase exponentially, thanks largely to video, the charging model, especially for fixed-line, is usually unmetered. That means cost-revenue convergence has been inevitable for some time, and that time is now upon us…
Look for service providers and their customers to be the biggest beneficiaries of the shift in mobile compute power moving to the edge of the network. Rather than having to backhaul traffic generated by applications to a data center, service providers of all sizes will soon be able to provide interactive experiences with real-time applications that run at the edge of their networks.
Earthlink is one service provider leading in this transformation. The company is able to leverage investments in the cloud to reduce its capital expenses while simultaneously enabling the delivery of richer application experiences. In fact, Earthlink CIO Jay Ferro says he believes that most CIOs today would prefer to opt out of building their own data center.
Instead, Ferro says it's possible to leverage software-defined wide area networks (SD-WANs) and network function virtualization (NFV) software to deliver services via virtual data centers hosted in the cloud. "Trying to duplicate all that infrastructure now is flat out silly," Ferro says.
The Rise of 5G
Of course, the deployment of 5G wireless networks will give rise to Mobile Edge Computing (MEC) initiatives that will enable delivery of even more advanced applications. Intel expects bandwidth rates of as much as 10 gb/s to be available to mobile computing devices. That's fast enough to support both augmented and virtual reality applications that are deployed at the edge of a service provider's network. In fact, the market research firm Ovum predicts there will be 24 million 5G subscriptions for wireless services in place by 2021…
Seventy percent of respondents to an IHS Markit survey plan to deploy CORD in their central offices — 30 percent by the end of 2017 and an additional 40 percent in 2018 or later.
The findings come from IHS Markit's 2016 Routing, NFV & Packet-Optical Strategies Service Provider Survey…
CORD™ (Central Office Re-architected as a Datacenter) combines NFV, SDN, and the elasticity of commodity clouds to bring datacenter economics and cloud agility to the Telco Central Office. CORD lets the operator manage their Central Offices using declarative modeling languages for agile, real-time configuration of new customer services. Major service providers like AT&T, SK Telecom, Verizon, China Unicom and NTT Communications are already supporting CORD.
Brocade unit Ruckus Wireless and TrackR have announced a joint system to enhance indoor and outdoor location services on TrackR's GPS network via a Ruckus-based Internet of Things (IoT) and security gateway. The announcement was made yesterday at CES in Las Vegas.
The partnership marks Ruckus' first step toward IoT. In 2015, Ruckus and Bluetooth Low Energy (BLE) provider Gimbal partnered to help Ruckus establish BLE beacons in its APs. From there, Ruckus was able to create an IoT gateway with more streams of data coming through its APs, says Dileepan Narayanan, product management for IoT at Brocade…
One of the big benefits of 5G network slicing is that it promises flexibility and allows the network to be manipulated on the fly to accommodate different use cases. That has car makers, studio executives, and operators pretty excited about new business models that emerge from the 5G vision.
During a 5G panel at the CES here, Fathi El-Dwaik, vice president of information and communications electronics at BMW Group, said that one of the big draws of 5G is that it would allow the carmaker to offer a guaranteed service with a guaranteed data rate, something that is necessary for mission-critical applications…
A top AT&T executive said the company will have LTE CAT-M (also known at LTE-M or CAT-M1) available commercially in the majority of its network by mid-year. AT&T has been trialing LTE CAT-M technology for low power Internet of Things (IoT) applications in the San Francisco area since October.
Speaking at the AT&T Developer Summit here, Cameron Coursey, vice president of product development for AT&T's Internet of Things, said the company is planning to roll out the technology as quickly as possible. AT&T will have it available in the majority of its network in the first and second quarter of the year and nationwide by year-end…
The two networking companies are looking to move on from a difficult first year by giving birth to a new flavour of wifi.
It's no secret that the vows exchanged between Ericsson and Cisco in November 2015 were sorely tested, culminating in the awkward anniversary video below, for some reason still featuring the long-departed Hans Vestberg. It says something about the decline of their relationship that they couldn't even get it together to shoot some fresh footage.
But the couple seem to have decided they have something worth fighting for, and having toyed with an open relationship, they have concluded that starting a family is the way forward. The precious progeny will take the form of Evolved Wifi Networks – a splicing together of Ericsson 3GPP access and Cisco wifi DNA – which will enable Ericsson to offer wifi-on-steroids to its enterprise customers…
The telecoms industry is never short of a new acronym. At the moment, it loves adding extra letters to LTE to help explain a new use case.
Orange and Ericsson have just announced a partnership including PSA Group, the French automaker behind Peugeot and Citroёn, to make some serious progress in the connected cars game. Right now it's exploring LTE infrastructures jazzed up with a splash of NFV, in the future it wants 5G – obviously, everybody does. But in the medium-term the Towards 5G connected cars partnership wants to use an evolved form of LTE known as LTE-V.
As hinted to at the start of this piece, the telecoms industry loves chucking new letters on to the end of LTE to make it mean something slightly different. We've had LTE-M (for 'machines' or IoT), LTE-U (as in 'unlicensed spectrum'), LTE-A (for 'advanced') and now we've got LTE-V (for 'vehicles')…
AT&T has announced its 5G evolution plans for 2017 to meet growing bandwidth demands on both its mobile and fixed networks.
While the promise of 5G is something which will excite customers around the world who are demanding faster speeds, this announcement from AT&T will worry standards bodies who are keen to ensure the industry crosses the finishing line together. It isn't the end of the world, but pre-standards fragmentation is starting to become a reality in the industry, as the desire for speed grows greater than the benefits of a standardized approach to 5G.
5G was a big topic of discussion in 2016 as operators from around the globe partnered with vendors and embarked on some early technology trials. And it looks like 2017 will be a big year in 5G trials as well. 5G observers predict that there will be an acceleration of trials in 2017 as the wireless industry fine-tunes its 5G vision and as friendly users get their first taste of a 5G experience.
AT&T has already announced that it is conducting 5G trials with Intel (a friendly user) at the company's offices in Austin, Texas. The trial is using millimeter wave (mmWave) technology over the 15 GHz and 28 GHz spectrum bands to deliver real-time camera feeds and 4K HD video. AT&T says it is clocking network speeds of nearly 14 Gb/s using the mmWave technology…
Monolith Software, a provider of next-generation, unified service assurance solutions, has partnered with Eirteic to enable Manx Telecom to transform the experience of its mobile users, the company said.
At Manx, Monolith´s AssureNow solution provides end-to-end mobile service performance management and a unified high-level view of their mobile network. Monolith´s AssureNow service assurance solution reduces operations costs and assures delivery of traditional and virtualized services while improving customer experience.
AssureNow enables Manx to investigate the root cause of potential service outages and degradations, resulting in improved mobile-user experience.
…
While 2016 proved to be a solid year for incremental advancements in 5G, IoT and cloud computing, 2017 is set to be a big year for a number of breakthrough technologies.
Figuring out what the next big thing is going to be and investing the right amount of time, money and resource can make the difference between becoming the next Google or simply being forgotten, so we took the chance to ask a few people in the industry what they thought.
While it didn't necessarily breakthrough to the mainstream in 2016, artificial intelligence has never been too far away. Major players such as Facebook, Google, AWS and IBM have been investing heavily in AI technology, and minor product releases throughout the year have begun to normalise the technology in the eyes of the world. For Dik Vos, CEO of SQS, 2017 is year machines will start taking our jobs.
"Machines will steal more human jobs than ever with 30% of the working population needing to be retrained," said Vos. "We will continue to see a rise in digital technology over the coming years, and 2017 will be the year we see the likes of AI and automated vehicles take the place of low-skilled workers…
Monolith Software, the leading provider of next-generation, unified service assurance solutions, today announced that it partnered with Eirteic to enable Manx Telecom to transform the experience of its mobile users. At Manx, Monolith's AssureNow™ solution provides end-to-end mobile service performance management and a unified high-level view of their mobile network. Monolith's AssureNow service assurance solution reduces operations costs and assures delivery of traditional and virtualized services while improving customer experience.
As promised, Verizon has commercially deployed LTE CAT-M (also known at LTE-M) technology for Internet of Things (IoT) applications in limited markets throughout the U.S. The company also has completed testing on three CAT-M devices.
According to Chris Schmidt, executive director, device technology at Verizon Labs, the company hasn't revealed the specific markets where CAT-M is available, but it is working with potential customers and expects to soon have a CAT-M customer deployment. The company is on track to have CAT-M available nationwide by year-end 2017…
After two years, the patent and copyright infringement lawsuits between Cisco Systems and Arista Networks seem to be coming to a rest.
While some of Cisco's accusations were written off by the International Trade Commission (ITC) and the courts, Arista was still dealt some legal consequences for infringing multiple patents. Between redesigning one of its key products and dealing with an importation ban, Arista had some hurdles to overcome. Yet, Arista's business wasn't much affected throughout the entire process.
To top it all off, Arista's president and CEO Jayshree Ullal was a former Cisco executive, and many Arista employees come from Cisco as well, bringing the dispute to a personal level.
What this really comes down to is that "The world of patents is changing with networking software," says Peter Christy, an analyst with 451 Research. "The important part is that Cisco is now being clear as to how it values its [intellectual property] IP, which is a chilling warning to the rest."…
Sky has unveiled its latest attack on the UK broadband market with what it claims is the lowest priced fibre offer and a new approach to advertising.
The offer itself, which is only available when combined in a Sky TV bundle, is priced at £20 a month, which includes line rental, and includes a one-time payment of £19.95 to set up the box. The team claim UK average download speeds of 34 Mbps, though the offer will be limited to 25 GB monthly usage. While Sky has been one of the more vocal supporters of 'Fix Britain's Internet' campaign, BT Openreach's 'lack of investment' in fibre doesn't seem to have stopped it from launching new fibre initiatives.
Alongside the standard offer, Sky will also be launching a Fibre Unlimited offering, designed for heavy users, which will offer average download speeds of 34 Mbps and unlimited usage for £30 per month. A final product, Fibre Max, with average download speeds of 60 Mbps and unlimited usage, for £40 per month…
SK Telecom, Ericsson, and Qualcomm will conduct interoperability tests and field trials based on 5G New Radio (NR) standards together, the companies have announced.
The trials will be compliant to 5G NR specification, the standard set by globlal standard-setting body 3GPP, for the coming fifth-generation network.
It will drive the mobile ecosystem towards validation and commercialization of the standard in scale, SK Telecom said.
The companies will utilize wide bandwidths available at higher frequency bands that will help achieve gigabit per second data transfer rates.
Telcos are expected to use ultra-high frequncy bands for 5G networks for high data transfer rates…
South Central Ventures (Enterprise Innovation Fund – ENIF) is adding another member to its portfolio. This time it's Bulb Technologies, a software development company founded and run by experienced engineers in the telecom industry.
Bulb Technologies focuses on solutions for telecom service management and Customer Experience Management (CEM). With € 2M this is the biggest investment from Enterprise Innovation Fund so far.
The global telecom software market is one of the steadiest growing markets with an annual growth of 6% and a projected value of USD 34.2 billion in 2018 (statistic 2016) and at the same time one of the most competitive ones. Service assurance and excellent customer support are becoming a crucial competitive advantage and the reason why the global Customer Experience Management market is estimated to grow annually by 21.1%, reaching USD 13.2 billion by 2021 (marketsandmarkets)…
The cloud only works if its components are interoperable so the four biggest networking vendors have joined forces to try to make sure NFV finally does something.
Inevitably this takes the form of a good old MoU – specifically to create something called the NFV Interoperability Testing Initiative (NFV-ITI), which is designed to 'address the challenges related to NFV deployment and cloudtransformation within multi-vendor network environments.'
The initiative has buy-in from the likes of OPNFV and ETSI, so it's fair to say this is is pretty industry-wide initiative and it would be surprising not to see most other stakeholders join the fun. Everyone, of course, had to contribute a canned quote so we hope you're sitting comfortably. Here goes.
"Cisco is focused on driving solutions for an open network architecture, helping our service provider customers speed technology adoption and time to market," said Charles Stucki of Cisco. "NFV-ITI will foster collaboration and open-ness by bringing top vendors together to explore new possibilities for interoperability, and determine the best technology strategies for our customers to achieve their business goals."…
The artist formerly known as Telecom Italia is refusing to slow down in the run up to Christmas, teaming with Altiostar to live test a virtual radio access network.
TIM reckons it's the first in Europe and among the first in the world to achieve such a feat, which took place in Saluzzo, near to its labs in Turin and not to be confused with the main antagonist in The Godfather.
A virtual server in Turin coordinated a base station in Saluzzo – 60 kilometres away – and then kidnapped Tom Hagen in a bid to dissuade Sonny from overreacting to the attempt on his father's life. Actually, no it didn't, that's The Godfather again. The real purpose of the trial was to show the ability to remotely control base stations over long distances without affecting connection and performance. This is all down to Ethernet fronthauling, apparently, and nothing to do with taking-out Luca Brasi…
The Indian service provider Tata Communications selected Versa Networks for one of the variants of its managed software-defined wide area networking (SD-WAN) service.
Tata offers its IZO SD-WAN Prime for customers that want to use existing branch office equipment. But in addition, Tata is offering its new IZO SD-WAN Select service based on Versa's technology.
IZO SD-WAN Select is purely software-based. It uses Versa's software in its 20 cloud gateways globally and at customers' branch offices on non-proprietary x86 appliances.
The SD-WAN is cloud-native, says Kumar Mehta, Versa's founder and chief development officer. "It's centrally managed; it's provisioned and monitored from the cloud," he says. "You can deploy a subset of functions in the cloud or on the premises from the cloud, either public or private clouds."
Versa previously partnered with x86 hardware vendors Advantech, Silicom, and Lanner.
Software-defined wide area networking (SD-WAN) took off in 2016 as enterprise IT people realized they could save lots of money using the technology. The math is pretty straightforward: Eliminate some expensive MPLS connections, replace them with cheaper broadband connections, and manage it all with SD-WAN software.
It makes for an easy and convincing sales pitch. So, not surprisingly, lots of vendors have materialized to offer SD-WAN…
Internet service provider Common Networks is launching a peer-to-peer last mile WiFi service targeted at the suburban residential market. The company says it uses software-defined networking (SDN) to manage the network's peer-to-peer architecture and resolve tricky routing issues.
The company, which was started by four former Square employees, has launched its service in Alameda, Calif., and has some introductory users. However, CEO Zack Brock wouldn't reveal how many. "Our first set of customers are up and running," Brock said. "We are ramping up to get as many as possible."…
Korea Telecom is pushing the envelope on 5G development by announcing that it intends to complete the construction of a pre-standard 5G trial network by September 2017. The Korean operator says that this aggressive timeline is necessary if it wants to provide service for the 2018 Winter Olympics in Pyeongchang.
But for KT to make that happen, it will be impossible for the network to use standardized 5G gear, because the final 5G standard isn't expected to be released by the ITU until 2020.
Do Standards Matter? Of course, KT isn't the only operator that is pushing to deploy a pre-standard 5G network. The South Korean operator is collaborating with other carriers including Verizon Wireless, NTT DoCoMo, and SK Telecom to share 5G trial information and identify early 5G use cases. The operators formed a 5G Open Trial Specification Allianceearlier this year with that goal in mind…
NetLink Trust has awarded Amdocs a multi-year contract to deploy a next-generation business and operations support system (B/OSS) to transform the Singaporean fibre network operator's legacy systems and fully automate order management, service design and delivery processes and service assurance.
Under the deal, Amdocs will deliver a wide range of B/OSS which includes online portal, billing, order orchestration and service order management, workforce management and service assurance components.  A web-based digital dashboard for managing orders and services will enable last-mile broadband service providers to better manage end users' customer expectations.
Weiming Li, vice president and customer business executive at Amdocs, said Admocs would also provide maintenance and support services and act as prime systems integrator of third-party software and hardware…
It's no secret that many IT organizations in the age of the cloud have lost control of the applications being developed and deployed in public clouds. The primary reason for this is that each public cloud is an island of networks on to itself.
Network virtualization (NV) overlays now present an opportunity for IT organizations to regain control of their IT environments by building network bridges that provide the foundation on which a new generation of extended enterprise systems will be built.
The concept is at the core of an alliance forged between VMware and Amazon Web Services (AWS) that promises to bring NV in the form of NSX to the AWS cloud as part of a larger VMware cloud on AWS, which will be managed by AWS. Of course, AWS has had its own software-defined networking (SDN) environment for a very long time. But deploying NSX on AWS makes it feasible to create a hybrid NV environment that enables applications to move freely between a public cloud and a private cloud hosted in local data center…
Nokia is acquiring startup Deepfield, hoping to gain better insight into performance and security issues by digging through all the network telemetry that's now available.
In announcing the deal today, Nokia isn't saying much about its plans for Ann Arbor, Michigan-based Deepfield, other than to note that the startup's technology will be melded with Nokia's software-defined networking (SDN)efforts in the IP/Optical Networks business group.
erms of the deal, expected to close in the first quarter of 2017, were not disclosed. Deepfield, founded in 2011, employs 65 and has never revealed how much funding it's raised.
Deepfield's software examines traffic flows by sifting through all the real-time data that's available from switches, routers, and other network devices. In other words, the company doesn't provide probes; its expertise lies in navigating the forest of available data…
Bell Canada, which provides communications services to 21 million customers in the provinces of Quebec and Ontario and in the Northwest Territories, is testing AT&T's ECOMP platform.
Bell Canada plans to use the Enhanced Control, Orchestration, Management, and Policy (ECOMP) platform to create and manage software-defined networks (SDN). AT&T built ECOMP internally for its own use. It says it has had it in production for over two years. In the first quarter of 2017, the will make the code available as open source through the Linux Foundation.
According to today's announcement, Bell Canada is committed to using SDN within both its wireless and wireline networks. The company operates an LTE-Advanced wireless network and a broadband fiber network…
IBM is teaming with BMW to see what role Watson's Internet of Things (IoT) platform can play in making cars smarter and more intuitive.
BMW will be the first IBM client to collocate a team of researchers and engineers at IBM's Watson IoT headquarters in Munich, Germany. (IBM notes that it's working with other car makers as well.)…
The artist formerly known as Telecom Italia has gone live with a 4.5G network that promises download speeds of 500 Mbps.
Punters in Rome, Palermo and Sanremo can now bask in wireless download speeds that most people can only dream about over their fixed broadband. How many over them ever get anywhere near half a Gig, however, remains to be seen, especially since only one phone – the Sony Xperia XZ – currently supports that flavor of 4G.
Remember back in September, when Yahoo announced that 500 million accounts were compromised in a security breach? That's peanuts.
Today, the company disclosed a breach dating back to August 2013 that appears to have affected 1 billion accounts…
The European Commission (hereafter known as the Gaggle of Red-tapers) has stated it has come to an agreement with the European Parliament and European Council on how to best use the 700 MHz band.
Demand for wireless connectivity and mobile services has been rapidly increasing with the almost universal penetration of smartphones, however the strain on spectrum debate has been noticeable. The 700 MHz band has been in high demand, due to its long-range capabilities and ability to pierce obstacles, but there's only so much which can go around. This announcement will give priority to mobile operators, while also making reference to TV broadcasters.
"Better spectrum coordination is vital to provide higher quality internet to all Europeans," said Andrus Ansip, VP for the Digital Single Market for the Gaggle of Red-tapers. "It paves the way for 5G, the next generation of communication networks, and the internet of things.
Nokia today announced plans to acquire Deepfield, the US-based leader in real-time analytics for IP network performance management and security. The acquisition will extend Nokia's leadership in real-time, analytics-driven network and service automation, providing customers including communications service providers, cable operators and cloud, webscale and large technology companies with greater network and application insight, control and DDoS protection.
Network Function Virtualization (NFV) promises agility and OPEX reduction through dynamic scale-up and scale-out. Many Tier-1 operators are conducting POCs using multiple VNFs and different architectures. So far, these POCs focused on automating service provisioning. However, the next challenge is to ensure Service Assurance in the NFV deployments…

1.Scale: Compared to physical infrastructure, Service Assurance tools in NFV must monitor exceedingly high number of end points. For instance, one physical Cisco ASR 9922 router supports 8000 customers. When you virtualize that router, you now must manage 8000 CSR 1000v virtual routers, one for each customer.
2.Vendor Compatibility: The individual VNFs are simpler, but they are often sourced from multiple vendors' at large-scale. And, the compatibility among various layers of NFV (VIM, NFVI, OSS/BSS) is often overlooked. It is also extremely challenging to keep the documentation correct in a virtual world.
3.PNF Integration: Some of the VNFs can't match performance and reliability with physical device characteristics. Further, many network elements are still physical. So, the service assurance tools need to work with some information in physical infrastructure and some in the virtual infrastructure.
4.Lack of Instrumentation: In the physical infrastructure, vendors instrumented probes within the hardware to monitor service availability. However, such mechanisms are yet to be defined in NFV.
5. Lack of Unified Service View: Currently, we don't have a single pane of glass to understand the entire service status including service definition, provisioned operations, current configuration and match up with the SLAs.
6.Field Extensibility: Considering the breadth of use-cases and vendors, it is not practical for an out of the box solution that works for all domains in NFV. The System Integrators (SI) who truly understand the customer use-case need a flexible platform that can be easily extended using open standards or data models.
South Korean telco KT has announced it will complete the construction of a 5G network by September 2017 to prepare for a pilot service at the 2018 Winter Olympics.
KT has made no secret of its intentions to exhibit the technology at the Winter Olympics, which will be taking place in PyeongChang during February 2018, though it might be considered a worrying sign for the rest of the industry. One of the supposed lessons learned from the implementation of 3G and 4G technologies was the need for the industry to 'cross the finish line' together under the banner of international standardization, to avoid fragmentation of the technology.
According to Yonhap News, the KT team will launch the network capable of 5G services during the Olympics, as well as in its neighbouring regions and parts of Seoul to act as a test-bed ahead of a wider roll-out…
The European Investment Bank (EIB) has announced the launch of a new fund which that aims to raise €500 million for network deployments in underserved areas throughout Europe.
The fund, which was launched in partnership with the European Commission (hereafter known as the Gaggle of Red-tapers), will aim to invest in up to 12 network projects per year until 2021 combining private and public commitments. KfW Bankengruppe from Germany, Cassa Depositi e Prestiti from Italy and Caisse des dépôts et consignations from France are the first three National Promotional Banks and Institutions (NPBIs) who have shown interest in the investment, which will now be known as the 'Connecting Europe Broadband Fund'…
While software-defined networking (SDN) and network function virtualization (NFV) don't necessarily require each other to add value to an enterprise, they are collectively being joined at the proverbial hip. The fact is many network administrators have resisted SDN because it requires them to learn new programming skills. But once physical network appliances start to be replaced by NFV, it's increasingly clear that the proliferation of NFV will finally force the adoption of SDN.
From both a capital expense and operational cost perspective, NFV is just too compelling an advance for IT organizations to ignore. Instead of having to acquire, deploy, and manage a plethora of physical appliances, most network and security functions going forward will be deployed and processed either on x86 servers or some other type of commodity processor. NFV will in turn be programmatically managed via SDN in a way that servers will create much higher levels of scale at a significantly lower total cost of ownership (TCO).
In fact, a recent market research report published by ACG Research suggests the total cost of ownership (TCO) of NFV versus physical appliances could be as much as 62 percent lower. Return on investment (ROI) for the NFV transition will range from 33 percent in the first year to more than 350 percent by year five of a deployment, says the report…
Vodafone Germany was hoping that network functions virtualization (NFV) would be its ticket to "leave the box business," but the technology has a long way to go, according to Walter Haeffner, a distinguished engineer at the carrier.
At last week's Carrier Network Virtualization conference in Palo Alto, California, Haeffner gave a brief talk about his experiences with NFV, so far. He still has high hopes for the technology but wasn't pleased with the first-pass efforts he saw from vendors…
UK operator Vodafone has seen fit to make a big deal about offering data rollover for its PAYG customers but it's largely a waste of time.
The big innovation involves prepaid punters being able to add any data they haven't used from a given monthly allowance onto their allowance for the following month. Pretty handy eh? The catch is, however, that the data surpluses don't continue to accumulate, so you pretty much have to use it all up that following month or you still lose it. Since people tend to use roughly the same amount of data each month that means this offer is of limited use.
Vodafone is not the first to have this bright idea; Virgin Mobile has the same offer, with the same limitations, but Vodafone seems to have rolled over a fair bit of marketing budget into Q4 and clearly has to use it or lose it in 2016. Hence the company's over-reaction to managing joint first-place in a recent performance test…
The European Commission (hereafter referred to as the 'Gaggle of Red-tapers') is reported to be in the process of introducing new regulations for OTTs which will level the playing field for telcos in Europe.
In a draft document seen by Reuters, the e-privacy directive, which currently only applies to telcos, will be expanded to OTT services such as Microsoft's Skype and Facebook's WhatsApp, as the Gaggle of Red-tapers lumbers towards some sort of decision on regulation. The telco industry has long been lobbying regulatory decision makers to address the imbalance in rules governing how telcos can monetize mined data, as there has been a general acceptance the OTTs have significantly more freedom.
The draft wants to extend the rules to ensure the OTTs will have to guarantee the confidentiality of communications and obtain the users' consent to process their location data, mirroring similar provisions included in the Gaggle of Red-tapers' General Data Protection Regulations (GDPR), set to come into force in 2018…
VoLTE service revenue will grow at a CAGR of 34% between 2016 and 2020. By the end of 2020, VoLTE subscribers will account for more than $200 Billion in revenue…
Although traditional voice services will constitute a major proportion of this figure, nearly 15% of the revenue will be driven by video calling and supplementary services..
Vodafone worked with Nokia to test the vendor's cloud-based radio access network (RAN) technology to see how it will stack up in the transition from 4G to 5G. The trial occurred at Vodafone's testing facility in Italy.
Vodafone used Nokia's AirScale Cloud RAN running on its AirFrame network functions virtualization (NFV)infrastructure. By combining cloud RAN with NFV, Vodafone was able to split baseband processing functionality between real-time and non-real-time functions allowing for time-critical functions to be performed close to the edge of the network.
After a couple of quiet months, the Google self-driving car team has initiated a separation from internet giant's experimental division X.
Although this has been a move in the making for some time, CEO John Krafcik hinted at the separation at the Nikkei Innovation Forum in October, however the latest development is more walk than talk, or drive than verbalize. According to Recode, the team has recently begun a recruitment drive, as well as a search for a new office space. From a recruitment perspective, these are jobs which already exist at X; Krafcik seemingly doesn't want to share anymore and is looking to make it on his own…
Viavi Solutions (NASDAQ: VIAV) says that Openreach is using the test instrument company's OneExpert 580 xDSL field tester during its G.fast trials. Openreach, BT's local network business unit, plans to use G.fast to supply high-speed broadband services to approximately 140,000 premises by March 2017 as part of the trial (see "BT connects first G.fast trial customers" and "Openreach plans new FTTP, G.fast trials").
Viavi Openreach already has more than 15,000 units of the OneExpert 580 in its inventory. The companies have enhanced the test systems with StrataSync, a cloud-based asset and data management capability, as well as support for smartphone-based apps to facilitate technician workflow…
The two companies have a long history of working together but 5G seems to have given them the opportunity to publicly renew their vows. The partnership itself seems to be a pretty standard affair, with the usual lofty but ill-defined ambition to 'lead the global development of 5G mobile technologies'.
Such specifics as there are concern the technical and commercial feasibility of deploying 5G technologies, as well as a buzzword check-list including New Radio, network slicing and IoT. Much of this 5G collaborative goodness will take place at the BT labs in Ipswich, and both companies were keen to celebrate the special moment with generic canned quotes…
According to Stratistics MRC, the Global Software Defined Networking (SDN) Market accounted for

$10.88 billion

in 2015 and is expected to reach

$134.51 billion

by 2022 growing at a CAGR of 43.2% from 2015 to 2022.
Increasing adoption of SDN in enterprise datacenters across a wide range of industry verticals is one of the key factors favouring the market growth. Furthermore, arrival of big data analytics, complicated network traffic patterns, growing services of cloud computing and need for competent infrastructure are the other factors driving the market growth.

North America

is the significant market for SDN owing to early adoption of novel technologies such as cloud computing, network virtualization and mobility services. Technological enhancements and high industrialization rate are few of the key factors responsible to the quick growth of the software-defined networking market in this region. However,

Asia-Pacific

is anticipated to grow at a faster pace during the forecast period.
Some of the key players in the market are Extreme Networks, Inc., Hewlett-Packard, Intel Corporation, Juniper Networks, NEC Corporation, Dell Inc., Pica8, Inc., Plexxi, Inc., Big Switch Networks, Inc., Brocade Communications Systems, Inc., VMware, Inc., Huawei, AT&T, Alcatel-Lucent and Google Inc.
Equinix officially announced today it is purchasing 24 data centers from Verizon for $3.6 billion in cash. The transaction has been one of the worst kept secrets on Wall Street. In October, Verizon CFO Fran Shammo said a deal was in the works, and rumors quickly surfaced that the buyer would be Equinix.
The 24 sites consist of 29 data center buildings across 15 metro areas, comprising about 2.4 million gross square feet. The acquired portfolio includes about 900 customers, with a significant number of enterprise customers new to Equinix's platform.
AT&T is conducting a 5G network trial with an actual business customer, albeit a friendly one. The trial, which is being conducted with the help of Ericsson, is using millimeter wave (mmWave) technology over the 15 GHz and 28 GHz spectrum bands to deliver real-time camera feeds and 4K HD video to Intel's offices in Austin, Texas.
AT&T says it is clocking network speeds of nearly 14 Gb/s using the mmWave technology.
Samih Elhage, President of Mobile Networks at Nokia, offered an update on the recently-announced corporate strategy, including plans for diversification.
The conclusion we drew from the Nokia capital markets day was that Nokia was counting on the emergence of 5Gto drive the investment conspicuously absent from the telecoms scene at the moment. Elhage was able to give that view a bit more nuance in a recent briefing, highlighting the opportunities for growth he believes remain available even prior to the arrival of 5G.
At the capital markets day there was lots of talk of 'attractive adjacencies' – in other words areas outside of the main, stagnant, CSP market that Nokia thinks is can grab a bit of new business from. This strategy is similar to the one Ericsson has been promoting for some time but, as its Swedish rival has found, diversification is easier said than done…
Amazon has decided shops don't need checkouts anymore, only smartphones.
It's not often you see online retailers make the move to bricks and mortar, but Amazon is planning on doing just that by opening a beta concept store requiring zero checkouts, no queues, no cash or anything.
Amazon Go is based on IoT, computer vision, a bucket load of sensors and lots of other cleverness that can monitor who is taking which product from which shelves. Those products are properly identified by the gamut of technology running behind the scenes, then added to a bill on the customer's smartphone.
It's purely a proof of concept store in Seattle at the moment, with only Amazon employees being eligible until it opens a public beta mode early next year…
Because of its complexity, NFV has put service providers between a rock and a hard place. They want to evolve their networks to be more software-focused, emulating the agility of the cloud titans. At the same time, they have a long history of delivering five-nines reliability. And they can't just throw that out the window.
Apparently, there have been some tense meetings between service providers and network functions virtualizaton (NFV) vendors where everything had gone along smoothly, until it's time for the vendor to sign the big stack of legal documents, agreeing that its virtual network functions (VNFs) will deliver five-nines.
Juniper Networks announced today its intent to acquire the startup AppFormix, which does cloud operations management.
AppFormix's technology uses machine learning to provide public, private, and telco cloud operators in both OpenStack and Kubernetes environments with real-time and historic monitoring and performance optimization.
Juniper will pair AppFormix's technology with its Contrail product line. And it says AppFormix will help it improve cloud orchestration, security, accounting, and planning.
According to CrunchBase, AppFormix was founded in 2013 and has raised $7 million from August Capital.
The AppFormix team will report to Juniper's office of the CTO. The acquisition is expected to close in the fourth quarter of 2016.
Before any new technology goes live, it must first go through a series of trials and tests to determine the validity. In the case of 5G, that trial stage is occurring right now.
To help smooth the trial process, most operators look to vendors to help evolve the current network architecture and minimize the risk of rolling out a new technology, particularly one as complex and as different at 5G.
…The NV Market Continues Growing
The NV sector is already a multibillion-dollar market, with the "Big Four" – Cisco, Juniper Networks, Nuage Networks, and VMware – generating the bulk of the revenue. To get an idea of the size of the NV market, you can look at the publicly disclosed run rates announced by Cisco and VMware, which show their NV-related portfolios generating close to $3 billion in 2016.
While the Big Four are closely watched in the networking and cloud industry, what's interesting about the NV market is that it continues to be dynamic, with openings for many startups. SDxCentral.com research shows that 20 vendors were being considered by 116 potential end users that we polled for our 2016 survey (see chart below).
Network testing firm InfoVista updated its Planet 6.1 RF planning and optimization software for operators that are preparing to build Internet of Things (IoT) and 5G networks.
Having announced field testing of Juniper Networks' Cloud CPE network virtualization product in its business services division in late September, WOW is already contemplating the expansion of its NFV efforts into the residential realm.
"The next 12 months is going to be learning and refining what we're doing and how we're doing it, and then my hope is that at that point we're full speed ahead around more than just business services," Eric Fligel, VP of engineering for WOW, told Light Reading. "I would expect over the course of the next 24 to 36 months to really see significant change from an infrastructure standpoint…
In light of Ofcom's attempts to prize Openreach from BT, the wider telecoms industry has reacted. Some with glee, some with scepticism, and some with cynicism.
First up, Vodafone must have been given a wee heads up that Ofcom was about to raise the stakes, because it chose this morning to release some research saying how much BT is coining from Openreach.
According to the research, conducted by Frontier Economics, BT raked in £1 billion of excess profit in its 2016's full year financial results. That's excess profits – where they've already made a lot of profit, and returned a perfectly normal level of profit to shareholders, and the rest is just left over profit. Basically, one would be forgiven for considering it to be too much profit…
Software Defined Networking (SDN) is no longer hype, it's a billion dollar industry and growing. Analyst firm IHS Markit published its Data Center and Enterprise SDN Hardware and Software Biannual Market Tracker for the half year period ending June 30, 2016, and it shows growing demand for SDN.
SDN is a vast product and services landscape, and IHS's data includes Ethernet switches, SDN controllers and SD-WAN components. According to IHS, in the first half of 2016, the total global SDN market generated $1.1 billion in revenues, for a 42 percent gain over the second half of 2015…
The number of cable subscribers continues to decline, according to the December cable universe estimates from Nielsen.
According to a report by analyst Brian Wieser of Pivotal Research Group, Nielsen estimates a median decline in pay-TV homes of 1.9% from last year. Combined with a 1.7% increase in total TV households put in place for this TV season, the gap between TV households and pay-TV households is 3.3% for December—the biggest gap in two years.
Median cable network penetration was down 1.9% year over year, indicating an increase in cord-shaving, which means more subscribers are paying for fewer channels.
While cable network penetration is down, Wieser notes that broadcast penetration has kept up with the rise in TV households.
The Nielsen data excludes new virtual MVPD services such as Dish's Sling and Sony's PlayStation Vue…
SNS Research estimates that VoLTE service revenue will grow at a CAGR of 34% between 2016 and 2020. By the end of 2020, VoLTE subscribers will account for more than $200 Billion in revenue. Although traditional voice services will constitute a major proportion of this figure, nearly 15% of the revenue will be driven by video calling and supplementary services.
Huawei is attempting to reshape the air interface portion of the wireless network by using the cloud to allow different radio access technologies to share the same spectrum. Called CloudAir, Huawei's platform is designed to dynamically allocate spectrum resources based upon fluctuations in network traffic.
The Chinese manufacturer, which debuted the CloudAir platform last Friday at the Global Mobile Broadband Forum in Tokyo, says its product will help wireless operators more efficiently use spectrum as well as give them more flexibility in deploying services….
Uncertainty has momentarily struck the WiFi market with Brocade's IP networking business being up for grabs, but analysts think Ruckus customers shouldn't be as concerned as some of its competitors claim.
This disruption comes as Broadcom acquires Brocade for $5.9 billion, saying it will divest in the company's IP business, which includes Ruckus, the wireless LAN vendor that Brocade acquired earlier this year….
It's no secret that software-defined wide area networking (SD-WAN) is a fast-growing part of the networking business. Enterprise customers are demanding more flexible, cloud-based options for their wide area networks.
SD-WAN offers an alternative to legacy WAN technologies like MPLS because its broadband connections can be controlled through cloud software, allowing a customer to scale up or "burst" connectivity during times of peak demand.
In fact, SD-WAN is attracting so much attention from the marketplace that research firm IDC estimates the SD-WAN technology and service market will be worth $6 billion by 2020…

Aryaka – Aryaka is not your average SD-WAN company. It invested in a global private network by buying Layer 2 capacity from Tier 1 and Tier 2 service providers. Aryaka's investment resulted in its global SD-WAN service, which combines the global private network, WAN Optimization, and cloud acceleration…

Founders: Ashwath Nagaraj (Cisco)
Funding: InterWest Partners, Mohr Davidow Ventures, Nexus Ventrue Partners, Presidio Ventures, Trinity Ventures

Versa Networks – Versa was founded in 2012 by brothers, Kumar Mehta and Apurva Mehta, Juniper Networks veterans known for their work on the MX Series routers. Although the company has a strong presence in the network functions virtualization (NFV) market, it also has made some notable achievements around SD-WAN. Versa believes that by transitioning from solely MPLS to SD-WAN and software-based security, enterprises can embrace a DevOps-oriented approach, increasing IT agility…


Founders

: Kumar Mehta (Juniper), Apurva Mehta (Juniper)


Funding

: Sequoia, Mayfield, Verizon Ventures
Viptela – This San Jose-based SD-WAN company was founded in 2012 and allows global companies to build carrier-agnostic wide area networks (WANs). The company touts that it has 25 Fortune 500 companies as customers, including well-known carriers like Verizon and Singtel. The Viptela platform allows enterprises to reduce WAN costs by augmenting expensive leased lines with cheaper public broadband connections. The company also says its SD-WAN technology could help the Internet of Things (IoT) space. Viptela has raised $108.5 million in funding since it was founded, including a $75 million Series C round in May led by Redline Capital.


Founders

: Khalid Raza (Hewlett-Packard, Cisco), Amir Kahn (Juniper, Cisco)


Funding

: Northgate Capital, Redline Capital, Sequoia Capital
Silver Peak – This 12-year-old company had its feet grounded in WAN for years, and in 2015 saw the potential for SD-WAN. When Silver Peak customers complained about the expense of MPLS connections, Silver Peak developed its SD-WAN product Unity EdgeConnect and now has more than 300 customers, including names like Wind River, San Disk, VMware, and Ebay. Unity EdgeConnect enables enterprises to reduce costs and complexity of building a WAN by leveraging both MPLS and broadband. The company raised close to $60 million but has been self-sufficient since 2008.


Founder

: David Hughes (StrataCom)


Funding

: Benchmark, Duff, Ackerman and Goodrich, Greylock Partners, Pinnacle Ventures
VeloCloud – Launched in 2012, VeloCloud claims it is the first company to deliver the three necessary components to achieve a cloud-delivered SD-WAN: a cloud network for enterprise-grade connection to a cloud; software-defined control and automation; and virtual services delivery. VeloCloud raised $27 million in Series C funding in January led by March Capital Partners and Cisco Investments, bringing the company's total funding to $49 million. In 2015 VeloCloud expanded its network of vendor partners, which includes BroadSoft, Cisco, Equinix, Hewlett Packard Enterprise (HPE), Intel, and VMware.


Founders

: Sanjay Uppal (OnMobile, Citrix), Steve Woo (ClearStone Venture Partners), Ajit Mayya (VMware)


Funding

: Cisco Investments, March Capital Partners, New Enterprise Associates, The Fabric, Venrock
Talari – Oddly enough, Talari's latest version of its virtual SD-WAN technology got its start because of a failed IPsec deployment. John Dickey, Talari's president and COO, in May said his good friend tried to rip out an expensive MPLS private network in India and replace it with a site-to-site IPsec virtual private network (VPN) to help a company save money. But the bandwidth was unreliable, and the IT team had no insight as to how to solve issues when they occurred. This incident prompted Dickey to think about using multiple service providers and adding an intelligent layer to organize the traffic. Now on its fifth-generation SD-WAN product, Talari claims what makes its technology unique is that it tags every packet in one direction for Layer 2, 3, and 4 traffic, eliminating the use of an IPsec tunnel. After four rounds of funding the company has raised $36.2 million to date.


Founders

: John Dickey (AMCC), Andy Gottlieb (Aryaka)


Funding

: Daybreak Investments, Four Rivers Group, Menlo Ventures, Silver Creek Ventures
CloudGenix – Founded by a team of Cisco WAN experts, CloudGenix anticipated the SD-WAN boom back in 2014. In May of that year the company raised $9 million in Series A funding so it could pursue what it called software-defined enterprise WAN (SDEWAN), which sounds an awful lot like what we know SD-WAN to be today. In May 2015 the SD-WAN company raised $25 million in Series B funding to help scale its product, CloudGenix ION. This product provides connectivity between the ION endpoints and the CloudGenix controller. This layer is managed by the CloudGenix controller with selective peering to interoperate with the physical carrier network.


Founders

: Mani Ramasamy (Cisco Systems), Kumar Ramachandran (Cisco Systems), Venkataraman Anand (Cisco), Navneet Yadav (Cisco, Juniper)


Funding

: Bain Capital Ventures, Mayfield Fund, CRV
TELoIP – TELoIP was founded in CEO Pat Saavedra's basement in Toronto in 2002 with a goal of providing voice, video, and data over the Internet. The company has raised $35 million since its start 14 years ago. Today, TELoIP sells two services: SD-Internet and SD-WAN. The products are similar, except SD-WAN adds encryption to the data plane. The company differentiates itself from the competition by selling its technology through channel partners instead of selling directly to enterprise customers. TELoIP sells through managed service providers (MSPs), and finds this alliance to be advantageous when competing against other vendors. TELoIP works with 10 channel partners, some counting sales of over $1 billion a year.


Founder

: Pat Saavedra


Funding

: $30 million in private funding
Glue Networks – Best known as a Cisco partner, Glue Networks originally found its niche in software-defined network orchestration but has recently migrated into the SD-WAN space with its Gluware solution. Gluware is a platform for automating configuration of an enterprise SD-WAN in cases of a multi-vendor network. Cisco was an early investor in Glue's SD-WAN and resells Gluware to enterprises that want customization. In cases where equipment is interoperable, Gluware can configure an entire chain, treating the multiple vendors' products as one workflow. Glue Networks currently supports Riverbed's WAN optimization, Palo Alto Networks' firewalls, and A10's load balancer.


Founders

: Jeff Gray (Firefly Communications), Oliver Van (Firefly Education)


Funding

: Harvard Angel Group, Kierestsu Forum, Sacramento Angels, Sand Hill Angels, San Joaquin Angels, Sierra Angels
Ericsson has announced the launch of a comprehensive NFV infrastructure, which it insists is definitely totally interoperable, definitely not proprietary and does all the clever things NFV is famed for.
It calls the full NFVi solution completely 'verified', though at no point does Ericsson actually specify by whom the infrastructure is verified. Nonetheless, the Swedish vendor has powered through with its NFV solution which it says is based on a well-defined architecture and completely pre-integrated platform; combining a bucket load of existing Ericsson gear…
Telecom service assurance helps drastically in enhancing the customer experience by maintaining and improving the quality of service. This can be achieved with the software systems that are deployed at the various levels of service delivery chain…
Sandeep Raina, Product Marketing director, MYCOM OSI
It is well acknowledged that digitisation of services and networks reduces capex as well as overall cost of operation and allows launching services that are tuned to the customer needs.
The future digital network, a multi-layer composite of NFV/SDN, IoT and 5G, will be technically equipped to meet the digital service demands of customers over the next 10 years. In this period, in order to make the digital business successful, OSS will play an instrumental role in supporting the required dynamicity, speed and scale of the digital networks and services.
With the introduction of new OSS technologies and functionalities in incremental steps, the OSS of today can be evolved to become future-ready. Some of these steps include the use of REST APIs for integration of OSS layers, use of big data databases and storage, service- oriented and cloud-based architecture, analytics and automation using machine learning, says Sandeep Raina, Product Marketing director, MYCOM OSI…
"It's been so hectic dealing with the burden of being the number one operator – subscribers, spectrum, expansion, etc – that we just don't know where to start. So, how have you been?"
That's not actually what EE said, but CEO Marc Allera has written a letter to the CEOs of the other three major UK mobile operators to say he thinks they should all "work together to tackle what is our industry's biggest perception challenge: customers' expectations concerning coverage and signal quality." …
A connected cars industry driven by operators has moved one step closer to reality as Telia has announced a partnership with Springworks to launch 'talking car' services.
The connected cars market, like many emerging industries today, leave question marks over the position of the operator in the future. Will operators move ever closer being slapped with the dreaded label of being a utilities provider? Or will operators sit at the core of the connected cars market and deliver every service imaginable? …
China Telecom Shanghai teamed with Huawei on a network slicing trial that assisted the operator in provisioning new services to different types of customers. The trial used Huawei's OLT MA5800 platform to deliver certain services to specific customer groups depending upon whether they are enterprise, consumer, or a campus user.
China Telecom's trial of network slicing is part of a bigger trend among network operators to migrate their existing networks, which tend to have a monolithic architecture, to a more flexible architecture that allows them to optimize different "slices" of the network to support specific vertical services. Network slicing is considered a key ingredient in 5G because 5G is envisioned as being able to provide a consistent user experience across a wide variety of applications – from the high-speed, low-latency requirements necessary for transmitting video to the low-bandwidth needs of many Internet of Things (IoT) scenarios.
Spanish telecom operator Telefonica has teamed with Huawei to develop what the two companies claim is the world's first proof-of-concept (PoC) 5G radio access network (RAN) that features a no-cell architecture.
The companies tested the technology in their joint 5G innovation lab and found that compared to LTE, the 5Gconnections per cell increased 233 percent while the overhead signaling decreased 78 percent. In addition, latency decreased 95 percent compared to LTE.
After months of what looked like empty rhetoric, the UK government is finally getting its act together and will announce a £1.1 billion investment lottery for fibre and 5G.
There has been a tonne of noise recently coming from the government and top dudes in the industry lamenting the UK's allegedly 'crap' broadband. That talk came to a head over at Broadband World Forum in October when Openreach told Ofcom to pull its finger out, the government minister for Culture, Media and Sport tried to convince everyone they're all taking broadband very seriously over at Whitehall, and then Virgin Media CEO Tom Mockridge called bullsh*t on the whole thing…
OSS BSS System and Platform Market: Snapshot
The global OSS BSS system and platform market is poised for strong growth in the coming years, driven mainly by the expansive telecommunication sector. The rising adoption of convergent billing systems and the growing demand for customer care services are also anticipated to significantly contribute to the OSS BSS system and platform market.

The opportunity presented by this market was pegged at US$29.11 bn in 2015 and is slated to advance at a CAGR of 10.5% from 2016 to 2024, to attain a market size of US$70.97 bn by the end of the forecast period.
TBR, a leading technology consulting firm and Huawei recently released a white paper – entitled "Network Maintenance Evolution and Best Practices for NFV Assurance". The white paper pointed out that the growing adoption of NFV architecture by service providers will require new approaches to network maintenance. The paper also noted that NFV assurance requirements will accelerate the evolution of maintenance which has already advanced from "passive" to "active" methods and will evolve further to – "smart" techniques using increased automation. NFV enables real time services that require new methods to achieve assurance and greater efficiency in maintenance. The new architecture raises questions such as – How do operators prevent problems using active maintenance methods? How do they detect abnormal events faster? How do they deal with issues in a multi-vendor environment? How do they reduce the impact of infrastructure updates? …
Alibaba's cloud computing business unit has announced worldwide expansion plans with four new data centres in key locations around the globe.
While the growth of cloud computing has been dominating headlines in the technology world for some time, China's influence has been relatively low-key to date with its own giants mostly focusing on the domestic market. AWS, Google, Microsoft and IBM have marched to the top of the segment though if experience tells us anything it won't be long before the Chinese are making noise at the top of the table…
UK telecoms regulator Ofcom has made a concession to smaller operators in the next spectrum auction but it is token at best.
At stake is the 40 MHz of 2.3 GHz spectrum and 150 GHz of 3.4 GHz spectrum that will be made available for auction next year. This represents the first opportunity to address how much of the total spectrum pie is accounted for by each operator in a while and the underdogs, as you would expect, have been vocal in imploring Ofcom to use this opportunity to level the playing field – ideally via forced redistribution from BTEE, which currently owns by far the most…
Operators and service providers around the world are deploying or preparing to deploy SDN/NFV and there has already been significant market spend in this area. According to analyst firm Infonetics, the global NFV/SDN networking market will grow fivefold to bring in $11 billion in revenue by 2019. IDC research indicates that network virtualization in the Asia-Pacific region is being driven by an increasingly mobile work force, business expansion, economic growth and the IoT.
In Asia-Pacific, 64% of enterprises across 14 markets said they are at some stage of deployment with NFV; that includes planning, integration and testing, IDC research indicates. Malaysia, Korea and Thailand are the most advanced NFV markets. Roughly 30% of the organizations are implementing SDN to improve network agility, speed to market and programmability. In Japan, centralized control was the top driver for SDN investments, while lower hardware cost was the top priority in Australia, New Zealand, Hong Kong and India.
While Asia-Pacific is making strides in SDN/NFV adoption, the focus appears largely to be on deployment, fulfillment and orchestration of virtualized services such as virtual CPE (vCPE), virtual Evolved Packed Core (vEPC) and SD-WAN. Little discussion, in this region and around the world, is focused on how operators and enterprises will monitor and assure these virtual services once they are deployed. Further, how will they monitor the hybrid environment of legacy networks and virtual networks, which will be the norm for the foreseeable future?…
DALLAS — AT&T is experimenting with artificial intelligence (AI) and combining it with software-defined networking (SDN) and network functions virtualization (NFV) to figure out a better way to run its network.
Speaking on a panel at the 5G North America conference, Brian Daly, director of core network and government regulatory for AT&T, said that the company is looking at AI as a way to operate its network more efficiently by using it to make decisions that currently might require human interaction today. "We see AI combined with SDN and NFVas a way to provide us with efficiencies that may not exist today," Daly said.
Like other tech giants from a bygone era, Intel has been on a quest to reposition itself as a champion in the digital era and it looks like the potentially lucrative market of autonomous vehicles is a favourite…
They love a connected car over in Korea and operator SK Telecom is so keen it has already pimped one up with a 5G connection.
The more substantial achievement was the deployment of what SKT claims is the world's largest millimetre-wave trial network in partnership with Ericsson. Specifically it used the 28 GHz band over a network covering 240,000 square meters at a BMW driving centre. The network supports peak data rates of 20 Gbps.
The car is called T5, although we would've preferred KITT. As well as the trial 5G network the car also used vehicle-to-everything (V2X) technologies, which seems to be a handy catch-all name to describe ultra-low latency wireless communications with, well, everything else. It did clever things like proving assisted driving and remote monitoring by streaming 4K video from in-built cameras while driving…
Although some pre-standard 5G fixed wireless networks could be deployed earlier, networks based upon the 5GITU standard will not begin to proliferate until 2020, according to Ericsson's Mobility Report released today. Once launched, subscribers will flock to the new networks, which are expected to attract an estimated 550 million 5Gsubscribers by year-end 2022, the study said.
North America will be the biggest 5G market, initially, following by Asia Pacific. Operators in South Korea have been particularly aggressive with their 5G trials. According to the report, by 2022 North America will account for 25 percent of the 5G subscribers while Asia Pacific will account for just 10 percent of 5G subscribers. Western Europe, meanwhile will account for just 5 percent of 5G customers.
AT&T is pushing the 3GPP standards body to release the first part of its 5G Release 15 specification between December 2017 and March 2018 as opposed to the original timeline of June 2018. The portion of the 5Gspecification that AT&T wants released is specifically geared toward non-standalone New Radio (NR).
Speaking here at the 5G North America event, Brian Daly, director of core network and government regulatory for AT&T, said that the company is in the midst of conducting some 5G trials and wants to make sure that those trial results are part of the standards. "The early release between December 2017 and March 2018 for non-standalone NR is a critical milestone to meet to get some of the learnings from the trials and bring into the standards for silicon designs for early product releases," Daly said.
Nokia President and CEO Rajeev Suri today said the company has created a new standalone software business unit.
"During the next two years, we aim to tap growth in software with a broader ambition to build a significant standalone software business," Suri said in a prepared statement today as part of Nokia's Capital Markets Day event in Barcelona, Spain.
AT&T has revealed a new feature for 2017 with its marketing team seemingly having great fun rebranding 'Data Throttling' to 'Stream Saver'.
The new feature, which will begin in early 2017, has been billed as a 'free and convenient, data-saving feature' allowing customers to gain more from their data allowances. Video will be downgraded to standard definition (480p) at some point, even if user's data plans are unlimited, because like CO2 emissions, customers would be outraged if they were using more data than absolutely necessary.
And how much will AT&T charge to help customers continue on their quest to become more efficient and watch lower-quality video, irrelevant as to whether it will save them money or not? Why its free of course! Those guys! I mean, your correspondent wishes he could have an AT&T contract in the UK because it sounds like a brilliant deal. You pay for unlimited data and you get the option to limit it… free of charge! That's like nothing ever heard before!
"We know our customers love to be entertained while mobile, and Stream Saver lets them enjoy more of what they love, whether it's video or something else," said David Christopher, CMO, AT&T Entertainment Group. "And, they are in control – it's their choice on how to use this innovative feature."…
Hyperscale data centers will grow from 259 at the end of 2015 to 485 by 2020, according to the sixth annual Cisco Global Cloud Index.
The study identified 24 hyperscale data center operators, based on whether they met certain revenue benchmarks in cloud services. Their facilities will represent 47 percent of all installed data center servers by 2020.
Verizon Communications has steadily been building its Internet of Things (IoT) business through acquisitions and investments and may soon top $1 billion in annual revenue from IoT.
Speaking at the Wells Fargo Technology, Media & Telecom investor event this week John Stratton, Verizon executive VP and president of operations, said the company's IoT business was $217 million in the third quarter, a 24 percent increase year-over-year. "It's approaching a billion-dollar business," Stratton said, noting that the majority of that business is coming from telematics, which relates to connected vehicles.
Ericsson delivered a decidedly downbeat kickoff to its investor conference in New York City this morning. The Swedish telecom equipment vendor predicts its total addressable market to grow by only 1 to 3 percent in the 2016 to 2018 timeframe. And it expects a decline in its core mobile infrastructure market by 2 to 6 percent in 2017.
The company has experienced a lot of turmoil this year due to drastically reduced demand for its traditional mobile products. In July, it replaced CEO Hans Vestberg, and it's conducted layoffs. The most recent round of cuts hit about 3,000 employees in Sweden last month.
The telecomsector will have 8.6 million jobs in the next five years, said CEO of Telecom Sector Skill CouncilS P Kochhar here on Thursday.
Of the 8.6 million jobs, nearly 3.8 million will be in the area of manufacturing mobile phones.
"Telecom is one of the fastest growing sectors in India and there is an acute shortage of skilled workforce in the industry. The Telecom Sector Skill Council (TSSC), a non-profit public private partnership with the National Council of Skill Development (NSDC), has been training people in India on various areas of the telecom industry," Kochhar said…
Advances in artificial intelligence presents an opportunity for telecoms operators to entirely revolutionise their approach to customer experience management.
Customer service, specifically, comes with a standard cost per user – and every time the customer makes contact to discuss a problem that's a charge to the operator. Therein lies the problem with the existing model, it isn't pre-empting customer experience issues.
By introducing elements of behaviour prediction, network condition prediction and customer service automation, operators can rapidly begin to minimise the cost of running contact centres and help optimise average revenues per user.
Orange has taken an alternative route to combating the profitability challenge endemic to the telecoms industry – it started a bank.
Since the normalization of the internet and the power offered to challenger brands through the implementation of cloud computing, numerous OTTs have risen up to challenge. The result is the former cash cow of voice and text has slowly crumbled. Providing connectivity will not be enough for hungry investors and stakeholders who are used to the plush profits of the 90s, therefore the telcos have to find new ways of making money.
"The finance business is more than a test," said Jean-François Fallacher, CEO of Orange Polska at a recent Orangeanalyst day. "This is a real service which has been launched in Poland and we are the first national business in the Orange group to launch a mobile banking service. But you have to realize as well, this is so much more than a just a payment app."
Back in 2014, Orange Polska teamed up with mBank to launch a new mobile banking service called OrangeFinance. While mobile payment services are now not uncommon throughout the industry, the Orange Finance is the complete banking proposition offering current accounts, credit services, direct debit payments, inter-account transfers, contactless payments and withdrawals…
BT's wholesale business unit Openreach has announced it will more than double the speeds available over its ultrafast Fibre-to-the-Premises (FTTP) network.
The Openreach business has been under fire in recent months, as BT's competitors have complained of poor service, preferential treatment to BT and inadequate technology to service non-BT customers in the UK.
The latest announcement claims new faster services will be available to homes and businesses across the entire FTTP network, which will double in size over the next 12 months and reach up to two million premises by the end of 2020. Maximum download speeds will now increase from 330 mbps to up to 1 gbps, and the initiative is part of the greater plan to make ultrafast speeds available to up to 12 million UK premises by 2020 using a mix of fibre technologies.
"We're committed to taking the UK from being a superfast to an ultrafast nation, and whilst we're extending the reach of our Fibre-to-the-Premises network, we're also boosting the speed and variety of the services we can offer over it," said Openreach CEO Clive Selley…
Korean operator KT is claiming it will launch a commercial 5G network in 2019, one year earlier than its initial plan of 2020 and one year before 5G standards are expected to be fully baked. KT is tightly aligned in its 5G trials and information sharing with U.S. operator Verizon Wireless, which has also said it wants to be aggressive in its 5Gdeployment.
In a Korea IT News article, Oh Seong-mok, director of KT Network Sector, said that he is certain that standards of the 5G-SIG (special interest group), will become part of the 3GPP's international standards. He added that after the 2018 Pyeongchang Winter Olympics, KT is going to commercialize 5G in 2019 based on international standards.
Inspired by the stellar work being done by Telecoms.com in the area of 5G surveys, Ericsson has released its own to celebrate a 5G partnership with NTT DoCoMo and Intel.
While Nokia sought to get in early and dominate the IoT space with its Smart Cities Playbook; Ericsson clearly fancies trumping its Scandinavian rival by nabbing 5G early. With that in mind, Ericsson quizzed 50 industry execs from 29 different operators around the world, and found out that everyone is active in the 5G space in one way or another. Either that or nobody had the balls to admit not doing anything so far.
If we were to extrapolate the findings out to the entire industry, two thirds of operators are either in the R&D phase or actual trials (34% and 32% respectively), while an additional 22% are in the initial planning stages…
Viavi will demonstrate a NFV-based test and service assurance with Comcast, Telecom Italia Sparkle and Tata Communications. The demonstration will take place on 7-9 November at MEF16, Baltimore.
The virtualised technology can run automatic service activation and performance tests remotely without the need to dispatch a technician. This would dramatically reduce the time it takes for operators to address problems on a network and it could boost Quality of Service.
Viavi will also demonstrate dynamic bandwidth-on-demand services for multiple carriers and platforms. The demonstration would show the ways in which a circuit may be ordered via a web portal that would be provisioned through three different carriers and run via a data centre based in another continent. The application, which would be automated, can be turned up or down with minimal human interaction.
The demonstration will occur as part of a Proof of Concept Showcase at MEF16, 7-9 November in Baltimore, Maryland.
Wholesale operator Colt has claimed its position as the network for networks after doing some SDN and NFV cleverness with AT&T. Coincidentally, Orange announced the launch of an SDN project at the exact same time.
Colt apparently has a hard-on for software, using software defined networking and network functions virtualization APIs to make service provider architectures interoperable with each other. Ultimately, this means SDN-managed services can be booted up and migrated across multiple networks in near real-time; so operators the world over can start collaborating more effectively, apparently.
This would appear to fall under AT&T's wider network transformation initiative, Domain 2.0. For Domain 2.0, AT&T basically threw a tonne of industry vendors into the ring, let them fight it out, with the lucky winner being allowed to have its way with the network. It has put NFV, SDN and Cloud at the forefront of the transformation effort, which is where Colt comes in…
Super acquisitive telco conglomerate Altice has been spanked with an €80 million fine for prematurely engaging in post-M&A relations.
The French Competition Authority imposed the fine for what it considered to be "gun-jumping" in relation to the 2014 acquisition of SFR – basically trying to get things moving with the deal before regulatory blessing had been given. Altice protests its innocence, saying everything was done in good faith and that was simply hoping for a bit of efficiency.
Despite claiming it's just a bunch of good honest dudes trying to do a tough job, Altice did take the fine in good spirit.
"The Group chose not to refute these practices and to accept the French Competition Authority's settlement offer," it said in a statement. "The Group chose to settle the matter in order to limit its financial exposure, given the level of penalties imposed for the type of procedural violation under the French Commercial Code."…
Research and Markets has announced the addition of the "Global Pay TV Operator Forecasts" report to their offering.
The top 100 operators accounted for three-quarters of the world's pay TV subscribers by end-2015, with this proportion not expected to change over the next five years. The top 10 operators took 42% by end-2015, according to the Global Pay TV Operator Forecasts report.
By end-2015, 12 operators had more than 10 million paying subscribers, and this will climb to 18 operators by 2021. However, the number of operators with more than 5 million subscribers will stay at 29.
Pay TV subscriptions for the world's top 400 operators with 585 platforms across 100 countries will increase from a collective 778 million in 2015 to 912 million by 2021. These operators took 84% of the 928 million global subscribers by end-2015, with this level expected to inch up to 85% of the 1,076 million by 2021. Only 93 (23%) of the 400 operators will lose subscribers between 2015 and 2021.
China Radio & TV is the world's largest pay TV operator by a long long way. Government policy to consolidate cable TV means that China Radio & TV quickly became the world's largest pay TV operator, with 239 million subs by end-2015. The operator will soon represent every cable TV home in

China

, with 251 million subscribers expected by 2021.
Murray continued: Despite adding 147 million subscribers between 2015 and 2021, subscription and VOD revenues for the 400 operators will remain flat at

$206 billion

.
These operators accounted for 83% of the global total in 2015, but this proportion will fall to 80% by 2021. In fact, 115 of the 400 operators (29%) will lose subscription and PPV revenues between 2015 and 2021.
Windstream announced a deal to purchase Earthlink in an all-stock merger that is valued at about $1.1 billion including debt. The deal is expected to close in the first half of 2017.
The combined company would have a significant fiber footprint that combines EarthLink's 29,000 route miles with Windstream's fiber footprint for a total of 145,000 route miles.
Deutsche Telekom is reportedly in the midst of creating a defence system which can be used to combat the rise of drones in the skies.
The German telco is answering calls from various customers including car manufacturers and a football team to create a proposition which can prevent drones from entering into no-fly zones or restricted airspace. For the moment it is monitoring the market, though it has confirmed to Telecoms.com it hopes to present a business solution later this year.
The last few years have seen the number of drones in the sky increase quickly, a trend which is only going to get more prominent as the technology becomes more affordable. There have already been a number of incidents and near-misses around airports and other sensitive areas leading calls for a solution…
In a bid to differentiate its new consumer 4G service Virgin Media is flirting with the net neutrality debate by zero-rating WhatsApp and Messenger.
That's the headline initiative, but the more significant innovation may be allowing punters to roll over unused data from one month to the next. Regular OTT messaging only consumes a small amount of data – a few KB – per message, so that concession seems quite cosmetic, although less so for people into picture and video messaging. The ability to preserve unused data, however, does address a real consumer pain-point.
Virgin seems to have identified tariff innovation as the main way to differentiate its new 4G (EE MVNO) offering, which itself is as much a multiplay bundle sweetener as it is a going concern in its own right. The basic tariff table is shown below for SIM-only. Virgin does also bundle handsets, but is pricing them separately from the service contract, as is the current fashion…
The software giant Oracle said that its proposed $9.3 billion acquisition of the cloud storage company NetSuite would move forward, after more than half of eligible NetSuite shareholders backed the bid.
Oracle said in a statement on Saturday that holders of 53 percent of unaffiliated NetSuite shares agreed to tender their shares by the deadline of Friday. The deal will be completed on Monday, Oracle said.
Oracle offered to buy NetSuite in July for $109 a share in response to challenges from rival enterprise software companies like Workday and Salesforce that have popular cloud-based software products.
With security breaches and site outages making the headlines, it's no wonder that security and network performance monitoring companies are appealing to investors.
"There's a lot of money to be made, and the new tools are in high demand," says Stephen Elliot, VP of the IT infrastructure and cloud practice with IDC Research. "Investors are looking at traditional security markets and asking how to make it better, especially with the new cloud-based technologies emerging."…
It's a big week for CenturyLink. Today it announced plans to sell its global data centers and colocation business to a group of private equity funds for $2.15 billion in cash and a minority stake to be valued at $150 million.
Earlier this week, the telco announced it was buying Level 3 Communications for about $34 billion.
While consolidation has been king in the world of the internet and the communications networking vendor market, the same trends have not been seen to date in the telecom operator space. Not for long according to Orange's Deputy CEO Gervais Pellissier.
For one reason or another, including competition concerns from the European Commission, consolidation in the telecoms service provider sector has been kept to a minimum. There have been a couple of examples, such as BT burning though a few notes taking on EE, but in comparison to other areas the merger and acquisition market has been relatively quiet.
"With the internet we have seen consolidation," said Pellissier. "We (the telco industry) are still a very fragmented industry. There are roughly 45 different telecom groups in Europe alone, which is too many."…
It's official: Broadcom is buying Brocade Communications for $5.9 billion. Broadcom plans to retain Brocade's Fibre Channel storage area networking (SAN) business. And it would divest Brocade's IP networking business, including the recently acquired Ruckus Wireless.
The price tag is based on $12.75 per share in an all cash transaction, plus roughly $400 million of net debt.
Facebook is today hosting the first Telecom Infra Project (TIP) summit at its headquarters in Menlo Park, California. A highlight of the summit is the announcement of Voyager — a Facebook-designed, packet-optical transponder platform.
Facebook's end goal with TIP is to make fast Internet available to people worldwide. A lofty goal for sure.
Small Cell Forum (SCF) has today published Release 8, a practical working guide detailing technical and commercial best practice for operators planning to deploy Network Function Virtualization (NFV). Small cell virtualization will be a key enabler of 5G HetNets, enterprise services and the Internet of Things (IoT), offering significant benefits including scalability, agility, cost reduction and network slicing.
In Release 8, SCF combines unique experience of real-world deployments of NFV technology today with small cells at the network edge, which will be invaluable in building out the networks for the future.
Virtualization allows network functions to be separated from the radio, and run on commodity hardware, including the Cloud. This allows resources to be scaled dynamically according to the number and type of mobile services in use…
According to a report from Bloomberg, Brocade Communications is in advanced talks to sell itself, and Broadcom is a potential bidder.
Brocade's stock was up about 22 percent this afternoon, or about $10.60, after the report.
AT&T is planning to test 400-Gb/s Ethernet service for business customers starting in early 2017. The trial will occur in three phases and will include the testing of a 400-Gb/s open router platform that will use merchant silicon and open source software from multiple suppliers.
AT&T declined to reveal the manufacturers of the router platform, but said that it will offer more details in the coming months.
CenturyLink announced today that it is buying Level 3 Communications in a cash and stock transaction with an equity value of about $24 billion, or $34 billion if the assumption of debt is included.
Although the two companies are similar in size, the Monroe, Louisiana-based CenturyLink is the buyer in the transaction, which was rumored late last week.
…The analysts forecast global network function virtualization market to grow at a CAGR of 32.88% during the period 2016-2020. According to the network function virtualization market report, SDN is an evolving network architecture in which the network control and the forwarding plane are decoupled and can be programmed directly. This transfer of control from specific network devices to manageable computing devices simplifies the management of network infrastructure in an enterprise environment. SDN provides control to enterprise business operations through a single logical point, simplifying network design and operation…
A new report has had a look at the market for network function virtualization (NFV) and reckons it's due for a growth spurt.
The number crunching was done by Technavio, which scrutinised the NFV activities of a bunch of key players, including the major networking vendors. To get a sense of the size of the market it looked at revenue obtained from components such as NFV virtualization software and NFV IT infrastructure and services. The conclusion was that revenue associated with NFV will grow at a CAGR of 33% from now until 2020…
CenturyLink and Level 3 Communications are seriously considering merging. According to the Wall Street Journal, a deal between the two companies could be announced in the next few weeks.
Terms of the deal have not been revealed. As of Thursday's market close, Centurylink had a market cap of $16.93 billion and Level 3 had a market cap of $18.65 billion.
Move over, Broadcom. It looks like the largest chip merger in history is going to be Qualcomm's $38 billion acquisition of NXP Semiconductor, announced this morning.
Qualcomm's offer is $110 per share, an 11.5 percent premium over NXP's closing price of $98.66 yesterday. If you include NXP's cash and debt, the price of the deal becomes $47 billion.
AT&T's blockbuster $85 billion acquisition of Time Warner is being touted as a way for the company to build its content portfolio and ultimately compete with cable companies to deliver high-speed broadband and TV services to consumers.
And it appears 5G will play a key role in that plan. AT&T CEO Randall Stephenson said during the company's call with investors about the deal on Monday that he believes the acquisition will drive more demand for 5G. "As we begin to stimulate even more and more demand of video over-the-top on our mobile networks, the desire and the incentive to go faster on 5G deployment is heightened," he said.
Revenue from OpenStack, the open source software platform for cloud computing, will likely top $5 billion by 2020 and grow at a 35 percent compounded annual growth rate, according to 451 Research. While that growth rate is strong, the platform's overall revenue is still fairly small compared to that of market leaders like VMware and Amazon Web Services (AWS), the firm said.
451 Research said that most of OpenStack's revenue so far has come from service providers that offer multitenant infrastructure-as-a-service (IaaS) but that the private cloud revenue will increase and surpass public cloud revenue by 2019. The company based its forecast on the fact that there are several organizations in different vertical sectors that are running workloads on OpenStack.
An Internet of Things (IoT) botnet dubbed Mirai is being blamed for causing some of the massive distributed denial of service (DDoS) attack that disrupted several major Internet sites last Friday. High profile sites including GitHub, Twitter, and Netflix were impacted.
In a Periscope channel post, Level 3 Chief Security Officer Dale Drew said that the DDoS attack was caused by a large number of IoT devices that were constantly querying a domain name service (DNS) provider, making it impossible to translate Internet addresses into IP addresses so that networks can route traffic.
AT&T Inc (T.N) said on Saturday it agreed to buy Time Warner Inc (TWX.N) for $85.4 billion, the boldest move yet by a telecommunications company to acquire content to stream over its network to attract a growing number of online viewers.
The biggest deal in the world this year will, if approved by regulators, give AT&T control of cable TV channels HBO and CNN, film studio Warner Bros and other coveted media assets. The tie-up will likely face intense scrutiny by U.S. antitrust enforcers worried that AT&T might try to limit distribution of Time Warner material.
AT&T will pay $107.50 per Time Warner share, half in cash and half in stock, worth $85.4 billion overall, according to a company statement. AT&T said it expected to close the deal by the end of 2017…
A distributed denial-of-service (DDoS) attack that caused early-morning outages around the Internet seems to have gained a second wind.
Sites such as Twitter and Netflix that were experiencing outages earlier in the day were getting hit again shortly after 10:00 a.m. PST.
The attack even caused the postponement of today's SDxCentral webinar with the OpenDaylight Project. So, it's personal.
News reports say the DDoS attack is directed at Dyn, a Domain Name Service (DNS) provider. DNS translates web URLs into IP addresses. It's vital to the Internet, and it also presents an opportunity  for anyone looking to cause widespread mischief.
Maps at downdetector.com, which tracks the downtimes of major web properties, indicated the hardest-hit areas were California, the northeastern United States, and spots of western Europe. So while the attack is certainly serious, it's arguably gotten extra publicity due to the concentration of tech journalists in Silicon Valley and New York.
The move will help consolidate open-source efforts around SDN and NFV and bring together such efforts as ONOS, CORD and OpenFlow.
Two key players in the open-standards efforts around network virtualization will merge next year, bringing some consolidation to an area where over the past several years there has been a proliferation of standards groups.Officials with the Open Networking Foundation (ONF) and Open Networking Lab (ON.Lab) this week announced that the two organizations will become a single consortium that will operate under the ONF name and will be led by Guru Parulkar, founder and executive director of ON.Lab…
Sasa Nijemcevic, vice president and general manager for the Network and Service Management Business Unit atNokia Networks, explains how integrated assurance can help new SDN services run at peak efficiency and meet SLAs.
SDN Insights: Automation and optimization have been key selling points for carrier SDN – why is that not enough for delivering SDN services? 
Sasa Nijemcevic: As SDN projects move from limited live trials to broad deployment and commercialization, providers are discovering that carrier SDN platforms must also support integrated assurance capabilities. Assurance has always been a key part of service fulfillment, but in a world where the dynamic network consumption patterns of cloud applications makes network demand and traffic patterns less and less predictable, the ability to ensure your network and services are doing exactly what they are supposed to becomes more important than ever…
Broadband World Forum — Four years after the ETSI white paper, NFV has moved from concept to testing and into reality for some functions, but with reality comes growing pains around ROI, skill sets and a new challenge: software licensing.

During a presentation on Wednesday, Don Clarke, principal architect of network technologies at CableLabs , editor of the now infamous European Telecommunications Standards Institute (ETSI) white paper, reflected on the last four years: "When I look back at this whole technology, I think of it as an analogy with a child. You bring it to life and as soon as it starts to walk, it starts to make mistakes and it gets hurt. By the time it gets to about four years old, it's beginning to start to be sensible but it's not until much later that it starts to reach maturity," he said. "I would say even four years on, we're not there yet. We've got some ways to go."…
The Open Networking Foundation (ONF) is merging with On.Lab, creating one entity that will curate standards such as OpenFlow while developing software projects such as ONOS and the Central Office Re-Imagined as a Datacenter (CORD).
The groups have begun operating as one organization led by On.Lab Executive Director Guru Parulkar. But the merger won't legally be completed until next year; August 2017 is the target timeframe. (A nonprofit merger turns out to have all the complications of a corporate merger, Parulkar says.)
Facebook has produced a 100-Gb/s version of Wedge, its open source top-of-rack switch for data centers.
The switch was introduced yesterday in a blog posting credited to Facebook engineers Alex Eckert, Luis Martin Garcia, Reza Niazmand, and Xu Wang. They note that the Wedge 100 is already being used by Facebook in production; the real news is that the design has been accepted by the Open Compute Project (OCP).
The VoLTE (Voice over LTE) Ecosystem: service revenue will grow at a CAGR of 34% between 2016 and 2020

…First deployed by South Korean operators in 2012, VoLTE is beginning to gain momentum globally. As of Q42016, more than 80 mobile operators have commercially launched VoLTE services, and several roaming and interoperability agreements are already in place.
SNS Research estimates that VoLTE service revenue will grow at a CAGR of 34% between 2016 and 2020. By the end of 2020, VoLTE subscribers will account for more than

$200 Billion

in revenue. Although traditional voice services will constitute a major proportion of this figure, nearly 15% of the revenue will be driven by video calling and supplementary services.
The VoLTE (Voice over LTE) Ecosystem: 2016 2030 Opportunities, Challenges, Strategies & Forecasts report presents an in-depth assessment of the VoLTE ecosystem including enabling technologies, key market drivers, challenges, collaborative initiatives, regulatory landscape, standardization, opportunities, operator case studies, future roadmap, value chain, ecosystem player profiles and strategies. The report also presents forecasts for VoLTE smartphone shipments, subscriptions, service revenue and infrastructure investments from 2016 till 2030. The forecasts cover 7 individual submarkets and 6 regions…
Speaking at Broadband World Forum, Openreach's CEO Clive Selley gave a rundown of what the country needs to do to remain at the top of the digital economy. The first part of this crusade is a relatively simple message to Ofcom; stop messing around.
Ofcom's Strategic Review of Digital Communications was announced last year, and is yet to reach its conclusion. Although a review is not necessarily a bad thing in a rapidly changing environment, the duration and intensity has made the overall task more of a nuisance and distraction to the industry than a benefit.
Selley made a straight forward suggestion to the UK regulator, effectively saying 'stop d*cking around and start doing what you're supposed to be doing'. Broadband is as important to the 21st century as the train was to the 18th, if Britain is to continue as a leader in the digital economy the focus has to be moving forward not reviewing the now. It was a simple statement from the Openreach CEO, though one does wonder how effective it will be in cutting through the hazardous Ofcom bureaucracy…
New research from Ovum, commissioned by BT, has predicted G.fast technology will be serving 30 million subscriber homes and businesses around the world by 2021.
Although mostly concentrated in Western Europe, the technology is also catching internationally, with Chunghwa in fact announcing the first deployment of G.fast on a commercial basis last year. Within five years, the Ovum team anticipate 11% of broadband services will be delivered through G.fast. BT Openreach, M-net, Swiscom, NetCologne and Telekom Austria have already announced rollout strategies for the technology, with various others including Elisa, Homenet and Hrvatski Telekom conducting field trials.
"G.fast is a progressive and logical step for any network operator looking to deliver ultrafast speeds through incremental enhancements to existing infrastructure," said Matthew Howett of Ovum. "It allows them to radically improve the available speeds for large numbers of subscribers in a much shorter timeframe than other fibre based solutions."…
ZTE Corporation, an international provider of telecommunications, enterprise and consumer technology solutions for the Mobile Internet, announced the launch of its simple distribution point unit (DPU) solution ahead of Broadband World Forum 2016.
Aiming to help carriers scale network capability through software defined networking (SDN), ZTE's simple DPU solution addresses the unified management and service provisioning complications brought about by hybrid fibre to the home (FTTH) and fibre to the distribution point (FTTdp) scenarios, and is extremely viable for Europe's long-term coexistence of copper and fibre networks…
Fixed network architectures can no longer cope with today's networking needs

The world is getting more and more mobile, cloud-based, flexible and agile.
Pro monitoring, home energy management, and cybersecurity services present opportunities
The cable industry has entered the Smart Home business in a big way, especially in home monitoring and security. Cable operators already have existing relationships with consumers and capabilities in home technologies. However, many have traditionally not been in the business of producing Smart Home products and services themselves, and will continue to rely upon strategic partners to build a full service offering with compatible and innovative solutions.
With their own branded Smart Home solutions, cable operators have a great opportunity to enhance existing and future customer relationships and increase ARPU by offering a diverse menu of value-driven, subscription-based service offerings…
VMware and Amazon Web Services (AWS) today confirmed rumors they will deliver a joint service that lets customers run their vSphere private clouds from VMware alongside their applications in AWS's public cloud.
They've jointly architected their new service named VMware Cloud on AWS.
After unveiling deals with major French telco operators Free and Orange, Vivendi-owned pay-TV company Canal Plus Group has unveiled six new packages, in a big push to expand its subscriber base and turn around growing losses by 2018.

The company's goal with these new initiatives is to double the number of subscribers by 2018, said Maxime Saada, CEO of Canal Plus Group, and Frank Cadoret, head of distribution, technics and information systems, during a press conference held at the paybox's Paris headquarters…
Oracle and Verizon have announced a new partnership which aims to 'make the move to cloud easier for global organisations.'
The deal combines Verizon's Secure Cloud Interconnect services, which utilises Verizon's network to transfer data and apps securely to cloud service providers, to create the snappily-titled Verizon Secure Cloud Interconnect for Oracle FastConnect. The combination of software defined networking (SDN) from the Verizon side and in-region connectivity from Oracle is what the two companies are hoping will make it a winner for customers….
Operators used the morning keynote session at SDN and NFV World Congress to ask vendors to provide more technical performance innovation, openness, interoperability, differentiation and simple and decomposed licensing terms.
The SDN and NFV conference, which now has 1,500 registered attendees and spreads its tentacles through the labyrinth of The Hague's World Forum, heard on the first morning from speakers from Deutsche Telekom, KPN, Vodafone and Verizon…
Carrier SDN projects are progressing from lab trials to commercial deployment, making assurance critical given unpredictable demand and traffic patterns of SDN networks. New solution applies assurance (KPIs/analytics) to drive automated control of IP/optical networks, ensuring high-quality network and service performance . Leverages Nokia's broad IP & Optical Network service assurance applications, extends them to multivendor SDN networks
Nokia is expanding its carrier SDN offering by adding assurance capabilities to its Network Services Platform (NSP ). Combined with the NSP's automation and network control features, assurance equips operators with the tools to establish and maintain healthy SDN networks and services, even as the dynamic consumption patterns of cloud applications makes demand and traffic patterns less predictable. Assurance provides the missing link operators need to start large-scale commercial SDN deployment, spurred by the growth of cloud, video and Internet of Things (IoT). 
AT&T has announced a new strategic alliance with AWS to optimize delivery of integrated solutions built on the companies' cloud and networking capabilities.
The partnership itself will focus around three areas. Firstly, business cloud networking where AT&T and AWS will focus on new products leaning on security, performance, and mobility features to capitalize on industry buzzwords…
Cable heavyweight Comcast is working with Semtech to test a low-power wide-area (LoRa) Internet of Things (IoT)network using the LoRaWAN protocol in Philadelphia and San Francisco. The trials will be conducted through a new Comcast business venture, called machineQ, and will start later this year.
The trials will focus on IoT applications such as utility metering, environmental monitoring, and asset tracking. If successful, Comcast said it will commercially deploy LoRaWAN in an additional 28 markets within the next 18 to 30 months.
The latest episode on our long-running series '5G Partnership of the Day' sees Orange and Ericsson joining forces to make the world an even lovelier place.
SoftBank Acquires ARM for $32 Billion
Micro Focus Acquires Most (If Not All) of HPE's Software Segment for $8.8 Billion
Symantec Acquires Blue Coat for $4.65 Billion
Apollo Acquires Rackspace for $4.3 Billion
NTT Data Acquires Dell's IT Services Unit for $3.05 Billion
Verizon Acquires Fleetmatics for $2.4 Billion
Vista Equity Partners Acquires Infoblox for $1.6 Billion
Cisco Acquires Jasper Technologies for $1.4 Billion
Cavium Acquires QLogic for $1.36 Billion
Brocade Acquires Ruckus for $1.2 Billion
Eight years after the first Android device Google has finally decided to lead the crusade against Apple itself, to the likely detriment of other Android phone makers.
This escalation took the form of the Pixel smartphone. Google made frequent veiled references to the iPhone during the launch, including a barbed comment about not removing the headphone jack. The Pixel comes in regular and XL sizes, just like the iPhone, and Google seems to have taken extra care over the design – indulging in protracted, Apple-like musing on the almost erotic beauty of what, let's not forget, is just a phone…
Google Cloud got the ultimate test in July when its new customer Niantic released Pokémon GO, and the game shattered all prior estimates of player traffic. Engineers at Google and Niantic prepared for worst-case-scenario traffic at five times beyond expectations. Instead, they dealt with traffic 50 times beyond expectations.
Niantic's engineering teams worked in concert with Google's new Customer Reliability Engineering (CRE) group to cope with the unbelievable traffic.
By 2020, the software-defined wide area networking (SD-WAN) segment is expected to total $1.3 billion, marking triple-digit growth above 90 percent per year through 2020, according to an IHS report from IHS Markit Senior Research Director, Cliff Grossner.
The global revenue for data center network equipment, which includes application delivery controllers (ADCs), SD-WAN and WAN optimization appliances reached $3.1 billion in the second quarter of 2016, growing 11 percent from a year ago.
Software-defined wide area networking (SD-WAN) is the most popular virtualization offering at Verizon. Victoria Lonker, director of network product management and innovation with Verizon, referred to SD-WAN as the "low-hanging fruit." Now, the service provider is making plans to add more virtualized services, including session border controllers as-a-service and virtual probes.
German car makers Audi, BMW and Daimler on Tuesday launched an alliance with mobile telecoms network equipment firms Ericsson, Huawei, Intel, Nokia and Qualcomm to accelerate development of the infrastructure needed for self-driving cars. The pact is another example of Germany's premium carmakers collaborating to build technology expertise necessary to take on new rivals like Uber and Google which are also working on autonomous driving technology….
The global Internet of things (IoT) telecom services market is anticipated to grow at a CAGR of 43.6% during 2016 to 2022. The market has generated the revenue of 2.90 Billion in 2016 and is anticipated to reach up to $18 Billion by 2022. This is due to a number of factors, including the rising penetration of smart connected devices, the adoption of cloud and the demand for smart network bandwidth management and automation on communication operations…
Even by contemporary partnership standards the cabal of eight major companies that call themselves the 5GAutomotive Association is a biggie.
The first rule of car club is, presumably, to talk incessantly about car club. The three German car companies that bought HERE from Nokia have got together with the three big kit vendors and the two biggest chip vendors to push the connected car industry as we move towards the 5G era.
Audi, BMW, Daimler, Ericsson, Huawei, Nokia, Intel, and Qualcomm have reasoned that 5G will be the moment of truth for the connected car. The lower latency will enable things like remote control, instant emergency support and realtime services such as contextual navigation. The group seems keen on the term C-V2X, which stands for cellular vehicle-to-everything and seems like a needlessly convoluted way of saying connected car…
The massive shift that streaming services and IPTV have created in the world of technology and entertainment is now moving from audience disruption to the business of content creation.

The IPTV and streaming video service sector have added US$25 billion in global revenue to the video industry, according to a new report from the Boston Consulting Group.

OTTservices now account for about 5% of the US$500 billion video business worldwide, but this is forecast to be growing at 20%, compared to 2% for traditional TV.

Currently, most of the revenue being generated by streaming video and OTT distribution is held by a tightly knit cabal of Google, Facebook, Netflix, Amazon and Hulu…
Research from CCS Insight has forecast a glass ceiling for mobile phone growth capping the market at two billion units a year for the next five years.
Although the smartphone segment is expected to grow its proportion of sales over the period, the total number of mobile phone shipments will remain consistent at two billion. The doom and gloom forecast has been a favourite topicof analysts for some time now, so this prediction shouldn't come as a shock and not many tears are likely to be shed in the broader industry if the multi-billion dollar profit margins of the likes of Apple are eroded slightly…
The cable industry is seeing subscriber losses, but that doesn't mean that prices are going down to try and lure them back.
In fact, according toLeichtman Research's annual study, pay TV subscriptions keep going up and up. Pay TV prices have gone up 40% in the last five years, according to Leichtman.
In 2011, US subscribers to pay TV, on average, paid $73.63 for cable or satellite. But in Leichtman's latest study, that number is $103.10…
As Yahoo belatedly confirms a massive historical data breach two questions spring to mind; who knew Yahoo even had 500 million users, and what does this mean for the Verizon acquisition?
Even at this time of data breach fatigue Yahoo has set the standard for how not to protect your customer's data. The company announced yesterday that at least 500 million users had their accounts accessed and details stolen.
"A recent investigation by Yahoo has confirmed that a copy of certain user account information was stolen from the company's network in late 2014 by what it believes is a state-sponsored actor," said Bob Lord, the company's CISO. "The account information may have included names, email addresses, telephone numbers, dates of birth, hashed passwords (the vast majority with bcrypt) and, in some cases, encrypted or unencrypted security questions and answers…
UK fixed-line alpha BT has announced it will be buying a bunch of shiny G.fast kit from Huawei and Nokia to help with its 'ultrafast' broadband rollout.
The plan is to bring G.fast copper-on-steroids connectivity, and with it speeds of up to 330 Mbps, to 10 million premises by the end of 2020. The first places to get this broadband boost will be parts of Gillingham and Cherry Hinton later this year.
"Openreach is pioneering G.fast technology because we want to get affordable ultrafast speeds to as many people as possible in the fastest possible time," said Openreach CEO Clive Selley, apparently keen to extol the benefits of G.fast as opposed to fibre. "We also want to deliver this next generation of broadband services in the most efficient and least disruptive way – so it is a testament to our world leading R&D team that they've managed to define and drive new standards with operators and equipment manufacturers around the globe."
The IoT Telecom Services Market size is expected to grow from USD 2.90 billion in 2016 to USD 17.67 billion by 2021.
Digital transformation is one of those ubiquitous buzzwords; everyone offers it and everyone's doing it, butCisco's Bas Boorsma think not many companies get it…
Telstra and Cisco are collaborating on innovating in three main areas, with the overarching aim of digitisation.
Riverbed updated its SteelCentral — an application optimization product — to address blind spots that have emerged as businesses connect their headquarters and branch offices to the cloud. It also updated SteelCentral to monitor applications in its software-defined wide area network (SD-WAN) offering.
To address blind spots, Riverbed created some software-as-a-service (SaaS) to provide cloud-based performance management. And the company also extended its application monitoring to any endpoint.
AT&T and Verizon continue to trade jabs about the validity of the 5G specifications that Verizon released in July.
Verizon has said that its goal is to collaborate with vendors on some early specifications and then contribute those to the 3GPP, the mobile industry standards body responsible for creating the 5G standard. Verizon insists that its early release of these 5G specifications won't create fragmentation in the industry.
Google is eager to attract Internet of Things (IoT) developers to its cloud platform, so it's making it easier to connect devices. In a blog post, the company said it has teamed with Seeed Studios and Beagleboard.org to offer the BeagleBone Green IoT Wireless Prototyping Kit.
The kit is a joint effort of BeagleBoard.org and Seeed and is based on the open source hardware design of BeagleBone Black.
Huawei and German giant Deutsche Telekom have taken a step back from the 5G hype by pumping out speeds of a whopping 1.2 Gbps in an LTE demo…
Tesla is banking on sonar tech to convince the world self-driving cars are one hundred percent fool proof, while Volvo has gotten into bed with safe-pair-of-hands Autoliv to achieve the same goal…
The growing background noise emanating from the telecoms scene regarding Unmanned Aircraft Systems means their nickname has never been more apposite.
The latest piece of droning comes from US giants AT&T and Qualcomm, who seem to think it's such a big deal that they're testing these mini helicopters on commercial LTE networks. They're also investigating how these things will interact with future networks and have stuck their collective neck out to say one of them might even be called 5G…
EE has announced a major upgrade to its 4G service, following the introduction of Cat 9-based three carrier aggregation to boost its LTE capacity and speeds.
The move, EE claims, sees it launch the UK's fastest LTE network, with download speeds in excess of 350 Mbps on the live network. At present, EE's LTE-Advanced (or 4G+) service relies on two carrier aggregation, which essentially utilises two blocks of mobile spectrum. With the launch of Cat 9-based LTE-A, EE is moving into the world of three carrier aggregation, and has stated it will be rolling out the technology across more than 500 sites, towns and cities in the UK by the end of 2017.
While EE looks like it's the first operator in the UK to rollout live LTE-A three carrier aggregation, Vodafone trialled the technology back in May with Ericsson. Vodafone says that by using combining spectrum in the 800 MHz, 1.8 GHz and 2.6 GHz bands, it was able to achieve early test speeds of 240 Mbps, but is clinging to the hope that 700 Mbps will be possible in the future…
… Software-defined networking (SDN) has become a common choice for Chief Technology Officers (CTOs) of many enterprises, as it helps these enterprises implement fast service provisioning and improve network resource usage.
After SDN services are deployed, an originally operated and maintained physical network is divided into three networks: service, logical, and physical.
However, traditional O&M methods cannot monitor the status of the service and logical networks. If an application fault occurs, the fault is difficult to locate. As a large number of tenant services go online and change frequently, networks are dynamically adjusted and network faults are difficult to locate based on service configuration…
The telecom tower industry is set to get a big boost in the wake of introduction of 4G by Reliance Jio and expansion of 3G technologies.

According to a study by KPMG in association with trade body Assocham, the telecom tower industry's tenancy ratios will increase to 2.9% by March 2020 from 1.95% as on March 2015. Tenancy ratio means the number of tenants or operators who have put up their antennae and other active infrastructure on the towers.

India has emerged as a big player in the tower infrastructure sector in the past few years. There are about 4 lakh towers in the country, and 70% of them are owned and operated by tower companies. The survey says that the advent of new technologies like 4G and expansion of 3G technologies in rural areas will give a massive fillip to the telecom infrastructure industry in the next five years. Due to the rapid growth in this sector, tower companies have invested in a big way in the last few years. The aggregate capex spending increased from Rs 8,000 crore in 2013-14 to Rs 10,200 crore in 2014…
The ramp up to network functions virtualization (NFV) seems to be accelerating as well. A service provider survey by IHS Markit revealed that 81 percent of carriers say they will deploy NFV by 2017 and that 59 percent said that they will deploy it this year. The reason is simple, according to the report at eWeek. The technology is needed:
The adoption is an indication of the growing need by telecommunications vendors to change their IT environments in order to meet the growing demand from customers for more performance and bandwidth and the need to more quickly spin out applications and services to those customers and partners.
Michael Howard, the senior research director for Carrier News for IHS, said that the survey results were an indication that NFV and software-defined networks (SDNs) are seen as fundamental shifts that will provide automation, more agile services, more revenue, operational efficiencies and savings. Howard added that NFV is seen as moving from lab tests and proof of concept trials into field deployments.
AT&T ECOMP technology is critical to the company's ambitious software defined network (SDN) plans, which include significantly influencing the SDN ecosystem. The company is hoping the internally developed software will gain wide acceptance throughout the industry…
Back in early 2012, the media was all over stack wars that reportedly were taking place between Cisco and VMware. This culminated in VMware's Nicira acquisition in July 2012, paving the way for the coming of software-based networking.
Four years later, the market still remains in development mode. Many service providers and enterprises are trying to come to grips with Network Function Virtualization (NFV) and Software-Defined Networking (SDN). Despite the coolness factor, there is still some uncertainty about how these disruptive technologies should be leveraged for optimal business outcomes.
Interestingly enough, it does look like the uptake on NFV is exceptionally high. In a recent NFV report by IHS, no less than 100% of surveyed service providers said they expect to deploy NFV down the road. Backing up this number, IHS also projected that the annual growth rate in the NFV space would exceed 40% every year until the early 2020s.
Nevertheless, before the inflection point can be reached, there are still some technology challenges that must be addressed. Based on the IHS report, full 59% of service providers had pointed out integration between NFV and older networks as their largest concern. Considering the mission-critical nature of NFV, this notion seems valid.
In most cases, NFV Proof of Concepts (POCs) have been carried out in isolated environments with no interoperability with the existing networks. Further, as many vendors have been trying to pair NFV and SDN together, these POCs may have been based on a premise that is not based on reality.
To optimize the business outcome for NFV-based services, the associated process automation should be network-independent. That is, one should be able to deploy Virtual Network Functions (VNFs) using an identical process regardless of whether the network function is set up in SDN-enabled or a traditional network. A standardized process will significantly improve the economics of NFV-based offerings as it facilitates deployment also in existing networks.
The technical solution for addressing this concern is to decouple NFV and SDN. By adding a separate network management and provisioning layer between these two technology platforms, service providers are able to achieve the following:


1) Manage both SDN-enabled and traditional networks within a single unified solution.

2) Provision release parameters such as names, UIDs and IP addresses to NFV orchestrators through a standardized process.

The decoupling model will also open the door for supporting multiple NFV orchestrators and SDNs if need be, making sure that the customers will not end up stepping into vendor lock-ins.

Bill Gates once said that we overestimate the change that takes place in two years, and underestimate the change that occurs in the next ten. I for one expected things to develop much faster back in 2012. However, if IHS's numbers are anywhere close to reality and the large-scale rollouts start soon, the world of service provisioning has the opportunity to completely transform itself by 2022.
Every year for the past few years, second-quarter pay-television subscriber numbers have come out and people have started writing obituaries for the industry.

Since 2012, data from Leichtman Research Group (LRG), which aggregates pay-television subscriber totals each quarter, has shown that the industry takes a precipitous drop in Q2, followed by a smaller loss in Q3, then a rebound to end the year. The losses have been accelerating with both the second-quarter and year-end numbers getting worse, but the numbers have not even approached end-of-the-industry proportions.

Pay television as we know it may someday be a shell of its former self — like the record business or the newspaper industry — but those are areas that had steep fall-offs and that has not happened in pay television no matter how many headlines play up the gloom-and-doom angle…
Nokia and Jiangsu Telecom will implement carrier WAN-SDN core network for efficient and flexible data centers in China.
The commercial carrier WAN-SDN project will help Jiangsu Telecom to make optimal use of urban data centers and WAN resources.
The Nokia Network Service Platform (NSP) and 7950 Extensible Routing System (XRS) core routers will provide flexibility and efficiency to support varying and increasing data demands.
Jiangsu Telecom is a regional branch of China Telecom to deploy first commercial carrier WAN-SDN project in data centers in Yangzhou, Changzhou and other cities in Jiangsu, a neighboring province of Shanghai.
The deployment will help Jiangsu Telecom for transparent and flexible management of Internet Data Centers (IDC) in a unified manner…
Other companies — Canonical, SUSE, and Mirantis — all plan on being OpenStack powers, but Red Hat shows it's determined to be number one with its latest OpenStack cloud release.
Dallas, Texas, August 31, 2016 – A new Parks Associates whitepaper, sponsored by Ooyala, reveals the importance of connected device apps for the monetization of video services as they are now the second most used method for consumers subscribing to OTT services. The complimentary whitepaper, Connected Apps: The New Battleground for Video Services, shows more than 25% of OTT video service subscriptions were purchased through a connected device app, including apps on streaming media players, game consoles, and connected TVs. Apps on connected devices trail only service provider websites in securing OTT subscribers…
The biggest beneficiary of connected app usage among OTT providers has been Hulu, with 37% of its subscribers signing up for their subscription through a connected device. OTT leader Netflix has seen 28% of its subscribers come on board using this method.
"Parks Associates forecasts that OTT subscription service revenues will double from $15 billion worldwide in 2015 to $30 billion by the end of 2020; however, entering the OTT market has historically been extremely costly and time intensive, holding back many companies from capturing their share of the market," said Belsasar Lepe, Co-founder of Ooyala. "Ooyala now offers a turnkey solution for building and deploying rich OTT experiences, reaching web, mobile, and connected devices quickly, cost-effectively, and without requiring highly technical staff." ..
The European Commission has ruled a reduced corporation tax deal between Ireland and devices giant Apple was illegal and is looking for retrospective repayments that could top €13 billion.
This cosy deal has apparently been in place since 1991, which is one of the reasons the sums are so large, the other being the silly amounts of profit Apple has made since it launched the iPhone. This investigation kicked-off back in June 2014 alongside similar inquiries into Starbucks in the Netherlands and Fiat Finance in Luxembourg…
Service providers have historically relied on dedicated hardware to deliver their cloud-based functions. But software-defined networking (SDN) and network functions virtualization (NFV) are freeing up carriers to use virtualized appliances or less expensive hardware to deliver the same services. As such, most service providers — 100 percent, to be exact — say they have plans to inject NFV into their networks, if they haven't already, according to a recent report from market research firm IHS Markit.
…  The majority of carriers — 59 percent — said they have either already deployed or will deploy NFV during 2016. Eighty-one percent of carriers said they expected to make an NFV investment by 2017.
Going private will allow Rackspace to build its private OpenStack, "Fanatical Support" portfolios and customer bases with less outside pressure.
Cloud-services provider Rackspace is the latest IT company to abandon the public spotlight for the relative quiet and serenity of private ownership. The San Antonio, Texas-based company was acquired Aug. 26 by Apollo Global Management for $4.3 billion net cash, or $32 per share.The deal is expected to close in Q4, the company said…
Rackspace (NYSE: RAX) entered into a definitive agreement with affiliates of certain funds managed by affiliates of Apollo Global Management, LLC (NYSE: APO), a leading global alternative investment manager, to be acquired for $32.00 per share in cash. In connection with the transaction, funds managed by Searchlight Capital Partners, L.P. will make a strategic equity investment in the acquired company. The transaction has a total value of $4.3 billion, which includes the assumption of $43 million of net cash. Upon completion of the transaction, Rackspace will become a privately held company.
The $32.00 per share cash consideration represents a premium of 38% when compared to Rackspace's unaffected closing stock price on August 3, 2016, the last trading day prior to news reports speculating about a potential transaction. The Rackspace board of directors unanimously approved the agreement with the Apollo Funds and recommends that Rackspace stockholders vote in favor of the transaction…
NetScout Systems (NTCT) : Rockshelter Capital Management scooped up 168,790 additional shares in NetScout Systems during the most recent quarter end , the firm said in a disclosure report filed with the SEC on Aug 11, 2016. The investment management firm now holds a total of 477,962 shares of NetScout Systems which is valued at $13,416,393.NetScout Systems makes up approximately 4.30% of Rockshelter Capital Management's portfolio…
Agama Technologies, a specialist in video service quality and customer experience, will be launching the new versio

n,

5.1, of its video service assurance solution at this year's IBC show in September.

At IBC2016, Agama will showcase its enhanced offering for monitoring, assurance and analytics, which helps video operators to implement a data-driven way of working to ensure optimal service quality, improve operational efficiency and increase customer understanding.

Highlights of the new version include:

Enhanced incident and problem management for cable networks

,

s

upport for Ultra High Definition/4 K service monitoring, with full analysis of HEVC-encoded content

, and an extended

solution for OTT service assurance…
US operator Verizon has suggested it is considering a deployment of 5G technology even before the 3GPP has completed the standardisation process in an interview with Light Reading.
Verizon loves a 5G partnership and has apparently been working on the next generation mobile tech with pretty much every telecoms and technology company that will have it. This revelation implies at least some of these collaborations have actually yielded something and Verizon seems to think it's ahead of the game.
The specification is "75% to 80% there" at least for a "fixed wireless use case," according to Verizon Director of Strategy Sanyogita Shamsunder, with VP of Network Technology at Verizon Adam Koeppe conceding that deployment ahead of the 3GPP rubber stamp is a possibility. The 3GPP has committed to a June 2018 deadline for the first official specification, but two year is a long time to wait for an industry that already managed to shoehorn '5G' into most of its announcements…
Technavio's latest report on the global smart home M2M market provides an analysis on the most important trends expected to impact the market outlook from 2016-2020. Technavio defines an emerging trend as a factor that has the potential to significantly impact the market and contribute to its growth or decline…

Collaboration strategies between telecom service providers and home device makers to deliver innovative designs will support market growth over the forecast period.

The top four emerging trends driving the global smart home M2M market according to Technavio ICT research analysts are:

Enhanced security and safety features with effective monitoring technology
Use of Bluetooth and low-power Wi-Fi to operate smart home products
Remote arming of smart home alarm systems
Innovations in smart elevators and smart detectors

…
In order for network functions virtualization (NFV) to fulfill its promise, OSS/BSS vendors will have to take it upon themselves to accommodate the mixing of physical and virtual environments, according to Michael Howard, an analyst with IHS Markit.
OSS/BSS consistently ranks as a top problem cited by carriers in Howard's annual NFV strategies survey. Recently, it's fallen to No. 2 on their list of concerns — cited by 59 percent of the respondents this year, compared with 67 percent citing the difficulty of integrating NFV with older networks…
As per a research report by analytics firm IHS Markit, V erizon Communications Inc.

VZ

, ,

CenturyLink Inc. CTL

 and

AT&T Inc. 

have been aggressively implementing Network Functions Virtualization (NFV) in their business service offerings. The technological adoption of this capability enhances scaling functions and service delivery times which leads to improved end user experience along with higher growth in the business services segment. Notably, the business service segment is a rapidly growing industry in the telecom space…
Cheseaux, Switzerland and London, UK – NAGRA, a Kudelski Group (SIX:KUD.S) company and the world's leading independent provider of content protection and multiscreen television solutions, in partnership with MTM, a leading international research and strategy consultancy, today announced the availability of "The Pay-TV Innovation Landscape in North America research report. This is the third white paper in a series from the Pay-TV Innovation Forum, a global research programme exploring the innovations and strategies that will drive the next phase of growth for pay-TV operators.

These latest findings outline the current state of innovation and the challenges and opportunities of the highly developed North American pay-TV industry. The U.S. pay-TV industry is the largest in the world, accounting for just under half of $200 billion in global pay-TV revenues. The region is also one of the most advanced with all major service providers offering IP-connected set-top-boxes and 70 percent enabling access to third-party OTT services.

North American service providers are leading the way in introducing next-generation features, including 4K (offered by 25 percent), content recommendations (35 percent), and voice control (10 percent). Diversification into adjacent business areas is another big factor emphasizing the region's global leadership, with 50 percent of service providers offering home security and automation bundles to customers, mainly leveraging their own broadband infrastructure…
Netrounds, a leading provider of innovative, software-based test and assurance tools for Communications Service Providers (CSPs), announced today that it has joinedCiena's Blue Orbit SDN and NFV Ecosystem. Part of Ciena's Blue Planet division, the ecosystem is comprised of industry partners who are focused on delivering real-world, multi-vendor solutions for next-generation networks.
RDCM reported Q2 revenues up 49% YoY and 18c EPS.
The company has $46.5 million in cash to support trials/negotiations with additional large CSPs across the globe. RDCM is in discussions with 9 CSPs, up from 5 a quarter ago.
The AT&T contract is going well, and RDCM announced AT&T expanded the deal for a "high 7-digit figure" into a new NFV category.
Even though the shares have appreciated substantially, the company remains a compelling risk/reward opportunity at $190m market cap. Strategic players like Cisco likely value the asset far above $190 million.
Cisco announced 5,500 layoffs and indicated it is redirecting resources to software units, further indicating growing value of pure-play NFV software players.
… The US telco has already started preliminary discussions with China Mobile, Deutsche Telekom, Ericsson, Huawei, Intel, KDDI, LG, Nokia, NTT docomo, Qualcomm, Samsung, SK Telecom, Telstra and Vodafone. The goal is to enable faster 5G deployment once 3GPP completes the first release of the official specifications with Release-15…
AT&T has taken another step forward in its effort to virtualize more functions on its network by collaborating with Intel to develop new software-centric network technologies.
Specifically, the telco is working with the silicon vendor to optimize NFV packet processing efficiency for the AT&T Integrated Cloud (AIC). Additionally, AT&T and Intel will define reference architectures and align NFV roadmaps to accelerate its network transformation…
Think of network functions virtualization (NFV) and you're likely to think of monolithic hardware boxes being replaced with software running on virtual machines (VMs) in multiple locations, bringing down costs, increasing flexibility and agility and speeding time to market for new services. Among the functions ripe for virtualization is test and measurement (T&M).

It's certainly true that NFV is shaking up this market and significantly blurring the lines between service assurance and T&M, replacing old testing processes with a DevOps approach and seeing some new players entering the market, for instance with open source traffic simulators…
Cisco Systems is planning to lay off as many as 14,000 staff, according to sources cited by channel news site CRN.
The job cuts are expected to be announced in the next few weeks by the San Jose-based networking equipment manufacturer. Many early retirement packages have already been offered to employees, sources claimed…
RCR Wireless News spoke with more than a dozen companies, including telecom operators like AT&T, Verizon Communications and CenturyLink; vendors like EXFO, Hewlett-Packard Enterprise, NetScout, Accedian, and Centina Systems; and sought insight from industry analyst firms Exact Ventures, Senza Fili Consulting and IHS Markit to get a thorough update on the current service assurance market as the telecom space migrates to greater software control.
The 11 largest pay TV providers in the U.S., representing about 95% of the market, lost about 665,000 net video subs in Q2 2016, widened from a loss of 545,000 subs in the year-ago period, Leichtman Research Group (LRG) found in its latest market tally.
Among individual providers, the top six cable MSOs shed about 225,000 video subscribers in Q2, narrowed from a year-ago loss of 340,000, marking the fewest MSO losses in any Q2 since 2006, LRG said…
NEC Corporation (NEC; TSE: 6701) today announced the development of a "Network Functions Virtualization (NFV) Cloud-Radio Access Network (C-RAN) Solution" built on Intel processors and enabled by software-based wireless base station functions.
Wireless base station functions rely on a Central Unit (CU) that processes data and Distributed Units (DU) that send and receive radio waves. NFV C-RAN solution is enabled by software on Intel Architecture that functions as the CU. The CU controls multiple DU on a centralized basis, making it possible to flexibly control radio wave output from the DU in line with data volumes…
Not content with the 5G partnership they established earlier this year, Korean operator SK Telecom and US operator Verizon have decided to create another for good measure.
There's nothing thetelecoms industry likes more than a nice partnership in the run up to the eagerly anticipated5G standard, with MWC earlier this year dominated by 5G high-fives. Indeed SK Telecom and Verizon were right in the thick of it, conspiring with NTT Docomo and KT to form the 5G Open Trial Specification Alliance, with the stated aim of developing a 'trial' 5G specification.
Today's announcement talks of 'technical collaboration', although it's unclear how that differs from the techie talk that was presumably required to develop their trial spec. The omission of NTT and KT implies this is a partnership within a partnership and there was also a renewed commitment to the OCP and M-CORD collaborations…
Viewing of 4K UHD video via OTT services is poised to soar over the next five years, according to a 4K OTT video penetration forecast from Juniper Research.
More than 189 million unique users worldwide will tap into 4K OTT services to view content by 2021, according to Juniper Research's ¨Digital TV & Video: Network and OTT Strategies 2016-2021.¨ That's way up from 2.3 million this year.
Put another way, one in 10 Americans will be watching 4K video via OTT video as compared to just one in 500 this year, Juniper highlights in a news release. Much more in the way of 4K content and a wider choice of viewing options, including smartphones and tablets, as well as PCs and smart TVs, will fuel adoption, Juniper says.
The triple threat to the pay-TV biz — cord-cutters, cord-shavers and cord-nevers — will drive down U.S. cable operator's video revenue 4.7% by 2026, even as monthly cable TV bills will continue to climb, according to a new forecast from SNL Kagan.
Total residential video revenue for Comcast, Charter Communications and other American cable operators is projected to fall from $57.7 billion in 2016 to $55.0 billion annually in 2026, declining at a compound annual growth rate of 0.5% over the next 10 years, according to SNL Kagan. That's as basic video subscriptions are projected to drop from about 53 million today to 45.4 million by 2026.
But don't weep for the nation's cable guys — thanks to 13% rise in broadband subs, they'll rake in more than $11 billion in additional cash from residential broadband over the same time frame. And, on an operating basis, broadband is far more profitable than TV.
SNL Kagan expects U.S. cable broadband subs to increase by more than 8 million in the next 10 years, to reach 71 million by 2026. That will drive up revenue for the segment from $35.5 billion this year to $47.3 billion.
"Despite ongoing declines in video, the next 10 years look pretty good for this sector," said SNL Kagan's Tony Lenoir and Ian Olgeirson, the authors of the report.
The research firm forecasts price hikes for cable TV and broadband, while phone service will drop. On a monthly basis, cable video revenue per sub will climb from $90.84 to $100.02 between 2016 and 2026; cable broadband residential revenue will increase from $51.23 to $60.99 per customer. Cable's residential phone service revenue will decline from $26.90 to $21.40 monthly per sub over the 10-year span, per SNL Kagan.
In a separate report, SNL Kagan this week estimated that the total U.S. pay-TV sector lost 812,000 subscribers in the second quarter of 2016, a year-over-year decline of about 1.4 million (down 1.4%). Currently, residential pay-TV penetration is 78.6% of all U.S. households — an all-time low.
Overall, cable operators' residential revenues are projected to increase from $108.4 billion in 2016 to $117.7 billion in 2026, as broadband offsets declines in both TV and phone service. Commercial services will help push total industry revenue from $130.6 billion in 2016 to $141.0 billion in 2016, an increase of $10.4 billion.
Meanwhile, despite a decline in net subscribers, net advertising revenue is expected to grow at a 4.3% CAGR through 2026 to reach $6.3 billion
New research from the Global mobile Suppliers Association, GSA, has stated 521 operators have commercially launched LTE, LTE-Advanced or LTE-Advanced Pro networks around the world.
According to the GSA's Evolution to LTE report there should be 560 commercially launched LTE networks by end 2016 and over 28% of LTE operators have commercially launched LTE-Advanced networks. Although in its early days for the moment, the advancement of LTE-A show operators are not simply sitting back waiting for the arrival of 5G, but are making the incremental investments to improve the customer experience. LTE-A has been promoted as a technology which can ensure video streaming is smoother, improve HD Voice-over-LTE services and increase internet speeds.
A total of 192 LTE operators, roughly 37% are in the process of deploying LTE-Advanced or LTE-Advanced Pro technologies in 84 countries, of which 147 operators, around 28%, have commercially launched LTE-Advanced or LTE-Advanced Pro wireless broadband services in 69 separate markets around the world.
"LTE-Advanced is mainstream. Over 100 LTE-Advanced networks today are compatible with Category 6 (151-300 Mbps downlink) smartphones and other user devices," said Alan Hadden, VP, Research at GSA. "The number of Category 9 capable networks (301-450 Mbps) is significant and expanding. Category 11 systems (up to 600 Mbps) are commercially launched, leading the way to Gigabit service being introduced by year end."…
The Broadband Forum has wrapped up work on a project called Network Enhanced Residential Gateway (TR-317) to implement virtual functions on residential broadband home gateways.
Leveraging SDN and NFV techniques, the TR-317 specification will enable service providers to attach new services directly to an end-user's residential gateway centrally from their Cloud infrastructures. The Forum said the end result of this will be an enhanced customer experience and cost savings.
The other elements of the initiative is focused on driving scale and improving QoS…
… Network service assurance remains a top priority for telecom operators, though views on what those assurance levels need to be in a virtualized environment remain in flux. Wireless carriers are likely to avoid virtualizing aspects of their network and services – like voice-over-LTE and voice over Wi-Fi services expected to match performance of legacy systems – if they are not confident their virtualized versions are up to snuff.
A recent report from IHS Markit predicts the service provider network functions virtualization market, including hardware, software and services, will surge from $2.7 billion in 2015, to $15.5 billion by 2020. The prediction noted NFV software would comprise 80% of the $15.5 billion total, "or around $4 out of every $5 spent on NFV."…
Current Analysis report touts Netcracker as current leader among 9 vendors, with Cisco, HPW and Nokia seen as 'very strong' in NFV MANO
The network functions virtualization management and network orchestration space has witnessed significant progress over the past year in terms of serving the "carrier grade" needs of telecom operators, though a definite hierarchy has taken shape in terms of robustness of vendor offerings.
According to a recent report from Current Analysis, Netcracker is seen as the current leader among nine vendors surveyed, with the research firm citing the vendor's comprehensive platform in "supporting almost every aspect of the carrier journey." Netcracker was also lauded by the company for its security and licensing sophistication, as well as the "operational wrap and the onboarding of a very high number of third-party [virtual network functions]and their orchestration to VNFM level."…
Google today announced another acquisition that will help the company improve how it competes against Amazon's AWS, Salesforce and Microsoft in the area of enterprise services, and specifically selling enterprise services in the cloud: it has acquired Orbitera, a startup that developed a platform for buying and selling cloud-based software.
Terms of the deal have not been disclosed but our sources close to the deal tell us it's just north of $100 million.
This is an acquisition of talent, technology, and existing business. The CEO Marcin Kurc (tellingly) is an alum of AWS. And Google notes that some 60,000 enterprise stacks have already been launched on Orbitera. These include the likes of Adobe, Oracle and Metalogix, who all resell cloud services from third-party vendors as part of their larger enterprise businesses…
The Olympic Games are set to tax the capabilities of service providers, though there are steps that can be taken ahead of such large events
"We're going on network freeze," began the conversation with a major carrier. "We can't proof-of-concept, trial or touch our network for anything except for essential maintenance," the carrier continued. This was the internal discussion in direct response to the UEFA Euro 2016 championship recently held in France. The carrier responded: "Everything is delayed – everything!"…
TDS Telecom may be an advocate of fiber-based broadband, but the telco is finding success in delivering 25 Mbps and higher speeds over existing copper infrastructure by implementing bonding in areas where it can't prove out a FTTH business case…
Already the results appear to be paying off as the telco noted that more of its residential customers within its ILEC territories are subscribing to speeds of 25 Mbps or higher. Specifically, the telco is seeing a 19 percent take rate for its 25 Mbps speeds and 50 percent for speeds of 10 Mbps, up from 13 and 44 percent during the same period a year ago. Getting these speeds depends on the condition of copper loops and how far a customer is from a nearby CO or remote terminal (RT)…
Days after the social media giant introduced "Stories" format for its photo-sharing app Instagram that clones Snapchat's popular feature, the social media giant is now testing a Facebook app that opens to a camera, encouraging users to capture and share content.
Global Solutions Provider Leverages AssureNow for Unified Service Assurance to Differentiate Services
… The global software-defined networking market to grow at a CAGR of 34.64% during the period 2016-2020. The report covers the present scenario and the growth prospects of the global software-defined networking market 2016-2020. To calculate the market size, the report considers the revenue generated from the adoption of SDN-enabled networking infrastructures, adoption of commercial SDN controller, and SDN applications required to implement security mechanisms, network flow balancing, network virtualization, network monitoring, and more…
… The data site found that Netflix (OTT) has 47,130,000 subscribers while Verizon FiOS (fiber) and Comcast (cable) have just 4,700,000 and 22,400,000 subscribers respectively. In addition, AT&T U-Verse and DirecTV (IPTV/satellite) has 26,000,000, Charter Communications (cable) has 18,421,145 and Dish Network (satellite) has 13,909,000 subscribers. All these major Pay-TV rivals have fewer subscribers than the streaming giant….
Schweitzer Engineering Laboratories (SEL) has successfully completed on-site testing of its new software-defined networking (SDN) technology at the Ameren Illinois Technology Applications Center (TAC) in Champaign, Illinois, using their smart grid testbed.
SDN is emerging as a superior solution for the needs of both operational technology (OT) and information technology (IT) networks. Through the OpenFlow specification, SEL is using SDN to enhance the performance, configuration and management of proactive OT and dynamic IT networks. By providing centralized traffic engineering, the SEL-2740S Software-Defined Network Switch and SEL-5056 SDN Flow Controller give IT and OT network engineers path- and packet-level control of their communications flows…
According to a new market research report published by Credence Research "Over-the-Top (OTT) Market (Content Type – Voice, Text & Image and Video) – Growth, Share, Opportunities, Competitive Analysis and Forecast 2016 – 2023", the global over-the-top (OTT) market was valued at US$ 28.75 Bn in 2015 and is estimated to expand with a CAGR of 14.4% from 2016 to 2023…
"AT&T is migrating network probe functions to the cloud with new service assurance software from RADCOM Ltd. (NASDAQ: RDCM). This move supports AT&T's continual shift to network virtualization…
"We selected RADCOM because of its functional strengths, especially in virtualization, scalability, performance and efficiency. We will use its MaveriQ software to deploy vProbes as virtual network functions running on the AT&T Integrated Cloud (AIC)."
"RADCOM's innovative service assurance software – MaveriQ – was chosen for its native cloud capabilities, scalability, performance and efficiency, assuring network transition is as trouble-free as possible while maintaining a high quality of service."…
The analysts forecast the global software-defined networking market to grow at a CAGR of 34.64% during the period 2016-2020.
Global Software-Defined Networking Market 2016-2020 is a new market research publication announced by Reportstack. SDN is an evolving network architecture in which the network control and the forwarding plane are decoupled and can be programmed directly…
Summary
SCMP reported that NFLX and Leeco are in talks for content cooperation with more details to be released in Q3.
Leeco's Vizio smart TV + NFLX bundle could be the likely partnership to drive both TV and subs penetration in the US.
Remain cautious on NFLX but do acknowledge that the Leeco partnership could be very disruptive.
According to a new market research report published by Credence Research "Internet Protocol Television Market (End-user – Commercial and Residential) – Growth, Share, Opportunities, Competitive Analysis and Forecast 2016 – 2023", the global internet protocol television (IPTV) market was valued at US$ 30.64 Bn in 2015 and is estimated to expand with a CAGR of 13.0% from 2016 to 2023…
SFR Group, France's second-biggest telecoms operator, plans to shed 5,000 staff – a third of its workforce – between 2017 and 2019, two union representatives told Reuters on Wednesday.
The company, which will report first half results in August, declined to comment on the figure.
It lost many of its customers last year after having being criticized on the quality of its network.
Billionaire Patrick Drahi, who controls SFR's parent company Altice, had promised when Altice bought the telecoms operator two years ago, not to touch the company's headcount until mid-2017. A spokesman confirmed SFR would stick to that.
Drahi built up his cable and telecommunications group through debt while promising investors that he could generate more cash under his ownership….
Amdocs to serve as integrator for companies adopting AT&T's open source ECOMP platform to enable software-centric network capabilities
Verizon EVP Marni Walden explains why Verizon just paid $4.8 billion for Yahoo. One big reason? Yahoo's 600 million monthly mobile users.
Verizon will announce on Monday that it plans to acquire Yahoo's core assets for $4.8 billion, reports Bloomberg. The acquisition does not include Alibaba or Yahoo Japan which are worth about $40 billion.
The global network functions virtualisation (NFV) market will be worth US$15 billion (€13.6 billion) by 2020, up from $2.7 billion in 2015, predicted IHS Markit this week.
This represents a compound annual growth rate (CAGR) of 42%, the research firm said…
NFV will top $15bn by 2020

The global network NFV market is predicted to be worth $15.5 billion by 2020 according to IHS Markit.

The global network functions virtualisation (NFV) market, which includes NFV hardware, software, and services is predicted to be worth $15.5 billion by 2020, according to research firm IHS Markit.

"Between 2015 and 2020, the service provider NFV market will grow at a robust compound annual growth rate (CAGR) of 42% – from $2,7-billion in 2015 to $15,5-billion in 2020," says Michael Howard, senior research director: carrier networks at IHS Markit.

NFV represents the shift in the telecom industry from hardware to software focus, with operators and carriers investing more in software than in server, storage and switch hardware.

"NFV software will comprise 80% of the $15.5bn total in 2020 – or around $4 out of every $5 spent on NFV," says Howard.

The report suggests that by 2020 the spend will be initially quite low, with only 11% of the $5bn in software – 16% will be from NFV replacement infrastructure to replace outdated purpose-built network hardware such as routers, deep packet inspection (DPI) products and firewalls…
Delivering on its Software Defined Networking and Network Functions Virtualization strategy, Verizon Enterprise Solutions is launching Virtual Network Services that will enable enterprises to transition to a virtual infrastructure model, providing greater agility and on-demand resources.

Available immediately around the globe, the new services will be delivered as-a-service fundamentally transforming the network into software-based solutions running on open platforms—a significant departure from how network services are provisioned and consumed today. Driving this change is digitization of business, IP communications, Internet video, and mobile to cloud…
Perhaps no single factor paves the way for disruption in business as effectively as technology does, and nowhere is that more evident than in wireless. The smartphone revolution has changed our lives in countless ways, from the way we communicate and access the internet to the way we play games, check the news and even order car rides…
Although carriers including AT&T and Telefonica have boasted of their progress toward virtualized, software-defined networks, the overall wireless industry remains in the very early stages of this transition, said Ericsson CEO Hans Vestberg.
Indeed, Vestberg estimated that while AT&T has set a goal of virtualizing 75 percent of its network by 2020, the bulk of the global wireless industry likely won't be anywhere near that target…
AT&T and Orange have signed an agreement to collaborate on open source and standardization initiatives that will accelerate the standardization of software-defined networking (SDN) and network function virtualization (NFV) technologies.

The companies are aligning on a strategic vision to move intelligence from customer hardware to the network, reducing cost and complexity. This effort will help the industry and business customers move faster towards a more agile, flexible and ondemand networking future…
Analysys Mason recently undertook research on behalf of Hewlett Packard Enterprise (HPE) on the impact of NFV/SDN telco cloud transformation on communications service provider (CSP) operations. The full results of our study are available in a white paper.
The benefits that CSPs will reap from telco cloud transformation (improved service agility and cost structures and enablement of a broad array of digital services) will accrue over 5-10 years or more of hybrid network management as CSPs evolve from physical to virtual infrastructure and automate the network operations lifecycle, says Dana Cooperson, head of networks-focused software systems research at Analysys Mason…
Research firm's NUMBERS™ service provides forecasts for sales and adoption of smart home controllers, IP cameras, and home security for the U.S., Europe, and Asia
Parks Associates today announced three new NUMBERS™ products focused on key IoT categories, including U.S. and global forecasts for IP cameras, home security, and smart home controllers through 2020. The firm estimates nearly 24% of U.S. broadband households will have an IP camera by 2020, while more than 50% will have a smart home controller and 26% will have a home security system.
"Companies such as Samsung are beginning to embed smart home controllers into their consumer entertainment products, meaning consumers who buy a smart TV or smart appliance will be bringing these solutions into their homes, often without understanding the full extent of their capabilities," saidTom Kerber, Director, Research, Home Controls & Energy, Parks Associates. "These smart home capabilities will come into play as consumers adopt other smart home devices, such as smart lighting and IP cameras."…
After witnessing a degrowth for two successive months, the net subscriber base of six major telecom operators grew by 3.5 million to reach 776.97 million users in June 2016. "Total number of GSM subscribers as of June 2016 reached 776.97 million" and "the GSM subscribers increased by 3.50 million in June 2016," industry body Cellular Operators Association of India (COAI) said in its subscriber report released today.
The COAI shared data of six telecom operators Airtel, Vodafone, Idea Cellular, Aircel, Telenor and MTNL, which jointly account for about 70 per cent of Indian mobile market share. In April and May, the net subscriber base of these company declined 0.22 and 0.24 million, respectively. COAI's data in May reported increase in net subscriber base which it later corrected…
AT&T has expanded its Network on Demand solutions to now include 76 countries around the world, reports Telecoms.com.

The new service is built on the company's software-defined network technology, and claimed to help businesses deploy a single universal piece of equipment, choose virtualized functions and set them up in different countries. The service would appear to be designed to simplify the process of buying and adding network functions, reducing the reliance customers have on hardware…
Cloud9 was found in 2010 in San Francisco by Rik Arends and Ruben Daniels. It raised over $5 million in two rounds of funding. Slightly ahead of its time, Cloud9 was one of the first "Development as a Service" platforms that delivered an integrated development environment in the cloud. Features like collaborative coding, integration with Github and BitBucket, and easier deployment to PaaS and IaaS targets made it popular among developers.
During the last couple years, it has become amply clear that AWS is building a parallel universe in the cloud.  With services such as Amazon WorkSpaces, Amazon Aurora, Amazon WorkMail, Amazon WorkDocs, AWS started offering pay-as-you-go alternatives to enterprise database, messaging, collaboration, and VDI platforms. It started targeting developers and DevOps teams with AWS Elastic Beanstalk, AWS Lambda, AWS CodeCommit, AWS CodeDeploy, and AWS CodePipeline. Mobile developers can use AWS Device Farm, AWS Cognito, Amazon Lumberyard to develop and test cross-platform mobile applications…
The chief executive of SoftBank has said his £24.3bn takeover of ARM Holdings is a "big bet" on the UK thriving outside of the EU, as he pledged to put Britain's biggest technology company at the centre of the next computing age.
Masayoshi Son denied that the Japanese acquisition of the Cambridge based microchip designer had been an opportunistic swoop enabled by the falling pound, as he pledged to hire thousands of engineers in the UK.
ARM, which designs the microchips used in the iPhone as well as in millions of other smartphones, tablets and other computer electronics, announced on Monday morning that it had agreed to the shock £17-a-share takeover, which will be put to investors in the coming months…
Over-the-top (OTT) TV and video revenues in Western Europea will more than double between 2015 and 2021, according to Digital TV Research.
AT&T said it will open source the homegrown software platform powering its software-centric network that leverages software-defined networking (SDN) and network functions virtualization (NFV) in the hope it will mature the fledgling technologies and become an industry standard.
The platform is called the Enhanced Control, Orchestration, Management and Policy (ECOMP), and it was developed by the communications giant to modernize its network to handle increased traffic emanating from demanding technologies such as autonomous cars, augmented (featured in Pokémon Go) and virtual reality, 4K video, and the Internet of Things (IoT)…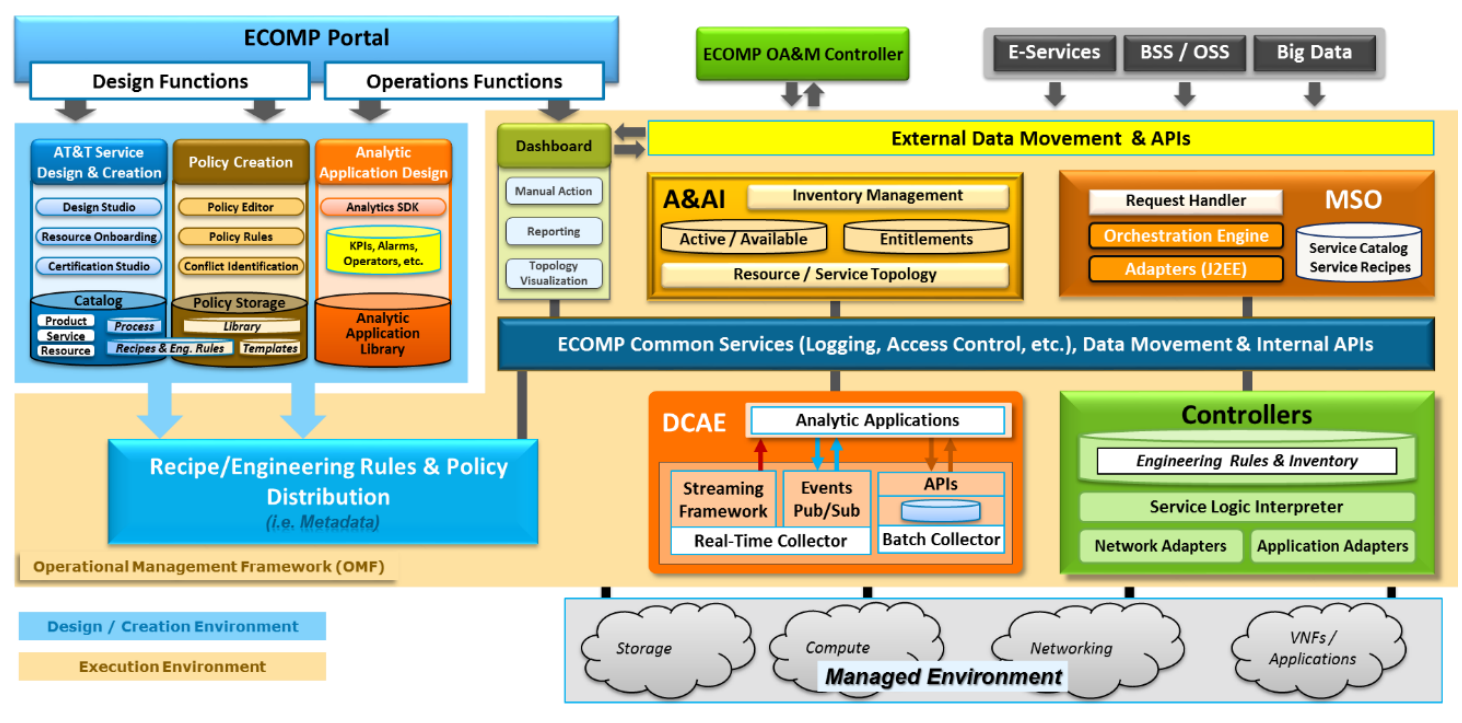 ECOMP Components (source: AT&T)
Liberty Global Plc. LBTYA, a leading cable MSO (multi service operator) in Europe and Latin America has entered into an agreement with ITV plc. to acquire UTV Ireland TV stations from the latter through its subsidiary Virgin Media. The deal is valued at €10 million and is subject to regulatory approval from the Competition and

Consumer

Protection Commission and the Broadcasting Authority of Ireland as well as a separate media plurality test by the Irish Government…
The deal with Bouygues for an initial 230 telecom towers stipulates the ultimate acquisition of up to 500 sites
Spanish wireless infrastructure operator Cellnex Telecom announced plans to enter the French market with the acquisition of 230 telecommunications towers from French telco Bouygues Telecom.
Cellnex confirmed that the acquisition will require a total investment of 80 million euros ($88.4 million).
The agreement between the two companies stipulates that Cellnex could acquire up to 500 towers in a second phase, which is already under evaluation.
"The agreement with Bouygues Telecom is the beginning of a long-term collaboration with this operator of telecommunications services in France. We trust that this agreement opens the door to extend it in the future to other areas such as construction of new towers on demand (Build to Suit), or the deployment of new technologies based on the 'small cells' for the mobile broadband extension," Cellnex Telecom's CEO Tobias Martinez said.  "This deal strengthens our European scope and thus our ability for building a partnership with customers operating in different European markets to whom we can offer telecom connectivity solutions."…
French OTT TV service Molotov has officially launched, confirming it is free for all screens. Options from EUR 3.99 per month will be available with no contractual obligations. The service will provide 33 channels, including 25 TNT France channels, as well as 10 hours of bookmarks. The Option+100, at EUR 3.99 per month, gives an extra 100 hours of bookmarks while Option Extended, at EUR 9.99 per month, supplies over 70 HD channels, with four simultaneous screens and 100 hours of bookmarks.
Communications service providers are pressing ahead with deploying virtualized functions, but their strategies for what to virtualize and the pace at which they are moving varies widely, according to Heavy Reading's latest Future of Virtualization survey.

As mentioned earlier, many CSPs aren't convinced virtualization in itself will save them where operating expenses are concerned, but the Heavy Readingsurvey clearly shows a determination to get started by virtualizing some functions, most often network functions, says Rosalyn Roseboro, who conducted the study and authored the report. You can read and download the entire report from the Virtualization Research Portal of our Virtuapedia site,located here. (See Could Delayed Opex Savings Slow SDN/NFV?)

Almost all — 96% of the 40 service providers invited to participate in the survey — have identified at least some functions they plan to virtualize by 2020, and more than half have identified most or all of what they plan to do by then. But there is less of a rush to get that full plan in place in this survey than in the earlier version, conducted in late 2015. Only 23% of responding CSPs say they'll identify all the functions to virtualize by the end of this year, compared to 38% six months ago…
Source: Heavy Reading
Viewer demands are high. To keep streaming customers happy, publishers need to implement a video monitoring workflow that ensures quality at every step.
Broadcast TV has set a high bar for viewer expectations and delivering a great quality of experience. As the trend and demand for multiscreen viewing and TV Everywhere continues to grow so does the demand for a high quality experience regardless of the device being used. Behind that multiscreen experience lies some complex adaptive bit rate (ABR) technology and a new set of monitoring challenges.
To give content providers visibility into their content and let them rapidly identify and address issues that impact user experience requires a sophisticated set of monitoring and analysis tools. Those tools need to provide comprehensive insights into both the quality of experience (QoE) and quality of service (QoS) on the delivery network being employed. These systems need to check everything from validating the availability of the assets to determining the quality of those assets even if they are encrypted…
More global operators will run IP multimedia subsystem (IMS) in a network function virtualization (NFV) environment, a report from research firm IHS said.
According to the report, 17% of operator respondents are currently running IMS network elements in a NFV environment.
However, respondent use of IMS in NFV environments will grow significantly to 78% by 2018, driven by the ability to scale services up and down quickly and also operational efficiencies, IHS said…
Nearly a quarter of millennial heads of household are over the top (OTT)-only, which is higher than the national average of 15% among US broadband households.
According to research from Parks Associates, 61% of millennials subscribe to both pay TV and OTT services, which is also higher than the national average of 52%.
"Younger consumers are willing to subscribe to pay TV service, provided the offerings align with their expectations," said Ruby-Ren Bond, research analyst at Parks Associates. "In particular, millennials show higher-than-average affinity for popular culture and premium movie channels as well as programming for younger children."
Additional Parks Associates data showed that nearly 60% of OTT video services in the North American market are subscription-based, with 64% of US broadband households subscribing to an OTT video service, up from 59% in 2015.
Approximately 20% of US broadband households cancelled at least one OTT video service in 2015, with 5% of U.S. broadband households cancelling Netflix in 2015, up from 4% of households reporting in 2Q 2015 that they cancelled the service in the past 12 months…
Worldwide pay TV subscribers grew slowly in the first quarter.Global pay TV business grew 1.68% in the first quarter, according to the Multiscreen Index.
The Asia-Pacific region continues to be the fastest-growing market, with 5.35 million subscribers. India's Airtel Digital TV added a big 619,000 in the first three months of the year to now total 11.73 million.
In Europe, France's Canal+ lost the most of any European-based pay TV company, down 200,000. But two other French services, Orange and Free, collectively, added 234,000 subscribers.
In the U.S., pay TV continues to show weak or no growth. The 10 biggest pay TV providers netted just 18,000 subscribers more than the same period a year ago. But looking at year-to-year activity, U.S. providers were down 880,000.
A couple of notable major changes: Comcast added 53,000 subscribers for a total 22.4 million. DirecTV added 328,000 subscribers, totaling 20.11 million. This result is largely due to its purchase by AT&T, which witnessed a shift in its existing fiber TV based U-Verse. During the first quarter, U-Verse lost 382,000, now totaling 5.23 million…
The number of worldwide pay-TV subscribers reported by the informitv Multiscreen Index rose by 1.68 percent (6.90 million) in the first quarter of 2016.
The latest figures show 60 of the 100 leading pay-television services in the latest Multiscreen Indexreport with net subscriber gains in the quarter. The greatest quarterly subscriber gains were in the Asia-Pacific region, where there were 5.35 million subscriber additions. Six operators in India added a total of 4.71 million between them, with SITI Cable Network reporting 1.1 million new digital subscribers…
Just six pay-TV groups hold half of the European Union's pay-TV subscribers, according to a new report from the European Audiovisual Observatory.
Deutsche Telekom, Liberty Global, Orange, Sky, Viasat and Vivendi are cited as the leading groups.
The Observatory says there are 13 pan-European broadcasters that (directly or through subsidiaries) own the significant well-known channel brands and pay TV channels available throughout Europe. Nine of these are linked to the major US television and film production groups…
Either directly or through subsidiaries, 15 major pan-European distribution groups serve two-thirds of pay-TV homes in the EU, according to media market analysis data from the European Audiovisual Observatory.

The European Audiovisual Observatory said that fundamentally, pan-European broadcast media groups can be distinguished between those with a multi-country broadcast strategy providing many free-to-air channels, and those that have a more pan-European strategy with well-known channel brands available throughout Europe.

The study found that the two main broadcasting groups gathered on average 51% of the audience, and the three main groups 64%, with strong variations between countries.

Pan-European brand channel groups and the major pay-TV channels (film and sport) operating in the region were found to be owned by 13 major groups and their subsidiaries such as 21st Century Fox, AMC Networks, Bonnier, Discovery Communications, NBC Universal, Scripps Networks, Sony Corporation, Time Warner, United Media Group, Viacom Viasat, Vivendi and Walt Disney. The European Audiovisual Observatory noted that nine of these companies are subsidiaries of the major US media groups. Six groups — Deutsche Telekom, Liberty Global, Orange, Sky, Viasat and Vivendi — account for half of pay-TV subscribers in the EU…
Costing only 2,000 won ($1.75) for 100MB of data per month, SK Telecom hopes the price competitive IoT-dedicated network will create new services in the emerging area.
South Korean mobile carrier SK Telecom has commercially launched a nationwide network exclusively for Internet of Things (IoT) services that offers 100MB of data per month for only $1.75.
The network uses the firm's LoRa wireless standard-based network, a joint project with compatriot Samsung, and its LTE-M network built in March.
SK Telecom hopes the price competitive network will be used by customers for remote light control, wireless meter readings, manhole monitoring, and wearables.
The telco said the new network overtakes previous machine-to-machine (M2M) services' relatively high power consumption and prices, and contributes to an increase in supply and demand in IoT-related businesses.
Customers can use 100MB of data for only 2,000 won, around $1.75, per month. Those using the network for meter reading will need only to pay 350 won (31 cents) per month…
Growing OTT digital video services are forcing traditional TV companies to make major changes. But collectively, more needs to be done in order for TV's financial performance to see continued strength.
Moody's Investor Services writes in a recent report the entire TV industry needs to move to 'non-linear on-demand" recommendation/search software, as well as "freeing up broadband capacity now used to deliver linear content to handle greater volume" for on-demand program distribution.
All this could happen soon — in theory. "If this broad reshaping of TV technology and distribution came to pass, which would likely take five years, we believe that smaller companies would follow and the industry could be much more competitive and stable."
But the report from Neil Begley, SVP of Moody's Investor Service, says the task would be huge because of many disparate TV parties with strong individual interests — regional cable and telco pay-TV companies, two national direct-broadcast-satellite (DBS) companies, major and minor studios, sports leagues, sanctioning bodies and teams, broadcast and cable network owners, and broadcast stations…
Today we live in a high-tech world that seems to be focused more on how much technology we can use rather than how we can use it. Being focused on bringing more and more features to the customers, companies tend to forget that all these new tidbits also must have a practical use in order to become popular. Furthermore, they have to be easy to use, in order to be welcomed with open arms by customers. That's what the BMW i Smarthome experience is supposed to offer.
The BMW i3 is already a technological masterpiece. No matter what some may say about it, that it's ugly or useless, what BMW achieved here is a premiere for the auto industry, creating a model that is almost completely eco friendly. Unlike other EVs out there, the i3 was developed from the ground up to save the environment and even the manufacturing process respects that goal, using renewable energy whenever possible….
While AT&T has moved aggressively into the connected car market, wireless rival Verizon has largely trailed in the space. But a recent agreement to acquire Telogis, a Southern California-based developer of telematics and fleet-logistics systems used by major automakers such as Ford and General Motors, could help Verizon gain ground in connected cars by significantly expanding the company's footprint in the space.
AT&T has signed up nine major automakers to provide cloud services such as streaming content, remote access and in-car Wi-Fi. AT&T recently inked a deal with Ford to connect more than 10 million of the automaker's vehicles in North America over the next five years via Ford's new Sync Connect system.
Meanwhile, Verizon Telematics has enlisted only a handful of automakers, including Mercedes-Benz and Volkswagen, and its technology is used in aftermarket applications by State Farm and others…
Software-defined networking (SDN) and network function virtualization (NFV) have already started to change the way that telecom networks are designed, deployed, and operated. Together, these two technologies can not only reduce networks' capital and operating costs but also improve their flexibility and scalability. Moreover, their open-source architecture can foster greater agility and innovation.
But will operators strike gold with these technologies? Or will the biggest winners be today's sellers of pickaxes and shovels, the vendors of SDN and NFV?
We believe that telecom operators stand to gain real benefits from SDN and NFV—but achieving those benefits will be challenging. Operators will need to fundamentally revise their operating model, skill profiles, and organizational structure to make way for software-enabled and virtualized networks…
Telecom workforce management is changing as the so-called "gig economy" continues to penetrate the industry. An increasingly "hybrid" workforce of contract and full-time workers is emerging as operators put ever more focus on reducing their costs to deploy network infrastructure.
Field Nation, which provides a software platform for connecting field technicians and employers for contract work on telecom networks, says that the increasing role of small cell infrastructure is a contributing factor to this shift. Operators are even more focused on controlling costs of site development and deployment for small cells, which must be rolled out at a fraction of the cost of a macro site in order for the economics to work…
CenturyLink, Inc. (NYSE: CTL) announced it has acquired certain strategic assets of the company formerly known as Active Broadband Networks, a provider in software-based broadband networking. These assets will help accelerate CenturyLink's efforts to automate its network, move network functions into the cloud and deliver software-defined networking (SDN) and network functions virtualization (NFV) services to its customers.
The company formerly known as Active Broadband Networks, based in Framingham, Mass., uses SDN and NFV technologies to provide broadband edge solutions to service providers, enabling them to deliver a next-generation cloud-based service infrastructure. CenturyLink's acquisition of the company's edge platform assets strengthens CenturyLink's ability to virtualize core network functions…
Eastern European OTT TV and video revenues [for 18 countries] will reach $1.976 billion (€1.781bn) in 2021; up from only $26 million recorded in 2010 and $454 million in 2015, according to a report from Digital TV Research.
The Eastern Europe OTT TV & Video Forecasts report states that Russia accounted for half the region's OTT revenues in 2015 and will remain at around this level for the next five years. From the $1.522 billion additional revenues between 2015 and 2021, Russia will provide $724 million, with Poland bringing in a further $220 million.
Simon Murray, Principal Analyst at Digital TV Research, said: "The Eastern European OTT TV and video sector is more immature than most of the rest of the world. Although this is changing with several platform launches, the region will still have lots of room for growth after 2021."
SVoD will become the region's largest OTT revenue source in 2016. SVoD revenues will total $1,142 million by 2021 – up from only $4 million in 2010. Russia (up by $460 million between 2015 and 2021 – or more than sextupling) will remain the SVoD revenue leader, with Poland taking second place.
Digital TV Research forecasts 19,706,000 SVoD subscribers by 2021, up from 125,000 in 2010 and 3,356,000 by end-2015 – sextupling between 2015 and 2021. Russia will have more than 10 million SVoD subscribers by 2021…
Pay TV revenue in Central and Eastern Europe totaled €5.02 billion in 2015, according to a new report from IHS Inc. (NYSE: IHS), the leading global source of critical information and insight.
The report, entitled Central and Eastern Europe Pay TV Market Monitor, says there were 75.9 million homes in Central and Eastern Europe that had pay TV, an increase of 31 percent between 2010 and 2015.
Cable accounted for 48 percent of pay TV subscribers in 2015 compared to 38 percent for satellite and 13 percent for IPTV.  Cable is predicted to keep the largest share until 2020 even though the IHS report expects the total number of cable pay TV subscribers to decline by 3 percent…
Parks Associates announced new research today showing that approximately one-third of smart home device owners experience problems with their smart home devices and nearly 10% report problems connecting a smart home device to the home network router. Consumers encounter these issues more often when setting up smart sprinkler systems, networked security cameras, and water leak detectors compared to other smart home devices…
The Asia Pacific region will have 903 million TV households by 2020, an increase of over 100 million compared with 2014. TV households will have an average 1.21 TV sets per home, leading to more than 1.3 billion sets across the region by 2020.
Of the 903 million total, 48% of the TV households will subscribe to cable (both analog and digital). This puts it well clear of the second-placed pay platform – pay DTH — which will have a 10% share due to its continuing strong growth thanks to DTH operators in India.
China and India account for the top 11 Asia-Pacific operators in terms of subscriptions. China's CRTN is the undisputed world leader in terms of pay-TV subscriptions, with 231 million subscriptions. China's IPTV operator, BesTV, is second in the region with 22.5 million subscriptions.
Indian cable and DTH operators occupy the next nine positions, with DEN, Dish, and Hathway leading. The stand-out success story over the past few years has been the growth of pay DTH services in India, which caused the country to overtake Japan….
A recent survey of U.S. adults by Coldwell Banker Real Estate LLC and CNET found that Americans are embracing smart home technology, with 28 percent owning at least one smart home product and almost half of millennials adopting the technology.

"Smart home technology is catching on because it is changing the way we live in our homes," said Robert Burns, president of Coldwell Banker Mid-America Group. "Not only is it shifting the financial perception of the home, but it's also transforming our emotional connection to our homes. We have entered a transformative era. We believe that in two to three years, homebuyers will expect smart home technology."

Of those surveyed currently using smart home technology, 81 percent said they would be more likely to buy a home if smart technology was already installed, Burns said. "For those who currently don't own smart home products, this provides an opportunity to make the move and adopt the technology. The trend will only grow as millennials start to represent a larger share of homeowners."
The Internet of Things (IoT), which enables any physical electronic device with a valid IP-address to transfer data seamlessly over a wireless network, is quickly gaining significant market traction and bringing about fundamental changes in business models.
According to a recent report by research firm International Data Corporation (IDC), spending on IoT in the U.S. alone is slated to grow at a 16.1% compound annual growth rate (CAGR) between 2015 and 2019 to reach nearly $357 billion.
According to IDC, the U.S. IoT market will reach $232 billion in 2016. The two biggest beneficiaries will be the manufacturing and transportation industries with estimated IoT spending of around $35.5 billion and $24.9 billion, respectively. Cross-industry investment, such as investment in smart buildings, may go up to $31 billion by year-end. Other important business verticals will be in-store contextual marketing, connected vehicles and insurance telematics….
The Linux Foundation's OPNFV Project claims 94% of telecom operators have NFV plans, although security, MANO and OSS/BSS remain top concerns
A recent survey released by the Linux Foundation's Open Platform for NFV Project, found an increasingly small percentage of telecom operators have not yet planned for network functions virtualization.
The survey, which was conducted for OPNFV by Heavy Reading and released at the recent OPNFV Summit, noted 6% of the more than 90 telecom operators questioned did not have an NFV strategy planned at all, down from 14% last September…
A new partnership between global management consultancy, Accenture, and robotic process automation solution provider, Automation Anywhere, underlines the snowballing worldwide trend to deploy robotic systems to perform workplace tasks currently performed by 'human' workers.

Automation of the workforce using robotic process automation solutions is designed to more cost-effectively and efficiently deliver business processes and for them to be scaled  up quickly to meet growing demands with increased performance accuracy….
Internet of Things startup had raised $93.5 million from venture-capital backers

Cable giant Comcast Corp. has agreed to acquire Icontrol Networks Inc. in a deal for the company's Internet of Things technology.
Financial terms of the deal weren't disclosed.
Icontrol Networks, which is based in Austin, Texas, has raised $93.5 million from venture-capital backers including Kleiner Perkins Caufield & Byers, Intel Capital and Comcast Ventures, according to Dow Jones VentureSource.
The Icontrol Converge software platform has been the system behind Comcast's Xfinity Home system for touch-screen panels and works with servers in the background. The software enables communication and management for home sensors as well as cameras and thermostats.
Icontrol, founded in 2003, supports connected home security and does business with a number of Xfinity Home's competitors, including COX Homelife and Time Warner Cable IntelligentHome. Comcast will continue to support and grow Icontrol's wholesale business, said Daniel Herscovici, senior vice president and general manager of Xfinity Home at Comcast.
The acquisition makes Comcast a player in the market for security infrastructure serving the growing network of connected consumer devices. "We are the glue that powers and enables all those devices to talk to each other," Mr. Herscovici said….
Trial undertaken by Telefonica VIVO of Brazil
First NFV project involving active customers in the residential market
Aim to evaluate operation efficiency and flexibility
NEC has announced the completion of the first phase of a pre-commercial trial for virtual customer premises equipment (vCPE) for residential users in the network of Telefonica's Brazilian subsidiary VIVO. The trial was conducted with existing customers and deployed in the carrier's own commercial network….
Limelight's semi-annual survey also revealed that online video consumption continues to grow with more people watching more than 10 hours a week.
YouTube had better keep an eye on OTT services because they're stealing away more and more of its core millennial audience.
According to the latest State of Online Video Report from Limelight Networks, OTT services are surging in popularity, with seven in 10 consumers currently subscribing to at least one. The most significant growth has been seen in people subscribing to two OTT services, which has increased from 15.53% in December 2015 to 18.78% in June 2016.
But the success of OTT services has come at the expense of YouTube. It's a shift that, interestingly enough, has been driven by millennials in particular (the report features a special section dedicated to the 18 to 34 crowd), who are increasingly abandoning the video sharing site's content in favor of the TV shows and movies available on OTT services….
The biggest growth area is in viewers who subscribe to two OTT services, which could show an emerging trend in interest for niche offerings.
The over-the-top video market isn't saturated yet but is growing fast, finds data released today from Limelight. According to its latest State of Online Video report, 38.4 percent of those surveyed subscribe to 1 service, 18.8 percent subscribe to 2, and over 10 percent subscribe to 3 or more. Only 31.2 percent don't have any OTT subscriptions.
Compare those numbers to the May 2015, when 36.9 percent subscribed to 1 service, 14.0 percent subscribed to 2 services, and just over 8 percent subscribed to 3 or more. Back then, 40.1 percent didn't have an OTT subscription.
The biggest growth, Limelight notes, was for those subscribing to two services. This could show a growing trend in niche OTT offerings, it suggests, which may impact market leader Netflix in the coming years….
The $17.7 billion deal marks the European cable and telecom giant's next step and creates the fourth-largest U.S. cable operator.

It's a done deal: European cable and telecom giant Altice has closed the acquisition of Cablevision Systems in a transaction valued at $17.7 billion, including cash and debt.

The takeover, first announced in September 2015, marks Altice's next step in the U.S. cable market, following its acquisition of Suddenlink, and creates the fourth-largest U.S. cable operator behind Comcast, Charter Communications and Cox Communications.

"The completion of the Cablevision acquisition marks a critical step in the development of the Altice Group," Patrick Drahi, founder and controlling shareholder of Altice, said Tuesday in a statement, adding: "I wish to also thank the Dolan family for entrusting us with their life's work at Cablevision, where they have developed under their pioneering stewardship one of America's pre-eminent cable operations with best-in-class management talent."…
In trying to corral all the industry issues raised during last week's OTT Executive Summit, I was reminded of a classic Monty Python skit featuring the Spanish Inquisition and its ever-growing list of priorities, which forces a band of inquisitors to continually halt, mid-spiel, and tack on to their bold speech.
There are monetization issues to resolve. New variants on business models to test. Audience engagement and retention concerns. Content licensing costs. Encoding standards to decide on.
But one important issue quickly raised its head above the others this week: quality of experience, which emerged as a central topic of discussion during the one-day meet and greet among online video heavyweights and startups alike.
That QoE focus stayed front and center because, much like the Spanish Inquisition, the unexpected — and yet somehow, totally expected — managed to happen over the weekend: HBO Now's stream of Game of Thrones sputtered and died just as the most anticipated episode of the season spooled up. The viewer rage that boiled up during the outage, compounded by a perception that HBO was slow to address the issue (it didn't post about the stream being down until 43 minutes into the penultimate season 6 episode) pointed to an issue that the OTT industry is finally beginning to own up to: QoE is a problem. A big problem…
GOTHENBURG, Sweden — The number smart homes in North America and Europe reached a total of 17.9 million in 2015, according to a new research report from Berg Insight. North America is the world's most advanced smart home market and the region had an installed base of 12.7 million smart homes at the end of the year, a 56 percent year-on-year growth.
The strong market growth is expected to last for years to come, driving the number of smart homes in North America to 46.2 million by 2020, which corresponds to 35 percent of all households.
The European market is two to three years behind North America in terms of penetration and market maturity. At the end of 2015, there were 5.3 million smart homes in Europe and the market is forecasted to grow at a compound annual growth rate (CAGR) of 54 percent in the next five years to reach 44.9 million smart homes by 2020, which corresponds to 20 percent of all European households.
The most successful products in the smart home market include smart thermostats, security systems, smart lighting, network cameras, and multi-room audio systems.
… Several major companies are now betting on voice-driven user interfaces to make it easier to control smart home solutions. The Alexa service from Amazon has quickly become popular and shows the value of smart home solutions to a broader audience. Furthermore, Apple's HomeKit platform supports the company's voice-driven digital assistant Siri. Microsoft is likely to push its Cortana service as a foundation for controlling connected devices and services, and Google announced its conversational digital assistant named Google Assistant in May 2016…
The pay-TV industry has given the United States' Federal Communications Commission (FCC) a proposed plan that would

allow

over

50 million

cable and satellite TV subscribers to get rid of their set-top boxes. Its goal is to convince federal regulators to avoid making bigger changes to the multi-billion dollar industry that would affect cable customers paying for TV shows and

video

programs…
WASHINGTON (Reuters) – The U.S. pay-TV industry proposed a plan to allow more than 50 million subscribers to ditch costly set-top boxes to get television and video programs to try and convince federal regulators to abandon more far-reaching reforms.
Tom Wheeler, chairman of the Federal Communications Commission, proposed in January opening the $20 billion cable and satellite TV set-top box market to new competitors and allow consumers to access multiple content providers from a single app or device…
With a Senate subcommittee panel set to grill pay-TV executives on customer services and billing practices on June 23, analysts say recent improvements in these areas by top operators like Comcast (NASDAQ: CMCSA) do not go far enough.
"While many of these cable providers will make the argument that their customer services have improved, it is not enough to keep up with today's consumer demands and certainly not enough to keep up with their increasingly customer-obsessed competitors. This investigation is going to be a reality check for them," said Forrester analyst Rick Parrish in comments released today….
…. As previously noted, only 12% of telecoms operators will focus their strategy around the access bit-pipes. For the rest, the service layer remains relevant. For 25% the service layer (and not the access network) is the focal point. In this final article in the series, informed by the research, we look at the future of the converged service-layer and the services it delivers.
Technology for the customer. According to the Heavy Reading research, more than 80% of respondents recognized that service layer convergence was an important part of delivering services across different types of access network. More than one third (38%) cited the rollout of VoLTE as a key technical driver behind deploying a converged service layer. Looking further ahead, roughly the same number (33%) felt that preparation for 5G was a driving force….
Differentiation with agility. In the survey, service agility was second only to capex reduction when it came to the business benefits enabled by deploying a converged service layer. However, the benefits of service agility are clearly a stronger motivator: The introduction of a new service (service agility) was rated as the top business reason to trigger the move to a converged service layer, beating cost reduction into third place behind facilitating transformation to all-IP in second. In order to support this agility, openness — and the ability to enable vendor-independent service development — was strongly endorsed as a key factor when selecting the converged service layer technology….
Learn more about Lumentum's new optical whitebox platform supporting a software defined network (SDN) ecosystem within data center and metro/edge DWDM transport.
Also in today's EMEA regional roundup: EC proposes wholesale roaming charge cuts; MBNL heads to Ireland for service assurance; Orange Money makes French connection.

The European 5G frenzy continues, and this time it's Swisscom AG (NYSE: SCM) and Ericsson AB (Nasdaq: ERIC) getting together to launch the "5G for Switzerland" initiative, the usual collaborative effort that draws on industry partners and academia to drive the technology forward. The program forms a part of Ericsson's wider 5G for Europe program, which was launched in September 2015. Like many others in the industry, Swisscom hopes to have 5G up and running by 2020. (See Ericsson Offers Taste of 5G With 'Plug-In' Software Modules, Ericsson's CTO on a 5G Future and 5G: Hurdles on the Track.)…
Parks Associates research finds that 23 per cent of millennial heads of household are OTT-only households, higher than the national average of 15 per cent among all US broadband households. The firm's analysts also note that 61 per cent of millennials subscribe to both pay-TV and OTT services, also higher than the national average of 52 per cent.
Parks Associates OTT data shows:

Nearly 60 per cent of OTT video services in the North American market are subscription-based.
64 per cent of US broadband households subscribe to an OTT video service, up from 59 per cent in 2015.
Average monthly spending on Internet-based SVoD services among US broadband households increased from $3.71 per month in 2012 to $6.19 per month in 2015.
Approximately 20 per cent of US broadband households cancelled at least one OTT video service in 2015. 5 per cent of US broadband households cancelled Netflix in 2015, up from 4 per cent of households reporting in Q2 2015 that they cancelled the service in the past 12 months.
14 per cent US broadband households subscribe to Hulu, and 7 per cent of US broadband households cancelled the service in 2015, roughly the same churn rate from Q2 2015.
24 per cent US broadband households report having a subscription to Amazon so that they can stream video. The churn rate for Amazon's video service declined slightly from Q2 2015 to the end of the year.
….
Mariner xVu(TM), …today announced a new sale to and partnership with Vodafone Ireland to deploy its multi-award-winning Mariner xVu Software Defined Monitoring (SDM) platform. Vodafone Ireland will be using the analytics software across its IP video service to enhance subscriber quality of experience (QoE) and customer quality of service (QoS)…
Finnish vendor Nokia launched a new smart home solution that will enable network operators to offer new services to residential customers seeking a digital home solution for the "internet of things."
Nokia said the new solution supports an array of sensors, plugs and other connected devices essential for the delivery of home security, automation and smart metering services.
The company's smart home gateway lets subscribers monitor and control everything inside the home with a smartphone or tablet, including temperature and motion sensors, door and window sensors, smoke detectors, light switches and security cameras.
The Nokia smart home solution provides network operators with three key elements including a single device that acts as an optical network terminal residential and smart home gateway; a mobile application – on iOS and Android – to control the home; and an end-to-end IoT management platform controlling the smart home ecosystem.
Nokia's new smart home gateway will be available to network operators by the end of 2016….
On average, this device base equates to an astounding four devices per household; Netflix has secured a presence across 32 percent of connected devices in the US
Number of Connected Audio-Visual Devices Globally (Graphic: Business Wire)
Responding to the issue of call drop problems, Telecom Secretary JS Deepak on 10 June affirmed that companies will set up at least 60,000 towers and have committed Rs 12,000 crore to install these towers to improve service quality….
ABI Research sees the NFV-based mobile packet data core ramping up this year and taking in more than half of the US$ 42 billion in packet data core spending through the end of 2021. The mobile networks are heading toward an IT and telecom convergence, and the entire packet core for 3G and 4G will increasingly turn to NFV virtualization and running on commercial IT gear.
"As the initial LTE network build-outs wind down, increasing traffic and subscriptions place growing demands on the packet data core," says Joe Hoffman, Managing Director and Vice President at ABI Research. "Network spend in this market will show a steady uptake. But as NFV virtualization gains ground, it will eventually drive an overall spend reduction as operators get conversant with network virtualization."…
Forecasted 30 percent increase on 2015 figures
With more and more broadcasters and telco operators making the transition to streaming by deploying their own on-demand and IPTV offerings, U.K.-based Juniper Research forecasts that consumers will spend around $180 billion in 2017. The research and analytic service provider highlighted this and more research in its "Digital Content Business Models: OTT & Operator Strategies 2016-2021" report.
OTT TV and video revenues in Canada and the US will reach $24.39 billion in 2021, up from $2.67 billion in 2010 and $15.39 billion in 2015, according to the North America OTT TV & Video Forecasts report.
The North American SVOD sector is by far the most mature in the world, with 81.81 million SVOD subscribers [for movie and TV services only – excluding sports, for example] by end-2015. The SVOD total is forecast to climb to 109.59 million by 2021. Report author and Digital TV Research principal analyst Simon Murray said: "It is important to stress that these figures are gross – some homes take more than one SVOD platform – especially in the US. We do not believe that 86 per cent of US TV households or even 97 per cent of US fixed broadband households will be SVOD subscribers by 2021.
From the 101 million US total in 2021, we forecast that 25 million will be secondary SVOD subscriptions. Therefore, the average US SVOD user will pay for 1.33 subscriptions. Putting it another way, there will be 76 million US primary SVOD users by 2021.
… Of course, video streamers, including subscription services like Netflix and ad-supported sites like YouTube, will grow their revenues at a much faster rate than regular TV. Subscription-only online video services in the United States — Netflix and the like — will be raking in $10.4 billion a year by 2020, according to the PwC report, up from $6.4 billion in 2015, a solid increase of about 10 percent a year. The amount spent on mobile video advertising is, unsurprisingly, about to explode — we're talking a whopping 30 percent, from $3.5 billion in 2015 to $13.3 billion in 2020.The amount of money made from cable TV, meanwhile, is set to grow at only about 0.25 percent a year.
DALLAS, TX–(Marketwired – Jun 8, 2016) – Parks Associates announced research today at ESX (the Electronic Security Expo) showing wireless home security sales are increasing, as almost one-half of home security owners in the U.S. have a home security system that connects wirelessly to sensors. The market research firm's leading security analysts will discuss the findings during two sessions at ESX in Fort Worth this week.
"The emergence of 'monitor-it-yourself' and hybrid professional monitoring options for self-installed devices is a key trend for the smart home in 2016," said Brad Russell, Research Analyst, Parks Associates. "Almost 50% of smart home devices currently in U.S. broadband households are self-installed, by the owner or by the owner's friends or family members. These advanced monitoring solutions present an avenue for security companies, service providers, and users to generate more value from these self-installed devices."
Findings from Parks Associates' research Security Dealer Survey: Emerging Trends in Security Systems Sales and Services and Delivering Peace of Mind: Connected Home Devices & Sensors include the following:

80% of U.S. security dealers currently install smart home devices as part of their services
About 25% of security replacements or upgrades include at least one smart home device, such as smart thermostats, networked video cameras, or smart lighting devices.
Nearly three-quarters of security dealers offer interactivity with devices through smartphones, tablets, and computers.
Dealer revenues for smart home services are around $14 per month.
44% of networked security camera owners access or control their device remotely on a daily or almost daily basis.
Among U.S. broadband households with professional security monitoring, 32% also own a networked security camera.
AT&T (NYSE: T) says that is on track to virtualize even more of its network functions onto software this year, a sign that it's inching closer to meeting its goal of virtualizing 75 percent of its network by 2020.
John Donovan, chief strategy officer and president of technology and operations for AT&T, told attendees here at the TIA 2016 trade show that this year is important in advancing the carrier's software-centric initiatives to the next level.
Earlier this year, the telco set a goal to migrate 30 percent of AT&T's applications into a private cloud in 2016….
(Reuters) – Exempting some online applications, such as Facebook, from consumers' monthly data caps and treating them as free is seen as the next front in a battle over how telecoms operators can manage the traffic on their networks as regulators prepare to enforce Europe's first-ever "net neutrality" rules.
BEREC, the body comprising the European Union's 28 telecoms regulators, on Monday produced a set of draft guidelines on implementing the net neutrality rules which require operators such as Orange, Deutsche Telekom and Telefonica to treat all Internet traffic equally.
Deciding whether operators should be allowed to devote part of their network to certain services, such as remote healthcare, will be much simpler than deciding whether offering content for free, such as Facebook and Spotify, breaches the principl….
China Mobile has officially started the commercialisation of its rich communication services (RCS) network. China Mobile cooperated with ZTE for the deployment of this virtual IP multimedia subsystem (vIMS) based RCS project. Back in October 2014, ZTE won the tender to become the system integrator of this project. ZTE provides the complete IMS-based RCS service, with the initial capacity planned to be 100 million subscribers, and supports RCS including multimedia messaging, network voice calling, video calling and address book capabilities.
Australia's premium OTT market is poised for massive growth in the next three years, with Netflix emerging as the dominant player, according to a new report by MTM.

MTM forecasts that Australia's OTT market will grow from around US$85 million in 2015 to $230 million in 2019. Australia's neighbours Indonesia will grow in the same time frame from $7 million to $40 million  and Thailand from $8 million to $45 million.  While local service providers will be the core players in Indonesia and Thailand, Netflix will take the biggest market share in Australia.

The report states that the regional presence of Netflix will drive OTT market expansion, however "consumers will struggle with the US streaming giant's one-size-fits-all offering," said researchers.

MTT researchers added, "the next 12 to 24 months will function less as a test of whether or not premium OTT will take off, but more as a measure of how it will penetrate popular appetites. Among the creative and flexible approaches to generating reliable revenue, service providers will need platforms that can accommodate a range of content delivery and payment preferences".

Meanwhile researchers Point Topic, have found that global IPTV subscriptions had smashed the 130 million barrier with quarterly net additions of six million, the highest in the last 24 months…
Viavi Solutions (NASDAQ: VIAV) today announced the introduction of the industry's first cable television (CATV) meter with network sweep and alignment tools for the extended DOCSIS 3.1 frequency ranges (204MHz upstream, 1.2GHz downstream).

Built on the strengths of the OneExpert™ CATV, Viavi's new solution is designed to support operators performing hybrid fiber-coaxial (HFC) network upgrades and delivering Gigabit to the home to maintain the highest levels of customer satisfaction.

Viavi will be demonstrating OneExpert and related solutions to enable multi-service operators to deliver Gigabit to the home atANGA COM, Cologne, Germany
Electronic access control is finally migrating from the public and commercial sphere to the private home.
Until now the humble mechanical lock and key has reigned supreme in our domestic environment. But with the 'internet of things'  giving consumers unprecedented power to conserve energy, reduce domestic drudgery and optimise their living environment, it's home security that could be the fastest-growing part of this burgeoning market.
The smart – or 'connected' – home market is expected to reach $58.68bn in value by 2020, at an estimated CAGR of 17%, according to MarketsandMarkets.com. Protecting everything from the front door to cupboards and garden sheds, digital locks are sure to play a key role in that growth…
Tony Fadell is stepping down as chief executive of Nest, the home-automation firm he founded and sold to Google.
The departure, which was announced Friday in a blog post, comes as Fadell faced increasing criticism at Google, now called Alphabet Inc., because of his abrasive management style.
Nest, which makes digital thermostats, smoke detectors and video cameras, was supposed to be a foundation for Google's push in to smart-home technology when it bought the company for $3.2 billion in 2014.
Instead, Nest has failed to deliver any new hardware and was widely criticized for shutting down service
In April, Fadell defended Nest and its corporate culture at a Google all-hands meeting.
"Of course, we're not perfect," he said, according to Recode. "No company is. Nest isn't perfect. I'm not perfect. No one's perfect. But we know what our problems are. We have been addressing them over the last two years. And, frankly, we have more room to go."
Fadell, 47, will now serve as an advisor to Alphabet. Nest named Marwan Fawaz, the former chief executive of Motorola Home, as its new chief executive.Fadell, a former Apple executive credited with launching the iPod, said the decision to step down was his.
"Although this news may feel sudden to some, this transition has been in progress since late last year and while I won't be present day to day at Nest, I'll remain involved in my new capacity as an advisor," Fadell wrote in a blog post.
T&T's (NYSE: T) creation of the Domain 2.0 program, which is driven by the implementation of software-defined networks (SDN) and network functions virtualization (NFV), is causing the telecom equipment industry to rethink how they deliver products and services.
Speaking to investors during the Cowen and Company 44th Annual Technology, Media & Telecom Conference, Krish Prabhu, CTO of AT&T, said Domain 2.0 has driven vendors to focus their attention on how to deliver software-based solutions — a radical change from the hardware-centric mentality that's existed for decades.
"Initially, there was some skepticism about what can be done in this new architecture," Prabhu said. "Part of the challenge for the vendors is that it certainly upset vendor business model because instead of buying boxes we were now going to buy software and buy it in smaller chunks and we've been vocal about having Open Source play a key role in the ecosystem."
Over the past year, AT&T has been adding more vendor partners to its Domain 2.0 system.
…
On this week's NFV/SDN Reality Check, we look at some top news items from the past week and speak with Rift.io on the use of open-source NFV for management and network orchestration
This week's featured interview is with Rift.io where we discuss the use of open-source NFV for management and network orchestration. But first let's take a look at some top headlines from across the space over the past week.
AT&T continues to tout the abilities of its enhanced control, orchestration, management and policy project, with the latest link connected to policy management. Jen Yates, assistant VP at AT&T Labs, explained in a recent blog post that one of the goals for ECOMP is to provide for the "design, creation and lifecycle management of virtualized network functions" in a "flexible, dynamic, policy driven manner" allowing users to "dynamically control ECOMP's behavior without changing the system software."
….
CENX has teamed up with Brocade, Red Hat, and RIFT.io for an initiative aimed at building end-to-end service orchestration and management solutions to accelerate the deployments of software-defined networking (SDN) and Network Functions Virtualization (NFV) for services providers.
The companies are working together to interoperate their respective technologies to demonstrate end-to-end service management capabilities over hybrid physical and virtualized network infrastructure in CENX's SDNFV Innovation Lab.
The demo involves CENX Exanova Service Intelligence, Red Hat's OpenStack platform, and RIFT.io's RIFT.ware NFV Orchestrator and VNF Manager.
….
Amdocs launched the Amdocs Core Network Testing Service, a platform that provides test scoping and planning, network equipment testing, interoperability testing, pilot testing, network test lab management and device certification for both physical and virtualised network functions (NFV) testing. By using a common framework and methodologies powered by data analytics, Amdocs can unify and automate IT and network testing activities, including operational and business support systems, and now the network packet core.
Visual analytics company Qlik Technologies Inc. QLIK,

+0.12%

said Thursday it has agreed to be acquired by private-equity firm Thoma Bravo in an all-cash deal valued at about $3.0 billion. Qlik shareholders will receive $30.50 in cash per each Qlik share, or a premium of 40% over the company's 10-day average stock price prior to March 3, 2016. Qlik will keep its corporate headquarters in Radnor, Pennsylvania. The company is expecting the deal to close in the third quarter. Shares rose 4% in premarket trade, but are down 9% in the year so far, while the S&P 500 has gained 2.7%.
Innovative Solutions From F5, Silver Peak and VeloCloud Achieve VMware Ready™ NFV Certification

PALO ALTO, CA

–(Marketwired – June 01, 2016) –  VMware, Inc. (NYSE: VMW) today announced the expansion of the company's Telco NFV partner ecosystem with three new certified VMware Ready™ NFV solutions and four new members to the VMware Ready NFV program. VMware now has nine certified solutions from eight different vendors for VMware vCloud NFV, including newly certified partners F5, Silver Peak and VeloCloud. Additionally, Infoblox, Netrounds and two of the largest global network equipment providers (NEPs) have joined Mitel as partners with solutions currently going through certification.
VMware Ready NFV allows partners to certify their virtual network functions (VNFs) for compatibility with VMware NFV infrastructure (NFVi). The VMware Ready certification provides CSPs with the confidence that partner VNF solutions will seamlessly and efficiently deploy, run, and interoperate with vCloud NFV. The VMware Ready program designates VMware's highest level of endorsement for products and solutions created by our established partners, and accreditation builds customer confidence and accelerates further opportunities for collaboration as leaders in the cloud.
"VMware continues to make excellent progress in advancing our innovative vCloud NFV platform, and the VMware Ready NFV program is critical to helping customers adopt and deploy NFV with confidence," said Gabriele Di Piazza, vice president, products and solutions, Telco NFV Group at VMware. "Together, VMware and its partners are helping customers transform their businesses with network functions virtualization that helps them lower costs considerably and enables rapid and agile service innovation."
Previously certified solutions include Affirmed Networks Mobile Content Cloud™; Brocade Virtual Evolved Packet Core; Metaswitch Networks Clearwater Core (IMS Core) and Perimeta SBC (Session Border Controller); Procera Networks PacketLogic/V; and Versa Networks VNFs….
While still leaving plenty of room for improvement, Comcast (NASDAQ: CMCSA) and Time Warner Cable reported major improvements in the 2016 ASCI Telecommunications Report, which ranks customer satisfaction with telecom services.Overall, on ASCI's 100 point scale, the cable sector improved 3.2 percent over 2015 in the TV services rankings, with Comcast up eight points, or 15 percent, to score an overall grade of 62. TWC was also up eight points, or 16 percent, to a grade of 59.
….
AUSTIN, Texas — Big Communications Event — US telecom giant CenturyLink is aiming to improve its offering by guaranteeing customers "six nines" reliability rather than the "five nines" that has traditionally featured in telco service level agreements (SLAs).

The five nines measure basically means an operator is guaranteeing its service will be available 99.999% of the time. In a six nines agreement, the telco would provide a 99.9999% guarantee in its SLA.

Reliability is becoming an increasingly hot topic as operators introduce software and virtualization technologies into their networks and prepare to roll out new types of service. Indeed, there are doubts that operators will be able to make such SLA guarantees in a more virtualized environment.

While some operators have suggested those traditional measures may need to be overhauled in future, CenturyLink Inc. (NYSE: CTL) reckons it can improve on them as it develops new data center capabilities.

"Redefining five nines is redefining them to go up to six nines," said James Feger, CenturyLink's vice president of network strategy and development, when asked how telcos were evolving the five nines proposition at last week's Big Communications Event in Austin, Texas.

"Five nines still has downtime associated with it and that is not acceptable to a lot of customers and for a lot of applications," he said on a panel session about the new-look telco data center.
Nokia (NOK) shares are up as it closed the $191 million-acquisition of Withings, a French consumer electronics company focused on digital health, sooner than expected

Nokia (NOK)  shares are up 1.16% to $5.67 Tuesday afternoon on the announcement that it closed the $191 million-acquisition of Withings, a French consumer electronics company focused on digital health, earlier than had been anticipated.
This comes about a month after the company announced its acquisition plans. Originally, it had projected the deal to close at the end of fiscal 2016 third quarter.
As a result of the acquisition, Nokia established a new digital health business unit led by Cedric Hutchings, former CEO of Withings.
"This is the beginning of an exciting new chapter in the history of Nokia Technologies as we extend our product portfolio to include a series of powerful digital health technologies," Nokia Technologies president Ramzi Haidamus said.
The new product line includes activity trackers, blood pressure monitors, and baby monitors.
ENGLEWOOD: Thanks to the popularity of Apple TV devices, Apple has moved into the number three spot based on revenue in the overall global set-top box market, according to IHS.
The company moved up to number three in 2015 from ninth place in 2014. This is due to continued strong growth in consumer retail OTT boxes, as well as the consolidation of the top players of the global set-top box market—with Arris's acquisition of Pace and Technicolor's acquisition of Cisco's set-top box division, which were finalized last year.
More than 10 million Apple TVs were shipped in 2015—the fifth largest volume in the world—following Arris, Technicolor, Skyworth and ZTE.
"The STB market has certainly grown since 2007, when Steve Jobs originally described the Apple TV business line as a 'hobby,'" said Daniel Simmons, director of connected home for IHS Technology. "Now we're seeing sales of Apple's consumer devices in the millions, which has catapulted the company ahead of leading STB manufacturers that ship to pay-TV providers. Apple TV's particular success is a result of translating consumption habits from across Apple's wider device ecosystem onto the TV screen."
…
After two years of declining customer satisfaction, the telecommunications sector has halted the slide, according to new data from the American Customer Satisfaction Index (ACSI). The new ACSI results for the telecommunications sector, which includes subscription television service, Internet Service Providers, fixed-line telephone service, wireless telephone service and cell phone manufacturers, show a 1.9-per cent gain to 70.1 on a 100-point scale. All five industries demonstrate improving customer satisfaction in the survey of 12,710 customers conducted in the first quarter 2016.
"Innovation tends to be strongest in markets with multiple companies vying for consumer preference," says Claes Fornell, founder and Chairman of ACSI. "There are numerous wireless carriers and plenty of different cell phones to choose from. The same is not true for pay-TV and ISPs, where consumers are usually beholden to a duopoly."
…
Video… Cable operators are looking at transitioning operations to IPTV, and some have already started. What issues do operators face? What opportunities will this bring to customers? These are just a few of the questions Alticast considers in this interview between Alan Breznick and Susan Crouse at INTX 2016.
Over the last 10 years, service providers have been striving to roll out the next generation of services that include voice, video, WiFi, wireless — and all the bandwidth customers can possibly digest. To accomplish this, providers need a more agile infrastructure to provision complex service offerings, across multiple platforms, hungry set-top boxes, smartphones and an army of tablets.
However, over time the service assurance base has atrophied. If you open the hood on any operation center, you'll see network management tools that have been installed for 15-plus years. These tools include IBM Netcool, EMC SMARTS, Infovista, CA and the list goes on. Before next-generation services were conceived, these tools worked fine for fault and performance management, as well as root cause analysis, within specific domains. But this infrastructure management approach is no longer valid and is incapable of meeting end-users' needs who want to access information that's geometrically dispersed over an extremely complex infrastructure. Service providers need end-to-end visibility across all elements of the operational support system (OSS) and business support system (BSS) to assure service delivery–they need their Service Assurance MoM (Manager of Managers).
…
AT&T's unexpected return to the bidding for Yahoo (NASDAQ:YHOO) is about obtaining digital advertising assets. Furthermore, it could hinder the path of its adversary Verizon Communications (NYSE:VZ) Incorporation. The two largest US telecom providers are fighting to gain ownership of Yahoo.
Both AT&T (NYSE:T) and Verizon are facing slow subscriber growth and painful price competition from smaller carriers, and have aimed at video as a source of fresh revenue. However, video won't boosts sales without advertising technology.
…
The world's biggest digital department store is taking on video streaming with the launch of Amazon Video Direct.

The new platform created by Amazon is a call to arms in the battle for YouTube and other's video advertising dollars and IPTV traffic.  Open to any video creator, Amazon Video Direct gives content makers four distribution options.  The choices include:  content can be made available to Prime Video subscribers on a per-hour royalty fee; content can be sold as an add-on subscription via the Streaming Partners Program; it can be offered as a digital rental or purchase; or it can be made available to all Amazon customers for free with ads- in this scenario video creators will get a 55% share of the ad revenue.

In a YouTube style approach, Amazon has also introduced the "AVD Stars" program which allocates USD$1 million per month to reward top-performing video creators and give them an incentive to add their content to Prime Video.  The AVD Stars fund is eligible to providers who stream content starting on June 1.
"Telecom operators are using Radio-Link Technology ( RLT ) which is helping them mask call drops while the consumer is being billed for the time he is on the call, although it can be said to be artificially connected to a network," an official source involved in testing of telecom networks told PTI.
In such cases, the customer often disconnects call himself, which is not counted in call drops. If the call in such case is disconnected, the companies continue to charge customers.
…
Verizon (NYSE: VZ) recently completed its implementation of Network Function Virtualization OpenStack cloud deployment across five of its U.S. data centers, a move that will serve two purposes: transforming its network architecture and laying the foundation for new enterprise services.
Among the new services that Verizon is delivering today are its SD-WAN and bandwidth on demand connectivity.
Working in tandem with partners such as Viptela, Verizon delivers SD-WAN services across its global IP network and a network of partners including over 400 Ethernet partners globally, over 60 broadband suppliers and 20 wireless providers globally.
…
AUSTIN, Texas — Big Communications Event — Vodafone is making significant progress towards the implementation of its Ocean virtualization strategy but is still encountering some significant challenges as it works with the vendor community on its plans.
That was one of the key messages from the Vodafone's head of SDN and NFV, David Amzallag, during his keynote presentation at the Big Communications Event (BCE) here this week.
"There are two main difficulties [in which] we are still investing a lot of effort but have not yet finalized the approach or standpoint," noted Amzallag.
The first is "the new pricing model — how we are going to negotiate with vendors and how we are going to be charged for orchestration software or SDN controllers. The industry is absolutely not consolidated here and that's an understatement," stated the Vodafone man, who has been shocked at the range of different models being proposed by different suppliers.
The second is "an open issue for the industry is the way that VNFs are being expected to be onboarded," noted the Vodafone man. "We have seen in a lot of cases that vendors are thinking in terms of boxes when they are allocating virtualized resources. This creates a misalignment in the amount of resources needed. So, onboarding is one of the main topics in this journey and as part of our activities we will sharing a set of expectations, some guidance, with the vendors around pricing models and onboarding."
…
Korean dominant telco, SK Telecom, will launch a 500Mbps LTE-A service next month thanks to the use of five band carrier aggregation.
SK Telecom will provide LTE-A Pro, which is about 7 times faster than the original LTE service, through its five band carrier aggregation service starting on June 1," Choi Seung-won, senior vice president of SK Telecom's infrastructure strategy division, said.
"With the carrier aggregation (CA) service, LTE-A Pro will be a bridgehead for the development of 5G technology."
…
Charter Communications finalized its acquisition of Time Warner Cable and Bright House Networks yesterday in a deal worth roughly $65 billion, after California regulators approved the three-way merger last week, Reuters reports.
The three companies will eventually be subsumed into a single Charter brand, and the combined entity will serve over 25 million customers across 41 states, according to the company's press release.
The merger gives Charter even greater scale in the pay-TV and broadband internet-provider industries. In particular:

Charter will become the third-largest pay-TV provider, behind Comcast and AT&T's DirecTV, according to Leichtman Research Group figures. Combined, Charter and Time Warner Cable accounted for about 16% of the US pay-TV industry in 2015, Comcast for 24%, and AT&T's DirecTV for 21%. Verizon was fourth in line with 10% of the pay-TV market.
Charter will become the second-largest broadband internet provider, behind Comcast, according to Leichtman's figures. Combined, Charter and Time Warner Cable accounted for 21% of the US broadband internet-provider industry in 2015, and Comcast for 23%. AT&T was the next big player with 17% of the broadband internet market.
Increased scale will give Charter more leverage during programming negotiations with TV networks. A larger subscriber base means a larger audiences for ads. This should help Charter get more favorable terms during negotiations with TV networks.

…
On this week's NFV/SDN Reality Check, we speak with Versa Networks to discuss the importance of testing and interoperability for NFV and SDN
As the telecom market continues its drive towards virtualizing network operations, one of the more common concerns we hear from operators are issues surrounding interoperability. Just as in legacy, hardware-based network architectures, telecom operators are reliant on their software-based solutions being able to speak with each other regardless of who vendor.
A recent Technology Business Research report found some early adopter telecom operators were moving forward with limited commercial launches of network functions virtualization and software-defined networking technologies despite continuing questions around NFV and SDN standards. According to TBR's "NFV/SDN Telecom Market Landscape" report for the first quarter, these early launches are "leveraging a mix of vendor solutions and internal resources ahead of industry adopted standards," with cost reduction and service agility seen as key drivers for initial deployments. TBR noted for carriers like AT&T, NFV and SDN are viewed as "critical for long-term survival."
by Jeff Barak
AT&T's approach to pay TV is that mobility is key, explained John Stankey, CEO of AT&T's Entertainment Group, at the closing session of Day Two of INTX 2016 here in Boston. "Customers want to do more things on the go," he said, "and we want to take the premium content experience and bring it into the mobile experience."
But in today's world, although customers do want to engage with content, they want to do so on their own terms, whether it's binge-watching, viewing while mobile (rather than at home), or only at certain price points. To match this reality, AT&T's goal is to create different types of bundles and offerings for different markets, as "mobile allows you to try a lot of different things."
Outlining the company's strategy, Stankey said these bundles will be based on a mix of the premium content it has following last year's $49 billion acquisition of DirecTV, and the short-form video content aimed at teens and young adults produced by Otter Media, a recent joint venture between AT&T and former Fox chief Peter Chernin.
….
A study from the Leichtman Research Group (LRG) has found that the 13 largest pay-TV providers in the US — representing about 95% of the market — added about 10,000 net video subscribers in Q1 2016.

Yet behind this good news was the fact that this compared with a gain of 170,000 customers in the corresponding period of 2015.

LRG's data showed that the top US pay-TV providers now account for 94.2 million subscribers. The leading nine cable companies having 49.1 million video subscribers; satellite TV companies 34.0 million subscribers — including about 665,000 from DISH's Internet-delivered Sling TV; and the top telephone companies having 11.1 million subscribers.

Looking at the

pay-TV

market sectors in more depth, LRG revealed bright news for cable. The nine cable leaders added about 50,000 video subscribers in Q1 2016 — compared with a loss of about 65,000 subscribers in Q1 2015. This was the first time since 2008 that top cable MSOs had reported net gains in a first quarter. Comcast alone added 53,000 subs in the quarter to total 22.4 million while Cablevision shed 15,000 customers to end up on 2.579 million.

….
The combination of the three giant cable companies transforms Charter into the second-biggest provider behind Comcast, with president and CEO Tom Rutledge also adding the chairman title.

Charter Communications on Wednesday closed its $55 billion acquisition of Time Warner Cable and its $10.4 billion takeover of Bright House in a mega-transaction that rearranges the U.S. pay-TV landscape.

The newly merged company instantly becomes the second-biggest cable provider, after Comcast, and observers predict it could chip away at the bargaining power of content creators.

"We have already seen one example from the merger of DirecTV and AT&T whereby affiliate fees are adjusted to the lower end of the merged companies," notes Steven Birenberg of Northlake Capital Management. "There is a shift of power in favor of the distributors due to their enhanced scale."

Charter, in which John Malone's Liberty Broadband owns a big stake, is run by president-CEO Tom Rutledge, who is now also adding the chairman title after the completion of the two acquisitions. It has been the No. 3 cable operator in the U.S. with TWC second and Bright House No. 6. While the entity will be the second-biggest cabler, it's still a close third TV operator behind AT&T/DirecTV.

…
OTT TV and video revenues for 17 countries in the Asia Pacific region will reach $18,396 million in 2021; up from $707 million in 2010 and $5,741 million in 2015. The Asia Pacific OTT TV & Video Forecasts report estimates that China will overtake Japan in 2016 to become market leader.
Simon Murray, Principal Analyst at Digital TV Research, explained: "Smartphone users will continue to drive OTT TV & video audiences. Smartphones are a more important OTT TV reception method than fixed broadband in the Asia Pacific region – with the notable exceptions of Australia and New Zealand."
Advertising on OTT sites will remain the main revenue source, bringing in $8,745 million by 2021 – up by $6 billion from $2,609 million on 2015. China will supply $4,911 million of the 2021 total, with Japan providing a further $1,475 million.
SVOD revenues will rocket from $1,816 million in 2015 to $6,439 million in 2021. China will add $1,838 million in revenues between 2015 and 2021 – nearly sextupling its total.
Download-to-own/electronic sell-through movie and TV revenues are forecast to be $1,904 million in 2021 (with $692 million from Japan), up from $691 million in 2015. OTT TV and video rental will climb to $1,307 million in 2021.
Murray continued: "Much of the OTT activity in 2015 and 2016 has involved local players establishing themselves in their domestic markets. However, a handful of companies are taking an international approach.
"Although there is substantial demand for foreign fare, local content is necessary in each market to entice subscribers. Furthermore, international players benefit from partnerships with local players to gain from their distribution and retail infrastructure. International players must also adapt their prices to local conditions. With low levels of credit card ownership in most Asia Pacific countries, local payment systems smooth the process.
….
Twenty years ago, Clayton M. Christensen introduced the term disruptive technologies and now we're seeing this disruption happening in almost every sphere of life. Uber, Airbnb, Purple, Tesla are disrupting the old traditional models of their respective industries. We've seen lot of such innovation in telecom as well with apps like WhatsApp and WeChat replacing SMS in a matter of a few years.
Mobile operators have been battling with churn more than ever due to changing market dynamics with the mobile market reaching saturation. Operators are trying to differentiate themselves from one another by offering different services, technological innovations, better network quality and pricing models. Disruption in telecom is a norm rather than exception with the innovations of today becoming legacy technologies of tomorrow.
Need for new voice calling Innovation especially indoors
Voice over Wi-Fi (VoWiFi) can be one such innovation which is set to change the way we conduct voice calls. In fact, Deloitte predicted that by the end of 2016, about 100 carriers worldwide will be offering at least one packet-based voice service (VoWiFi or VoLTE). In one of my previousarticles I explained the benefits of Voice over LTE (VoLTE), but this is where the opportunity lies for VoWiFi.
….
SDN and NFV represent the shift from a hardware focus to software one. Software and outsourced services will comprise 46 percent of SDN revenue in 2020, the report said.
The service provider SDN market, including hardware, software and services, is likely to grow from $289 million in 2015 to $8.7 billion in 2020, with a 2015-2020 compound annual growth rate (CAGR) of 98%, according to IHS Technology.
SDN and NFV represent the shift from a hardware focus to software one. Software and outsourced services will comprise 46 percent of SDN revenue in 2020, the report said.
The report said that SDN orchestration and controller software revenue is forecast to grow to over $1.8 billion in 2020. But by 2020, there will be more value in SDN apps than in orchestration and control, which will be priced reasonably due to competitive pressure.
For the past several years, the telecom industry has been moving toward a major network and operational transformation epitomized by software-defined networking (SDN) and network functions virtualization (NFV) with the top goals of automation and service agility.
…
The Telecom Infrastructure Services market is set to decline at a slow pace through to 2020, according to new research from TBR.
Forecasts from to Technology Business Research's latest Telecom Infrastructure Services Global Market report show the market declined 0.1% year-to-year to $96.7 billion in 2015.
The report says the decline is due to fewer coverage deployments in North America and network modernisations in Europe as well as an economic downturn in CALA. However, LTE and fixed broadband deployments in China offset some of the decline, TBR says.
TBR says the TIS market will continue to decline during the forecast period as operators accelerate legacy decommissioning and realise cost savings from the use of software-defined networking (SDN) and network functions virtualisation (NFV), driving down the product-attached services market.
…
The analysts forecast global payment gateways market to grow at a CAGR of 13.79% during the period 2016-2020.
The emergence of mobile wallets is a trend to watch for, as it is expected to drive payment gateways market growth quite significantly.
More customers are using e-commerce sites to shop online using tablets or smartphones. This trend will continue as mobile devices are becoming more user-friendly and accessible.
Pay-TV revenues (subscriptions and PPV revenues from movies and TV episodes) reached USD 206 billion in 2015, up 19.4 percent from 172 billion in 2010, according to the latest edition of the Digital TV World Databook. The US recorded pay TV revenues nearly ten times as high as second placed China. Around 584 million digital TV homes were added in 138 countries between 2010 and 2015, bringing the total to 1.170 billion and pushing global digital penetration to 74.6 percent from 40.4 percent.
TDS Telecom continues to deepen its FTTH network build with a plan to reach a large portion of its largely rural incumbent carrier footprint, offering several bandwidth options that range from 100 Mbps to 1 Gbps, as well as IPTV.
The IPTV subscriber growth rate has recovered in Q4 2015 compared to Q3 2015 and was the highest in the last eight quarters to December 31st 2015, according to a report from Point Topic.
In its latest analysis of the IPTV arena by region, country and operator up to the end of 2015, the analyst found that global IPTV subscriptions had broken the 130 million barrier with quarterly net additions of six million, the highest in the last 24 months. The research found that IPTV subscriber growth rate recovered in Q4 2015 compared with the previous quarter, and was the highest in the last eight quarters to 31 December 2015.
Video
The benefits of SDN/NFV are well known, but the transition comes with some challenges, prominent among them is: how do you test a network that has been abstracted and has the potential to be endlessly reconfigurable? Light Reading was at NFV World Congress in Santa Clara, Calif., where we bumped into Mats Nordlund, CEO and co-founder of Netrounds, a Swedish company that was established to answer that very question.
BCE, the parent company of Bell Canada, is acquiring Manitoba Telecom Services (MTS) for approximately $2.5 billion (CAD $3.1 billion), enhancing its presence in the Western Canadian province with a larger wireline broadband and TV footprint.
By acquiring MTS, BCE will expand its internet subscriber base by 6.6 percent or 224,000 subscribers and IPTV subscribers by 8.6 percent of 106,000, enabling it to more effectively compete with Manitoba cable operators.
MTS currently delivers broadband internet and IPTV to over 70 percent of homes in Manitoba. Over 90 percent of these homes can get speeds up to 50 Mbps.
The global 4K set top box (STB) market size is expected to reach $3.65bn by 2024, according to a new report by Grand View Research.
According to this research, increasing demand for UHD 4K video content and surging sales of compatible 4K TVs and display devices are expected to positively shape the ultra high definition (UHD) STB market's growth prospects.
Technological advancements and rising demand for UHD video and sound are anticipated to drive the global 4K STB market over the forecast period. The introduction of advanced Internet Protocol Television (IPTV), and over the top (OTT) streaming technologies are further expected to favourably impact the market.
IPTV UHD set top boxes contributed to over 20% of the market revenue in 2014 and are anticipated to witness significant growth over the next eight years. Hybrid set top box devices are expected to witness a substantial CAGR of over 5% throughout the forecast period. The Asia Pacific 4K STB market accounted for over 25% of the global revenue share in 2014 and is presumed to witness significant growth over the forecast period.
Small cells are meant to boost mobile network coverage and capacity, but they can actually hurt network performance if they cause interference.
Test equipment makers say that small cells make network testing more important than ever.
Rogers Communications has its mojo back when it comes to its wireless business but there's still work to be done when it comes to rejuvenating cable and media operations, company president and CEO Guy Laurence told shareholders on Tuesday.
That work includes launching a new TV service platform this year and repositioning its media business, Laurence said in a speech at the company's annual general meeting.
IneoQuest Technologies, today announced the launch of its FoQus™ platform solutions portfolio, a suite of data acquisition and analytics elements that enables video providers to gain the critical visibility into playback quality and viewer behavior that they need to effectively operate their over-the-top (OTT) and IPTV video businesses.
The FoQus platform offers solutions to serve a variety of different markets, including content owners, OTT event producers, network operators and service providers, and enterprises who are embracing video to propel their businesses.
Software giant Oracle has acquired Israeli multi-screen tracking company Crosswise for a reported $50m.
According to James Wang, Analyst, Devices/Gateways at ARK Investment Management, TV executives should feel paranoid about the rise of Netflix. At the current trajectory, ARK research forecasts Netflix will become the largest US video network by 2019.
With Amazon Prime Video, YouTube, Hulu and a host of niche players also experiencing rapid growth, streaming is set to become the new TV, with a new set of winners and losers.
In 2015, Netflix's 43 million US subscribers viewed an average of two hours of video a day. At 31 billion hours of viewing per year in total, Netflix already is larger than networks such as A&E and Scripps, but still is behind major networks such as Time Warner and Viacom. Unlike linear TV networks that are constrained by a legacy business model (fixed content window, high margin structure, limited data, etc.), Netflix continues to grow both domestic subscribers as well as viewing time per subscriber. Even if its growth were to moderate, ARK believes that Netflix will surpass the largest TV networks soon.
The most recent milestone for broadband came late in 2015 according to a report from Point Topic. As at the end of December 2015 there were 751.2 million fixed broadband lines globally.
"Broadband growth continues to be strong.  Even as one technology starts to falter and tail off another starts to take off.  The one constant is the demand for bandwidth and the primary driver is still video," says Oliver Johnson, Chief Executive at Point Topic.  "The need to deliver more video more quickly to more people was behind the development of the DSL and cable modems and services and that continues to be the case today.  Most of the bandwidth we consume is video in both residential and increasingly business markets."
"We know that bandwidth is in demand everywhere.  Often the problem is how to get it there cost effectively.  Satellite offers a real solution for millions and now that Ka band and high capacity solutions are blasting off the production line regularly the coverage, and the audience, is continuing to grow," concluded Johnson.
April 14th 2016: Parks Associates Announces Update to OTT Subscriber Churn Rates for Netflix, Hulu, and Amazon Users
In advance of the NAB Show next week, Parks Associates announced OTT data today showing that at the end of 2015, approximately 20% of U.S. broadband households had cancelled at least one OTT video service in the past 12 months. In 2Q 2015, 18% had done so.
Parks Associates: Current and Former OTT Service Subscribers
The need to remain connected is a human need. An era of digitization and technology is essentially built on this need. It is here that telecommunications come to the fore as a necessary utility. The rising demand for technologically superior products has been a silver lining for the telecom space in an otherwise tough environment. With the U.S. telecom industry continuously evolving, companies in the league are fighting it out to stay abreast of competition. The latest in the league is the upcoming 5G wireless technology.
According to the research firm ABI Research, 5G network deployment is expected to ramp up after 2020 and its market size may reach $247 billion worldwide by 2025. North America, Asia-Pacific, and Western Europe will be the three regions that will pioneer 5G network deployment.
The number of homes paying for IPTV in Western Europe overtook pay satellite TV ones in 2015. According the Digital TV Western Europe Forecasts report, IPTV subscriptions will climb by nearly 7 million (up by 27 per cent) between 2015 and 2021. IPTV revenues will reach $5.77 billion in 2021 – up by $1.2 billion.
However, the number of homes paying for satellite TV will fall by 300,000 between 2015 and 2021 for the 18 countries covered in the report. This mainly results from some operators, especially in Spain and Italy, converting their DTH subs to more lucrative bundles on their broadband networks. Satellite TV revenues will fall for every year from 2011 – and will decline by $1 billion between 2015 and 2021.
Network providers are combining technologies as they add multiple operators to their systems. Carriers are bringing their solutions of choice to the network, and providers are finding ways to accommodate them.
In Atlanta, Crown Castle is in the process of building 459 nodes to support one carrier, using remote radio heads. A second carrier will also be joining the DAS, but this one will use lower power small cell units that include baseband processing as well as the radio and the antenna.
Crown Castle's Mike Kavanagh, the company's president for distributed antenna systems, said that the key to supporting multiple carriers and different technologies is a high quality fiber backbone. He said that Crown Castle significantly increased its fiber footprint in Atlanta through its acquisition of Sunesys, and is able to offer operators a "turnkey" solution. Crown negotiates access to the public rights of way on behalf of the carriers, and pays the required fees to the Atlanta city government and the local utilities. Carriers then pay Crown Castle for access to the system. Crown Castle is acting as a "neutral host" provider, leasing space on a DAS in much the same way it leases space on cell towers.
In Central Texas, ExteNet Systems is the neutral host provider for a distributed network that supports Verizon Wireless and AT&T at Circuit of the Americas race track, the only certified Formula 1 track in the US. The 1,500-acre facility is also hosts non-F1 car racing, motorcycle racing, X games and concerts.
DUBLIN–(BUSINESS WIRE)–Research and Markets has announced the addition of the "Digital TV Eastern Europe Forecasts"report to their offering.
Despite the subscriber count increasing by fewer than one million, Eastern European pay TV revenues will increase by 9.9% between 2015 and 2021 to $5.97 billion, according to the sixth edition of the Digital TV Eastern Europe Forecasts report. However, Digital TV Research estimates that pay TV revenues rose by 27% between 2010 and 2015, indicating that much of the fast growth is over.
There will be only 16,000 pay TV subscriber additions between 2016 and 2021 for the 22 countries covered in the report; taking the total to 80.05 million. However as analog cable subs fall, the number of digital pay TV subscribers will increase from 25.84 million (20.7% of TV households) in 2010 to 54.63 million (42.8%) in 2015 and onto 75.73 million (58.9%) by 2021.
So, nearly all of the revenue growth will come from analog cable TV subs converting to more expensive digital platforms. Digital pay TV revenues will increase by $3 billion between 2010 and 2020 to $5.77 billion. They will increase by 32% (or by $1.4 billion) between 2015 and 2021.
Pay TV will be taken by 62.3% of the region's TV homes in 2021, up from 48.0% at end-2010, but only up from 62.0% at end-2015. This converts to 20 million more pay TV subscribers between 2010 and 2021, but fewer than a million between 2015 and 2021.
The number of FTTH subscribers in the Netherlands exceeded the 1 million mark as of the end of March.
According to the Telecompaper Dutch FTTH Database, this was 200,000 more than in the same period last year, despite the rollout of FTTH networks having slowed.
The vast majority (900,000) of FTTH households used networks operated by Reggefiber, a subsidiary of the incumbent KPN, with the remainder opting for CIF networks or those run by small operators.
FTTH accounted for 13% of the Dutch broadband market, with services available in 229 municipalities, as of the end of 2015, according to Telecompaper's Dutch Broadband 2015 Q4 report
The two companies are said to be looking to enter the race for Yahoo's web business which has been under stress.

Verizon and Google may be in the bid to acquire Yahoo's web business, according to report by The Guardian.

It was report that Yahoo had been circulating financial documents to prospective buyers. The documents showed the financial situation of Yahoo is becoming increasingly dire, according to Tech news website Re/code.
Two test-focused companies are expanding their "Internet of Things" portfolios with IoT acquisitions, although each has a different focus.
MTS is buying sensor production company PCB Group for $580 million. MTS plans to combine PCB into its own sensors business with an eye toward more complete test and development services for "Internet of Things" applications. In a conference call on the acquisition, Jeffrey Graves, president and CEO of MTS, saidthe acquisition will have a "truly unique impact."
"It's important to note that roughly 65% of [PCB Group's] business is selling sensors into the new product development labs and research institutions that comprise what we would call the test markets," Graves said, adding MTS is "literally in the same product development and research laboratories around the world, with MTS equipment and PCB sensors being used by our customers every day to develop the new cars, trucks, buses, trains, airplanes, buildings and bridges that will be delivered into markets around the world each year. … MTS will now be in a position in the test markets to provide the equipment and data collection systems that are used to run the tests, the sensors to take the data from the test itself, and then to provide value-added services to ensure that the tests are more accurate and more efficient and more reliable each day over the 20- to 30-year life of the system."
Verizon Communications is set to make a bid for Yahoo next week, according to Bloomberg.
It's been two months since Verizon CEO Lowell McAdam told CNBC's Jim Cramer he thought "marrying up" Yahoo's assets with Verizon's AOL could make sense for investors. McAdam said at the time the price would have to be right.
One piece of Yahoo that may have given Verizon pause is the company's 35.5% stake in Yahoo Japan, but now it looks as if Verizon may be ready to buy that business as well in order to get the U.S. assets. SoftBank owns just over 36% of Yahoo Japan, and is said to be interested in buying more so the Japanese carrier could come in as a rival if Verizon makes a bid. SoftBank is already a competitor to Verizon Wireless through its majority ownership of Sprint.
April 6th 2016: Transdev Selects QoS Telecom to Provide Internet on-Board Services Using Sierra Wireless AirLink® LTE Gateways
April 4th 2016: Brocade to acquire Ruckus Wireless
Brocade to acquire Ruckus Wireless to build a networking company for the digital transformation era
Brocade increases stock repurchase authorization by $800 million
Under terms, Ruckus stockholders will receive $6.45 in cash and 0.75 shares of brocade common stock for each share of Co
Net of estimated cash acquired, transaction value is approximately $1.2 billion
Cash portion of purchase price will be funded through a combination of cash on hand and new bank term loan financing
Says transaction expected to be accretive to brocade's non-GAAP earnings by Q1 FY 2017
PLANNED €10bn merger between Orange and Bouygues Telecom that would have created France's largest telecoms operator has collapsed.
Three months of talks ground to a halt yesterday, Le Figaro reports, amid an apparent impasse between the government, which owns 23% of Orange and Martin Bouygues, over the size of the Bouygues group's stake in the state-controlled telecoms giant.
It has been reported that the billionaire wanted a 15% stake in Orange, but economy minister Emmanuel Macron was determined to limit his influence in the business in future.
In a short statement, Orange said that the two companies had been 'unable to reach an agreement', despite deciding earlier in the week to extend negotiations into the weekend.
Bouygues issued a similar statement, as the negotiations – which had begun in early January – broke down, and warned that the deal's collapse created 'a market where the possibility of consolidation is now ruled out for the long term'.
If the deal had gone ahead, it would have meant French consumers would have had a choice of just three telecoms operators.
Security Services. The modern virtualization ecosystem supports specific virtual services running within the network layer. This means incorporating functions like NFV into SDN platforms.
Network Intelligence and Monitoring. Modern SDN technologies are helping abstract one of the most critical layers within the data center: the network.
Compliance and Regulation-Bound Applications.Major cloud vendors are now offering the capability to store and work with compliance-bound workloads.
High-Performance Applications. We're seeing a boom in new types of application technologies. Virtualization has allowed the delivery of rich apps like GIS, CAD, engineering, and graphics design software.
Distributed Application Control and Cloud Integration. One of the biggest benefits of SDN is its capability to extend across the entire data center. This type of agility integrates distributed locations, cloud, and the entire organization.
Parks Associates has published international data from the company's OTT Video Market Tracker service showing OTT video usage in Western Europe is continuing to expand, with 55 per cent of UK broadband households and 51 per cent in France watching TV programming and movies online, compared to 70 per cent in the US
However, the number of paid subscriptions in Europe is significantly lower, where 30 per cent of broadband households in the UK and 17 per cent in France subscribe to OTT video, compared to 64 per cent of US broadband households.
"OTT is definitely gaining traction across Europe. We are seeing new OTT video services spring up but not as many as in North America," said Brett Sappington, Director of Research, Parks Associates.
"In many parts of Europe, pay-TV penetration is lower than the US, and European consumers have been reluctant to pay for video in the past due to so many 'free' options such as the BBC iPlayer. But, as more pay options enter the market, with content unavailable anywhere else, they are slowly changing the culture of video viewing in Europe."
Orange has announced that its two OPNFV testing platforms in Paris and Lannion are being used to perform interoperability and service tests for the latest Open Platform for Network Function Virtualisation (OPNFV) release, Brahmaputra, launched on 01 March.
The results from these tests are being incorporated into the ongoing integration framework for Brahmaputra.
Orange's laboratories launched in July 2015 and are part of the OPNFV Pharos Community Labs projects.
The facilities are available to manufacturers and OPNFV contributors looking to test technical components that make up a robust open source NFV infrastructure that is both open and interoperable.
TV Everywhere reached 40% of US pay-TV consumers in 2015, up from 22% in 2013, according to new research from Parks Associates.
Entertainment Habits on Connected CE Devices shows the percentage of respondents watching authenticated video at least once a month is 23%, which both broadens and deepens the online video audience for pay-TV providers.
"Content providers have been extremely aggressive in promoting their authenticated catch-up services, which is helping create traction for authenticated TV Everywhere services in the digital entertainment household," said Glenn Hower, research analyst, Parks Associates.
"As usage increases, service providers and content companies alikewill need to expand their big data capabilities, allowing them to create even more personalized services for their subscribers and viewers.
"Streaming and multiscreen usage have altered consumer viewer habits much like energy-efficiency devices and services have altered consumer home management
ZTE has announced that company has signed a strategic cooperation agreement with China Unicom on Software Defined Network (SDN)/Network Function Virtualization (NFV).
Both parties aim to build-on current SDN/NFV network development trends through collaborative innovation, implement SDN/NFV applications, and promote the next-generation network construction for China Unicom, meeting customers' demands, and promoting network transformation, business innovation, and service upgrade.
China Unicom has been proactively promoting the SDN/NFV industry process.
The voice over long term evolution (VoLTE) service project based on virtual evolved packet core (vEPC) and virtual IP multimedia subsystem (vIMS) architecture sponsored by China Unicom for NFV proof of concept (PoC) was successfully completed in October 2015.
This project comprehensively verified the SDN/NFV-based end-to-end VoLTE services, promoted the NFV process, and practiced the network as a service (NaaS) concept advocated by China Unicom.
AT&T reiterates previous plans to shut down its GSM-based 2G network by end of 2016, citing need to refarm spectrum
AT&T says network data traffic grew 100,000% between Jan. 2007 and Dec. 2014, and, as such, the carrier needs to shutdown its GSM-based 2G network to shift spectrum capacity to its 3G and LTE networks. The planned shutdown date is Jan. 1, 2017.
According to AT&T, the company "expects to fully discontinue service on our 2G network by approximately Jan. 1, 2017.
As AT&T progressively frees up valuable spectrum for our mobile broadband network, we may conclude that some markets or territories need to turn down 2G service prior to the nationwide turn down.
In cases where we're turning down AT&T's owned and operated 2G network, we'll communicate with specific details regarding impacted subscribers well in advance of turning down the network and work hard to ensure their mobile communications needs are met throughout the process.
We're committed to working closely with customers to make this process as easy as possible."
The number of pay-TV subscribers in EU28 countries is set to grow from 137 million at the end of 2015 to 169 million by 2025 thanks to the lure of multiscreen and OTT services, according to a report from Quantum Web.
The increase is equivalent to a compound annual growth rate (CAGR) of 2 percent, with IPTV operators adding nearly 21 million new subscribers over the decade to reach 59.25 million by 2025.
Cable TV will be the second largest pay-TV technology with 55.33 million subscribers by 2025, a 3 million rise, followed by Direct-to-Home (DTH) platforms, which will gain nearly 5 million subscribers over the next 10 years to reach 47.26 million clients by 2025, said the report.
Digital terrestrial television (DTT) will be the fastest-growing technology over the next decade, rising at a CAGR of 5 percent from 4.52 million in 2015 to 7.62 million in 2025.
Verizon provides insight into its SDN and NFV deployment plans, including current deployment challenges and potential hurdles ahead
Telecom operators moving towards software solutions using software-defined networking and network functions virtualization technologies are finding a challenging environment.
Traditional vendor support for such moves are being hindered by internal business models that are being overhauled by the move away from traditional hardware to commodity white boxes powered by software, which is forcing many telecom operators to search outside their usual vendor channels for support or turn internally to develop their own platforms.
Verizon launches voice-over-Wi-Fi for Apple iOS 9.3, set for automatic provisioning of VoLTE
Verizon Wireless is jumping on Apple's latest mobile operating system roll out to insert enhanced call quality using voice-over-LTE and voice-over-Wi-Fi technologies.
The carrier said beginning March 24, all new Apple devices running Apple's "newer" iOS will have the VoLTE-based Verizon HD Voice service enabled right out of the box instead of customers having to enable the service. Beginning March 21, devices running specifically the latest iOS 9.3 will have access to Verizon Wireless; Wi-Fi Calling feature through a software update.
Paula Doublin, AVP-Construction & Engineering at AT&T Technology Operations discusses her career and the changes in tower and antenna technology and a glimpse of what the future may hold.
Members of Japan's O3 Project (also known as O Three), which is backed by the Ministry of Internal Affairs, have announced three key milestones in their ongoing software-defined networking (

SDN

) R&D initiative launched in September 2013.
O Three has ambitions to establish the world's first wide area

SDN

with a view to reducing time to construct WANs 'by about 90%'.
It is being jointly promoted by five tech companies –

NEC

Corp, Nippon Telegraph and Telephone Corporation (

NTT

),

NTT

Communications, Fujitsu and Hitachi – and seeks to make 'a variety of wide area network elements compatible with

SDN

, including platforms for comprehensively integrating and managing multiple varieties of wide area network infrastructure and applications'
ADSL connections are slowly fading away while fibre-to-the-home (FTTH) grows unstoppably in Spain, reaching 3.3 million connected homes and opening new opportunities for convergence.
During January, over 153,000 subscribers joined the fibre community in Spain, which has 3.3 million active lines, double that of January 2014, according to the latest report from Spain's telecom authority, the Comisión Nacional de los Mercados y la Competencia (CNMC).
Nearly every telecom operator is investing strongly in fibre networks, with over six in ten Spanish homes having access to a fibre-based connection – 17 million to FTTH and ten million to hybrid fibre coaxial (HFC).
Telefónica owns over 2.3 million (70%) of the active lines, followed by Orange and Vodafone, which were the only two operators to add subscribers during January. The three players gather over 95% of the broadband connections in the country (including both ADSL and fibre).

Through the expansive FTTH network, operators are finding way to converge their services and deliver triple-, quad- or even quint-play offers. Indeed, the Spanish pay-TV industry is concentrating nearly all its growth on

IPTV services

, which rocketed over 150% between Q2 2014 to Q2 2015, according to the latest official TV figures.
SDN/NFV Takeover and the Need for Greater Service Assurance
CSPs need to make sure that the service they are providing to their customers is as seamless as possible resulting in the highest quality of service. Legacy assurance solutions have often struggled with translating network performance into how it affects service performance.
This lack of understanding impacts the visibility of customer experience. With the roll-out of Software Defined Networking (SDN) and Network Functions Virtualization (NFV) services, CSPs need to prepare themselves for these changes and how service assurance must change to ensure virtual service performance.
March 17th 2016: Lumentum Unveils Optical Whiteboxes for Software Defined Networks (SDN)
Lumentum Holdings Inc. ("Lumentum") unveiled a new optical whitebox platform supporting an ecosystem enabling SDN within data center & metro/edge DWDM transport.
The initial products include a family of configurable rack-mountable optical whiteboxes: terminal amplifier, line amplifier, mux/demux, and ROADM.
The current move by telecom operators towards virtualization platforms has broken into two groups: those that are moving aggressively and those that are watching those move aggressively. "It's sort of like the private jet market," noted Iain Gillott, president and founder of iGR. "You have your haves and your have nots."
Gillott noted in the U.S., the current "haves" are AT&T and Verizon Communications, while the "have nots" include just about everyone else.
"For AT&T and Verizon, it's pretty good, as well as for some of the bigger European operators," Gillott said. "For smaller carriers and smaller European guys, it's still hard to justify the cost. If you are a small carrier with an LTE network and everything is working pretty smoothly, why would you start ripping things out?"
… AT&T in late 2014 announced plans to control 75% of its network resources using virtualization technologies by 2020, and that at the end of 2015 the carrier had reached 5.7% control, which was ahead of its 5% target. John Donovan, SEVP for AT&T Technology and Operations, earlier this year said the company's deployment of its AT&T Integrated Cloud nodes hit 74 nodes at the end of last year, ahead of its target of 69 nodes deployed. These include international deployments, which Donovan said allow for better alignment with local regulations and improve security. In surpassing its 2015 goal, AT&T last year bolstered its Network on Demand platform, which targets enterprise customers with the ability to significantly speed up the deployment and provisioning of network services. "From a customer adoption standpoint, Network on Demand is the fastest growing thing we've seen – we introduced the platform in mid-2014 and now have more than 500 business customers using it," said Margaret Chiosi, distinguished network architect at AT&T Labs. More importantly for its mobile telecom operations, Chiosi said AT&T was serving 14 million wireless customers on its virtualized network, with plan to "migrate millions more this year."
While perhaps a bit behind in terms of perception, Verizon Communications has also quickly jumped on the software bandwagon. Verizon last year announced SDN plans with five vendors: Alcatel-Lucent, Cisco, Ericsson, Juniper Networks and Nokia Networks. As part of the announcement, Verizon said it had been working on the move toward virtualized platforms over the past several years, including the creation of live lab environments in San Jose, Calif.; Tampa, Fla.; and Waltham, Mass., and claims to have commercial data center environments on both coasts. The carrier later in the year launched a software-defined WAN service using Cisco's Intelligent WAN technology and targeting enterprise customers. Verizon said the platform supports a better user experience by integrated application optimization designed for faster application performance; enabling secure and certified routing platforms; the use of intelligent path control to fully utilize MPLS and the Internet to lower operational costs; and can provision new sites and services faster with a "hybrid WAN to support key business initiatives." Earlier this year, Verizon joined fellow carriers AT&T, China Unicom, NTT Communications and SK Telecom as part of the Open Network Lab's Open Network Operating System project.
Among wireless carriers, analysts noted those that are remaining on the sideline include T-Mobile US, Sprint and dozens of regional carriers. It's not that these carriers aren't interested in migrating their networks over to a virtualization architecture, it's just that for various reasons they are not ready to make the move. "T-Mobile is a great example of what's happening," started Gillott. "Here's a carrier that gets money and spectrum from AT&T following a failed acquisition, which they have leveraged very well. They built themselves a great network and were on the backside of the LTE builds," which allowed them to get better pricing on equipment.
"Let Verizon and AT&T work out the basics on this and them come in when everything is cheaper," Gillott added. "It might make sense timing wise to do this when they finally move towards 5G, and by then everything will be known in terms of what makes sense financially. You are never going to outspend AT&T and Verizon, so you have to be smart in how you proceed with new technology."
Verizon Digital Media Services has acquired broadcast monitoring and content archiving company Volicon, the terms weren't disclosed.
According to Bob Toohey, president of Verizon Digital Media Services, Volicon will improve Verizon's ability to offer a 'seamless option' for repackaging existing broadcast feeds and channels for cloud-based OTT services. A key Verizon offer for all kinds of content owners is a fast route to a packaged OTT service.
Volicon's broadcast and network applications are used to monitor and record broadcast and OTT feeds for quality control, compliance, and ad-verification are used by ABC, Disney, BBC, CBS and others.
Nakina Systems  announces its planned acquisition by global technology leader Nokia.
The acquisition would strengthen Nokia's security portfolio through the addition of Nakina's products and expertise.
The announcement is a culmination of a multi-year partnership during which time the companies have successfully collaborated on numerous customer engagements. Terms of the planned transaction, which is expected to close in Q1 2016, are not being disclosed.
The US telecom giant said that the ECOMP (enhanced control, orchestration, management and policy) software-defined networking (SDN) software will be the basis of a push to virtualize 75 per cent of the AT&T network by the year 2020. That software will be released as open source and will work with the OpenStack architecture.
AT&T said that ECOMP is the software it is using as part of an effort to shift its network hardware from specialized hardware appliances to virtual machines hosted on off-the-shelf hardware. In the process, AT&T says it will be able to provide greater capacity and flexibility than its previous network, which was constructed largely to handle voice traffic.
The ECOMP package includes SDN and WAN optimization tools, as well as VM and cloud service management (including software to allocate hardware for VMs) and security and management frameworks.
AT&T expects 'significant savings' and cash flow tied to SDN and NFV technology
Ooyala has released its Q4 2015 Global Video Index, showing the total number of programmatic transactions increased 160 per cent since Q3 2015.
Further, the report highlights video consumption trends throughout Asia-Pacific (APAC), as five of the 15 APAC countries analysed in the report usurp the global average of mobile video viewing, specifically on tablets.
Mobile phones and tablets combined now represent 46 per cent of all online viewing across the globe, up from 34 per cent in Q4 2014.
Also, long-form viewing on connected TVs increased 72 per cent throughout 2015.
The report is telling of the mobile-market opportunity for content providers in APAC and beyond as viewing behaviours as well as advertising trading continues to shift, and premium online video becomes core to business success for publishers, broadcasters, brands and agencies.
Total mobile plays grew 35 per cent in the past year and 170 per cent since 2013.
Tablets made up 14 per cent of mobile plays, up from 12 per cent in Q2 and Q3, representing only the second time ever tablet plays increased since 2013.
Tablets made up 22 per cent of all overall mobile video views in Q4 APAC, beating the global average by 3 per cent.
The government's proposed rules for set-top boxes threaten more than the revenue pay-TV providers get from renting them
In its monthly subscriber report, SNL Kagan noted that cable operators lost 599,000 total video customers in 2015, its best performance since 2007 when the industry lost 458,000 customers.
It was also the platform's first sub-1 million drop in 7 years.
The satellite sector shed 478,000 subscribers during the year to end at 33.1 million customers, compared to a loss of 39,000 in 2014.
The telco segment ended 2015 essentially flat, with downward pressure from AT&T's shift away from U-verse to the lower cost video platform of DirecTV weighing on the overall platform's performance.
Kit vendor Ericsson has completed the upgrade of Vodafone Netherlands's core network, using a commercial NFV deployment to enable VoLTE and wifi calling.
The solution is based on an NFV deployment of Ericsson's IMS and EPC offerings. Moving into the cloud allows wifi calling, policy control and application server domain to be deployed as virtual network functions.
BT on Thursday made a slew of new ultrafast broadband commitments, a day after its infrastructure arm Openreach was lambasted by MPs.
The U.K. incumbent has announced plans to conduct G.fast trials covering 25,000 homes in Cambridgeshire and Kent, as part of its plan to use the technology to provide up to 500-Mbps broadband to 10 million premises by 2020.
BT will also trial fibre-to-the-premises (FTTP) for businesses in Bradford, and it has also pledged to deploy FTTP free-of-charge to new housing developments of at least 250 houses, provided they are no further than 4.5 km from Openreach's existing fibre network.
"I'm determined to roll out ultrafast broadband, and G.fast technology is the best way to deliver that to the majority of the U.K. as quickly as possible," said Openreach's new CEO Clive Selley, in a statement. "We also plan to roll out significantly more fibre-to-the-premises, and we're trialling a range of options in Bradford to use that technology increasingly in the future – wherever it makes sense."
Amazon, Apple, Google and Roku accounted for more than eight out of every 10 Digital Media Streamer shipments worldwide in 2015, strengthening their combined grip on the fast growing category. Google's HDMI dongle continues to lead the standalone streamer market and it has now cemented itself as a Top 5 player in the overall Connected TV Device rankings according to Strategy Analytics' Connected Home Devices (CHD) report – Global Connected TV Device Vendor Market Share: Q4 2015.
Portuguese incumbent plans to start ripping out its legacy network next year with a view to going copper-free by 2020. 

The economics of rolling out fibre-to-the-home (FTTH) vary considerably by market, but in one major European market the picture looks rosy enough that the incumbent plans to rip out its legacy copper access network within the next few years and concentrate solely on fibre.

"By 2020 we want to be copper-free," Portugal Telecom's chief technology officer Alexandre Fonseca declared at Total Telecom'sGigabit Copper event in Brussels on Tuesday.

"We are killing all the legacy technologies," like ATM and frame relay, he said.

"[In 2017] we will start shutting down the digital switches, taking out the copper, selling the copper," Fonseca said.

"In three to four years we will be almost, if not totally, copper-free," he said. "We have a team that is working intensively on this."

Portugal Telecom has been investing in FTTH since 2008 and had passed 2.5 million homes by the end of last year, Fonseca explained. It is currently passing premises with fibre at a rate of 60,000 per month
Quarterly figures released by the Global mobile Suppliers Association (GSA) have confirmed LTE subscriptions have passed 1 billion worldwide for the first time.
Growing at a rate of roughly 1.7 million per day, LTE or LTE-Advanced subscriptions grew by 156 million in Q4 2015.
The GSA reckons the growth seen at the back end of last year outweighs 3G/HSPA adoption by a clear 75%; it is expected to continue outperforming the previous-gen cellular data platform and, in 2020, overtake the global number of 3G subscriptions.
In the past year, LTE subscriptions rose 552.2 million, accounting for a 107% annual growth. Asia, as expected, continues to be the largest single regional market globally with 54.3% of total LTE subscribers – roughly 580m. China is the dominant market in Asia, and across the world, growing by 84m to 386m subscriptions; while the USA stays in second place with 237m.
The fastest growth, proportionally, was seen in Latin America and the Caribbean – where LTE subscriptions more than quadrupled to 54m, according to the GSA's numbers, which were provided byOvum. The Middle East grew 110% to 32.5m LTE subscriptions, meanwhile.
The roll out of fibre continues in France, with 1.42 million subscribers (out of 4.3 million) now using an FTTH connection to receive high speed broadband, according to figures from telecom regulatory body Arcep.
FTTH deployment saw a 53 per cent increase over the last 12 months with 500,000 additional subscribers, compared to 375,000 in 2014.
The number of high speed broadband subscriptions with a connection speed equal or superior to 30 Mbits/s rose by 385,000 in Q4 2015, and by 1.3 million over the last year.
Subscriptions to a superfast access plan, with a connection speed of 100 Mbit/s and upwards, increased by 240,000 during the quarter – including an additional 170,000 subscriptions to FTTH connections, for a total of 1.425 million FTTH subscriptions at the end of December 2015.
At the end of last year, 14.5 million households (+ 9 per cent) were eligible for a superfast broadband service, including 5.6 million via FTTH. This represents a 38 per cent growth in one year.
86% of operators say they're not ready to launch or monetise IoT,
74% say industry consolidation activity will drive telco network investment,
43% say VoLTE will be launched before 2016 is out,
83% reckon LTE still hasn't reached maturity,
73% of respondents said all telco IT systems will be cloud-based in the future.
Germany's Freenet is set to acquire transmission company Media Broadcast Group for

€

295 million to expand into Internet-based TV services.
Under the deal, Freenet's unit mobilcom-debitel GmbH will buy shares and provide a shareholder loan for the repayment of bank loans.
Broadcast group's satellite services are not included in the transaction, Freenet said.
If the anti-trust authorities approves the takeover, the acquisition is expected to be completed in April 2016.
Due to both the increasing number of mobile subscribers in the world and the subscribers' desire to stay constantly connected through their mobile device, the amount of data flowing over the world's mobile network is increasing exponentially.

iGR estimates that in 2015, approximately 2.5 million terabytes (TB) of mobile data traffic flowed over the world's mobile data networks per month.

And by 2020

iGR forecasts mobile data traffic will increase to 39 million TB per mon
March 2nd 2016: Orange pledges €15bn FTTH and LTE investment by 2018
Orange has pledged to spend more than €15bn on upgrading fixed and mobile infrastructure across Europe, and says there's still "so much more to come" from LTE, according to Deputy CEO Gervais Pellissier.
The operator has taken a leading role in FTTH rollouts across the continent, and claims to have already connected nearly 2 million homes to date.
The main regions the operator has focused on thus far include home market France, with Spain being its second-largest market and one with a growing emphasis following its acquisition of triple-play operator Jazztel – which operates a well-established fibre optic broadband service and infrastructure.
Following in the footsteps of Verizon and Sling TV, AT&T announced today that it will launch three new over-the-top video service offerings later this year.
These include a DirecTV Now product, available as an app and delivering much of the same content available through DirecTV today; DirecTV Mobile, which will offer a combination of "premium video and made-for-digital content" available again through an app; and DirecTV Preview, a free ad-supported service that will include some existing DirecTV content and video from other online sources including Otter Media, AT&T's joint venture organization run in partnership with The Chernin Group.
Small cells can include everything from standalone mini base stations such as pico and femto cells, distributed antenna systems, carrier Wi-Fi and increasingly cloud radio access network architectures.
ABI Research's most recent look at the small cell market estimated a 43% compound annual growth rate for the technology as more operators seek to significantly densify their networks.
"Meaningful small cell deployments are coming," said Nick Marshall, research director at ABI Research. Small cells ramped up in 2015, according to ABI, and Marshall added that a number of vendor services such as the former Alcatel-Lucent's small cell site certification program and Metro Cell Express, Nokia's HetNet Engine Room, Ericsson's Small Cells-as-a-Service and Huawei's Crowd-Sourcing Small Cell solution are helping operators to solve small cell challenges that had previously stymied deployments.
ABI said LTE small cells doubled last year and will continue to grow at a comparable rate in the coming years, to the point that "in 2020, the value of LTE small cells will represent more than 85% of the small cell equipment market." The Asia-Pacific region, which has been a leading area for small cell deployments, will represent nearly 50% of the worldwide small cell equipment market by 2017, ABI said.
In a small cell market statistics report for Small Cell Forum released this month, Mobile Experts reported urban small cell shipments grew 280% in 2015, and nonresidential small cell shipments accounted for 66% of small cell market revenues last year. Mobile Experts estimates enterprise small cells will grow by 270% in 2016, and urban small cell shipments will increase 150% – and the overall small cell market will have revenues of $6.7 billion by 2020.
Looking specifically at backhaul for small cells, IHS Infonetics Research recently predicted that $6.5 billion, cumulatively, will be spent on outdoor small cell backhaul equipment between 2015-2019. IHS said from about 75,000 outdoor small cell backhaul connections in 2015, the market is expected to grow to 960,000 connections in 2019.
Signals & Systems Telecom put out a recent report predicting operators will spend nearly $13 billion on small cell, C-RAN, carrier Wi-Fi and DAS by the end of this year. SNS Research expects the market will grow at a 15% CAGR over the next four years. SNS has also looked specifically at the C-RAN portion of the small cell market, and estimates C-RAN alone will reach more than $7 billion in 2016, with a near 20% CAGR between 2016 and 2020, including spending on remote radio heads, baseband units and fronthaul.
Giving some more specific context on indoor capacity needs and the outlook for DAS, ABI said the increasing use of both Wi-Fi and "4G" cellular connectivity indoors will cause indoor wireless data traffic toleap more than 600% by 2020. As operators try to deal with that growth, ABI predicts the in-building wireless market will more than double in the same timeframe, to reach around $6 billion. In that research, Marshall of ABI said North America will continue to be the biggest market for DAS spending, with the top verticals for DAS being sports venues, transportation facilities and health care facilities, with shopping malls and the hospitality vertical coming in just behind.
Dell'Oro Group anticipates small cells will be the primary driver of growth in the overall RAN market in 2016, and noted the nonresidential small cell market approached $1 billion in 2015. Huawei, Ericsson and Alcatel-Lucent (now part of Nokia Networks) were revenue share leaders last year. Dell'Oro predicts that although small cell growth will be robust this year, "growth will not be sufficient to offset declining macro business and the total RAN market will undoubtedly decline in 2016."
"China and the Asia-Pacific region were major drivers of the surge in small cells in 2015, but what was interesting was the demand for small cell equipment was greater than we had expected outside of China as well," said Stefan Pongratz, analyst at Dell'Oro Group, in a statement on the research. "This reflects a change in the general attitude toward small cell and the role this technology will play, as the carriers have exhausted all viable options on the macro network."
Frost & Sullivan came out with a new report this week claiming the emergence of "5G" technologies will "ignite the global test and measurement market," with smart cities and the drive to monitor international sporting events also seen as additional drivers. Communications testing will be the fastest-growing part of the telecom industry, according to the analyst group, and it projects the network testing market will reach $25 billion by 2025.
The "Internet of Things," 5G and network monitoring were prominent areas of focus for test companies at Mobile World Congress this week – with the addition of a software focus, which is part of an overall shift within the telecom industry and one testing vendors need to meet.
Brazil and Mexico are among the biggest markets for Netflix
German telco Deutsche Telekom has won further customers for its domestic IPTV platform Entertain through the rollout of its fibre-optic network to further areas.
40% of the new fibre-optic customers in the newly served areas have opted for Entertain, Deutsche Telekom announced during the presentation of its 2015 annual report.
The growth rate, however, declined anyway: 51,000 new Entertain subscribers were added in Q4 2015, considerably less than in the same period 2014 (65,000). In total, Entertain had 2.7 million customers at the end of 2015.
The number of fibre-optic connections (FTTC/FTTH) rose by 532,000 to 4.4 million.
Openreach will be required to open up its ducts and poles to rival operators, enabling them to build their own fibre-to-the-premises (FTTP) networks, Ofcom said.
It must also make it much easier for competitors to access its network, providing comprehensive data on the nature and location of the ducts and poles.
Openreach must also consult competitors on its investment plans and offer greater transparency when it comes to the allocation of costs and assets between itself and the rest of BT.
…. "Service assurance for virtual services is dramatically more complex than for legacy services. One of the reasons is disaggregation—to break open traditional legacy purpose-built devices into virtualized offerings, many more contact and monitoring points need to be monitored, such as end-to-end virtual services, VNFs, virtual machines, computing nodes, storage nodes, physical machines, etcetera."
FTTH is growing fast in Spain, now reaching 3.1 million connections at the end of 2015, doubling its number year-on-year, according to the latest figures from the CNMC. Movistar is leading with a market share of 71.3 per cent.
Total fixed broadband connections amounted to 13.1 million, up 4 per cent, thanks to the development of fibre optic networks, whereas ADSL lost 1.3 million lines.
As of the end of 2015, Movistar (with a share of 44.09 per cent) was the market leader in Spain's fixed broadband market followed by Orange (16.27 per cent), Ono (12.31 per cent), Jazztel (12.21 per cent) and Vodafone (10.14 per cent) with other providers reaching a combined share of 4.98 per cent.
The number of fibre to the home (FTTH) and fibre to the building (FTTB) subscribers in Europe increased by 19 per cent over the first nine months of 2015, reaching more than 35.9 million FTTH/B subscribers.
Homes passed increased by 17 per cent, with nearly 127 million FTTH/B homes passed in European countries at end-September 2015, according to the latest update to the FTTH panorama announced at the FTTH Conference 2016 in Luxembourg.
Positioning Based on Completeness of Vision and Ability to Execute in Network Performance Monitoring and Diagnostics Market
Nokia

Corp.

warned on Thursday of an impending slowdown in the telecommunications-equipment sector amid growing worries about the health of the global economy, just as the Finnish company's integration of the recently acquired Alcatel-Lucent

SA

gathers speed.
"The first quarter, in particular, looks quite challenging as customers assess their [capital-expenditure] plans in light of increasing macroeconomic uncertainty," said Nokia Chief Executive Rajeev Suri.
Already, a number of service providers including AT&T (NYSE: T), CenturyLink (NYSE: CTL), Orange and Verizon (NYSE: VZ) have embarked on a virtualization program for their networks.
With a focus on providing cloud and network on-demand services, AT&T has been clearly the most aggressive service provider on the SDN and NFV front. AT&T has set a goal to virtualize 5 percent of its network functions by the end of 2015 and 75 percent by 2020, which its CTO John Donovan said the carrier is on track to do.
Premium OTT is set for strong growth in Argentina, Brazil and Mexico, according to new research by Vindicia, Ooyala and MTM.
Industry participants across the region expect key markets to roughly double in size between 2015 and 2018,from $45m to $115m in Argentina, $180m to $460m in Brazil, and from $240m to $450 million in Mexico.
Cisco is to acquire Jasper Technologies for $1.4 billion, it was announced last week.
Jasper, the firm behind a cloud-based IoT platform that enables other businesses to launch and manage connected services on a worldwide scale, is used by global enterprises, including Microsoft, Salesforce and SAP. Indeed, according to the networking giant, Santa Clara-based Jasper boasts more than 3,500 customers and works with 27 service providers spanning 100 countries.
 Orange announced an agreement to acquire Millicom's operations in the Democratic Republic of Congo (DRC) for $160 million.

The France-based group, which already operates in the DRC, said in a statement the move reinforces its presence significantly in the country, while describing Millicom's Tigo DRC business as a "perfect fit", given its complimentary operations.

Millicom is forecast to have 6.4 million connections in the country as of Q1 2016, according to GSMA Intelligence, ahead of Orange's 5.9 million, with the proposed move cranking up pressure on market leaders Vodacom (12.8 million) and Airtel (12.5 million).
81% of US households have a DVR, get Netflix, or use on-Demand (VOD) from a cable or telco provider, according to Leichtman Research Group.
30% of households are using two of the services, and 13% using all three.
The survey also found that 57% of households get a subscription video on-Demand (SVOD) service from Netflix, Amazon Prime, and/or Hulu. Overall, 48% of adults stream any of these services on a monthly basis.
Without a doubt, it is the next generation of entertainment.Content distribution will be simpler, with far greater flexibility.If Bollywood can realise it as their future revenue potential, then yes, it has arrived
With mobile becoming such a prevalent mode of content consumption, CBS announced a $5 million price tag for a 30-second spot-but there's a catch: For the first time, Super Bowl ads airing on TV will also stream online and on mobile at the same time.
IDC reported worldwide software-defined networking (SDN) market comprising of physical network infrastructure, virtualization/control software, SDN applications (including network and security services), and professional services to have a compound annual growth rate (CAGR) of 53.9% from 2014 to 2020 and will be worth nearly $12.5 billion in 2020.
Mobistar, which is 53% owned by Orange, is adopting the Orange brand in Belgium, and will start offering cable TV.
Before the end of March, the new Orange will start to offer cable TV and multiplay products in the country, making use of the Open Cable regulation in the country.
The operator has been testing the cable TV offer with some selected customers. Since the beginning of 2014, Mobistar has developed internet and TV services that are based on the cable television regulation of the cable market, making it possible for alterative operators to access the network of cable operators. After this first development phase, Mobistar tested its internet and TV offer with a hundred members of its own personnel during several months.
The IoT domain includes computing devices other than PCs, tablets and phones.
Cisco estimates that the IoT market will be worth $19 trillion over the next decade, representing a $1.7 trillion market for service providers.  
McKinsey estimates that IoT could have an impact of up to $6.2 trillion on the global economy by 2025.
The installed base for IoT devices is estimated to grow from around 10 billion connected devices today to as many as 30 billion devices (or 50 as per some estimates) by 2020.  While these estimates may vary, they are in agreement regarding the huge potential of the market.
Clearly there is a lot of growth potential for networking companies such as Cisco in addition to network infrastructure players and semiconductor companies.
And with software defined networking gaining steam, hardware for IoT is likely to eventually get commoditized. Accordingly, it makes sense for Cisco to make investments on the software side.
A cyber attack on TalkTalk in October cost the company as much as £80 million (€105m) but fewer customers than feared opted to end their subscriptions.
The numbers affected turned out to be far fewer than originally anticipated, with limited data stolen from approxiamtely 157,000 people, but the bad publicity did cause a spike in defections.
"We saw a big dip inevitably in early November and then the business started returning to normal through December and very much back to normal now," Chief Executive Dido Harding said.
A total of 101,000 customers left – nearly 3 per cent of the subscriber base. Bigger rivals Sky and BT benefitted from TalkTalk's problems, adding 144,000 and 130,000 broadband customers respectively in the last three months of 2015.
Five males aged between 15 and 20 were arrested for the cyber attack and freed pending further inquiries.
Viavi Solutions (NASDAQ: VIAV) today announced that Frontier Communications has selected Viavi's Ethernet Assurance Solution (EtherASSURE) for ongoing performance management, troubleshooting and service level agreement (SLA) management. EtherASSURE will help Frontier gain critical visibility into network performance to meet the demands of rising applications, increased connected devices, and a surge in mobile video, among other trends.
Frontier, which delivers high-quality broadband services to markets in 28 states, intends to deploy Viavi's EtherASSURE throughout its network to provide end-to-end services activation testing (SAT) and ongoing performance management (PM). EtherASSURE will enable Frontier to conduct remote critical test standards such as RFC 2544, helping to ensure a seamless experience for network traffic. Frontier will use Viavi's EtherASSURE solution to support ongoing quality services and two-way active measurement protocol (TWAMP) performance monitoring functionality.
EXFO's new MaxTester 635G test set provides technicians with a handheld solution to confidently install, turn up and maintain G.fast, VDSL2, and ADSL2+ deployments with a single test tool, enabling the verification of subscriber data rates of up to 1 Gbit/s.
Some more consolidation in the online measurement and analytics space: today comScore has announced that it has closed its $767.7 million deal to acquire Rentrak in an all-stock deal that brings together Rentrak's TV and cinema audience tracking business with comScore's business covering Internet and mobile audiences to better compete against the likes of Nielsen.
The deal was first announced in September 2015, and in the wake of the news, comScore also sold another division, its Digital Analytix business, to Adobe as it continued to streamline its operations.
The two companies will operate under the comScore brand.
Korea Telecom (KT) has chosen Ericsson's AVP 400-MPEG-4 HD system encoders to deliver its content.
The encoders will enable 20 new HD channels over the next three years, designed to offer superior picture quality and lower transmission delay.
According to a report in Research and Markets, service provider SDN and NFV investments will grow at a CAGR of 54 percent between 2015 and 2020, accounting for over $20 billion in revenue in 2020.
At present, virtualized EPC/mobile core, IMS and policy control platforms represent over 70 percent of all VNF (Virtual Network Function) software investments.
Investments on orchestration platforms will account for nearly $2 billion in revenue by the end of 2020, representing more than 9 percent of all service provider SDN and NFV spending.
Jan. 21st 2016: Point Topic – IPTV winners and losers – Q3 2015 IPTV figures
Global IPTV subscriptions reached 128m, with their growth recovering this quarter.
After a temporary slowdown Spain's Telefonica recovered its IPTV growth, adding more than a third of a million subscribers in Q3 2015.
AT&T saw their IPTV subscribers decline 1.5% quarter on quarter due to focus on satellite TV services which they acquired recently.
The number of IPTV subscribers has caught up with that of cable TV customers in Slovenia.
Netflix has just tripled their presence to more than 190 countries including India and Russia, changing the IPTV competitive landscape globally.
Catch-up TV requests in France saw a 26.8 per cent growth over one year and 432.1 million videos were requested last September, after a peak in May of 438.8 million.
The deal involved 0.55 of a new Nokia share for every Alcatel-Lucent share, in an all-share transaction valuing Alcatel-Lucent at EUR 15.6 billion on a 'fully-diluted basis' – just over A$21.75 billion.
"Nokia and Alcatel-Lucent legal entities are now affiliates of each other. As defined in the agreement that you currently have with us, those affiliates are hereinafter known as the 'Nokia Group of Companies'," the letter says.
French telecommunications company, Orange S.A, is set to expand its footprints in Africa following the acquisition of Bharti Airtel's subsidiaries in Burkina Faso and Sierra Leone in an acquisition estimated to be worth $800-$900 million. This comes two days after Orange S.A acquired Cellcom Telecommunications; Liberia's leading mobile operator
The global shipments of pay-TV set-top boxes increased slightly to 253.1 million in 2015, up from 248.6 million in 2014, thanks to growth of pay-TV services in China and India, according to SNL Kagan.
Shipments of cable set-tops remained flat at around 75 million, SNL Kagan said, with much of the global cable market "approaching saturation."
SNL Kagan predicted that by 2019, pay-TV set-top revenue will come in at around $14.55 billion, down from $17.5 billion in 2015.
What compels telcos to adapt to changing times?
Consumers care about experience
Analytics to guide in consumer psychographics and solutions
Technological Advancements
Blending Dichotomies
Increasing Competition allowing customers have a wider choice
Sustainability of Business Model
One of the takeaways for the ad business from the just-finished CES is that the mobile screen will continue to gain share in 2016.
About 30% of smartphone owners in North America watch full-length TV shows on their phones, while 20% watch full-length movies
As a whole, mobile ad revenue is slated to rise by an annual compound growth rate of 26.5% through 2020, with U.S. digital video ad revenue is growing at 21.9% through that same time frame
Also, 78% of the U.S. population now subscribes to at least one streaming VOD service
Telecom Services – These are the cloud services (mostly custom-built today) that leverage network data and are attractive because they make money, are easily deployed, are customer-sticky, and cannot be easily knocked off by OTTs.
Function Virtualization & Orchestration – Delivers cloud services across an open orchestrated interface that gives us better cost savings, speed, and control over hardware choices, software changes, function vendors selected, and how software components are deployed and configured.
Lifecycle Service Orchestration (LSO) – Provisions and assures services across diverse legacy networks, virtual functions, and network management (OSS) systems, especially in multi-vendor, multi-technology domains.
Network Policy & Commercial Orchestration — Maximizes revenue or profit from complex, diverse networks, allowing us to differentiate services based on customer value.
A third of UK broadband households subscribed to an over-the-top (OTT) video service as of the third quarter of 2015, according to Parks Associates.
Parks Associates: OTT and Premium Movie Channel Subscriptions in Western Europe
Consumer in Europe study claims that nearly 20% of UK broadband households have recently used a Netflix-style service, despite the availability of free OTT catch-up options.
However, Parks claims that "overall OTT video usage in the UK favours broadcasters" with the BBC's iPlayer, ITV Player, All 4 and Demand5 among the most popular OTT video sources in the UK.
"New OTT video market entrants, especially those with paid services, will have to provide unique value in order to make substantial gains. However, the demand for interesting content is strong enough that there are market opportunities for new OTT video players," said Parks Associates director of research, Brett Sappington.
The research claims that just 15% of pay TV households in the UK subscribe to premium movie channels, though 32% of pay TV homes subscribe to a premium sports package.
Some 54% of pay TV subscribers in the UK are with Sky, according to the research, while Virgin Media and Sky combined account for 80% of the market.
Clive Selley is to be the new CEO of Openreach, BT's local access network business
Selley, currently CEO of BT Technology, Service and Operations (BT TSO) will replace Joe Garner, who is leaving to become CEO of Nationwide Building Society. The handover will take place this quarter.
LTE Broadcasting will be part of 5G, but is already ubiquitous. Equipment manufactures, RAN vendors, modem and end-user mobile devices makers all have LTE Broadcast projects. Verizon Go90 service launched just last week is a great example. There are already 10 device models being supported.
On Track to Reach 53 Exabytes per Month Worldwide in 2020
With the majority of mobile traffic either originating or terminating indoors today, Wi-Fi is now a robust access technology for mobile data offload.
In 2015, Wi-Fi offload traffic from mobile devices continued to exceed 4G mobile traffic, and, by 2018, Wi-Fi traffic is set to exceed all 2G, 3G and 4G cellular traffic combined.
In a recent market study, ABI Research, the leader in technology market intelligence, forecasts that rapidly increasing adoption of 4G and Wi-Fi will drive monthly in-building traffic to 53 exabytes per month by 2020.
Virtual CPEs will redefine managed services delivery
Emerging smart city ecosystem will open new avenues for service providers
Tomorrow's network is all about software
Security will evolve for the 'Web-Scale' world
Submarine networks will focus on capacity utilization
Manitoba Telecom Services Inc. (MTS) and U.S.-based Zayo Group Holdings Inc. announced today that the sale of Allstream Inc. is close to completion
Deploy software-defined networking for greater agility.
Automate processes for better control and security.
Adhere to open standards for cost-effective innovation.
Use analytics to address the needs of users.
Ensure high performance and scalability to accommodate growing needs.
AT&T says it has replaced nearly half of the software in its vast operations with open-source software-defined networking (SDN) code.
Donovan said there are now "millions" of AT&T wireless subscribers connected to virtualized network services – for example, many will be relying on the so-called AT&T Integrated Cloud (AIC), which is based on OpenStack.
The US telco ended 2015 with AIC deployed to 74 of its locations around the world, and has more than 275 businesses using it, we're told. AT&T's internal tools and the customer-facing applications share the same code in the cloud.
New data from Synergy Research Group shows that across six key cloud services and infrastructure market segments, operator and vendor revenues for the four quarters ending September reached $110 billion, having grown by 28% on an annualized basis.
Public IaaS/PaaS services had the highest growth rate at 51%, followed by private & hybrid cloud infrastructure services at 45%, but all of the segments grew by at least 16%.
Spend on infrastructure hardware and software still outpaces spend on cloud services, but the gap is narrowing rapidly.
Companies that featured the most prominently among the market segment leaders are Cisco, HPE, Amazon/AWS, Microsoft, IBM and Salesforce.
Stamford-based Tru Optik launched an "audience monetization platform" to measure viewership and participation for "over the top" (OTT) programming that bypasses cable TV networks.
The company says over-the-top ad and subscription fees are estimated to top $50 billion by 2020 for streaming video services from providers like Amazon Prime, Hulu and Netflix.
Containers will become a key technology component in any NFV platform
"NFV" and "SDN" will be top skillsets among telecom job seekers
The first (limited) production deployments based on OPNFV technology will go live.
OPNFV will attract its first non-telecom end user member
Higher-profile NFV-related service outages will occur, signaling a turning point in adoption
Combining quality and deliverability, Conviva and Adobe Primetime create an unparalleled standard for OTT platforms
Network function virtualization (NFV) is another trend that will see uptake in the year ahead — and may drive down the costs of cloud even further.
Other tech areas that will define the year ahead include 5G wireless, nonvolatile memory, which enables cheaper data storage and reduced power consumption, data science, and advanced machine learning
Orange has more than 260 million subscribers worldwide, including 28 million in France. Bouygues Telecom has 14 million customers, all in France.
ARRIS International plc (NASDAQ: ARRS), the new parent company of ARRIS Group, Inc., today completed its $2.1B (£1.4B) acquisition of Pace plc – combining the two companies' strengths in entertainment and communications delivery.
Big Data is useful not just for its scale but also for its real-time and high-frequency nature that enables real-time testing of business strategies.

Optimise Operations
React faster
Improve the quality of services
Deliver relevant, focussed customer communications
onetising user profile data will gain traction, despite the growing debate over reverse-engineering capabilities
OTTs strike again: Enterprises will move to OTT for cheaper, richer engagement with customers and employees
Mobile operators will accept e-SIM as inevitable, but will add software locks to limit switching between networks
IoT vulnerabilities will raise business risks, stalling progress under the pressure of headline-grabbing security breaches
From Ravi Chittimoori, senior manager, Product Line Management, NETSCOUT's Service Provider Business Unit
The acquisition adds an 8,400 kilometer fiber network across eight countries to Zayo's European footprint, including 12 new metro networks, seven data centers and connectivity to 81 on-net buildings. The Viatel businesses to be acquired are highly aligned with Zayo's existing product and customer set, including a higher proportion of dark fiber revenue.
HP acquires Aruba Networks
Cisco acquires Lancope and OpenDNS
Nokia acquires Alcatel-Lucent
Cisco acquires Embrane
HP acquires ConteXtream
After a decade of subscriber losses, things are turning around. But will they keep growing?
Cisco predicts the global IoT market wily 2022.l be $14.4T b

IC Insights predicts revenue from Industrial Internet IoT spending will increase from $6.4B in 2012 to $12.4B in 2015.

IoT in manufacturing market size is estimated to grow from $4.11B in 2015 to $13.49B by 2020, attaining a CAGR of 26.9%.
A board that understands the challenges posed by IoT
A budget to build localised sites
Data centre infrastructure management (DCIM), SDN & NFV as a right
Make the data centre 'greener'
A more social-aware hub
A scalable and flexible colo business
More qualified people
Better networks and connectivity
IT and infrastructure divisions coming together
Open standards on availability
Enhanced phone hardware
Fibre to the premises
Video conferencing equipment
VoIP
Network analytics
Network security
software-defined network
Network functions virtualisation
More flexible contracts
Regulatory outcomes
Nascent digital media firm Arré has bought Hyderabad-based over-the-top (OTT) video delivery company Apalya Technologies, in a cash deal.
Altice has completed the acquisition of 70% of the share capital of US cable operator Suddenlink.
Global SVOD (subscription video on demand) is on track to end the year of 2015 with a growth spurt of 42 million new subscribers across 200 countries taking global subscriptions to 161 million.
If NFV succeeds, so does carrier cloud

NFV and SDN challenge traditional switching and routing
The telecoms giant is battling to deliver 'quad play' in Britain
The year for monetizing video (finally)
Encrypted traffic levels will grow and become "the norm"
Mobile Edge Computing gains momentum 
Continuous innovation in mobile optimization
More sports, more mobile opportunities 
Netflix will increase its share of OTT video service users to 71.7% in 2019
Big data analytics driven by the network:
OpenDaylight-based production
SDN in new markets
Cradlepoint, a network solutions provider specializing in software-defined 4G LTE offerings, has acquired software-defined networking and network as a service provider Pertino for an undisclosed sum.
Quality of experience is the single core element of an Over-The-Top (OTT) business that can be fully controlled and optimized. Failing to plan for viewer experience management is as good as planning to fail.
Video Quality Pioneer Successfully Completes Industry's First NFV Interoperability Test
2016 is the year of the northbound interface
Open source will be commercialized
Service provider adoption of SDN expands worldwide
The combination of SDN and network functions virtualization becomes widespread
SDN and NFV help drive 5G
Visualizes end-to-end connection quality for SDN operation & maintenanc
Container-Based Micro-Services Will Emerge
Virtual CPEs Will Redefine Managed Services Delivery
Telecoms Will Continue to Look for Ways to Offset OTT Challenges
Converged Infrastructures Will Make Cities Smarter
Assured Networks Will Help Bolster India's Defense Network
Number of Connected Audio-Visual Devices Globally (Graphic: Business Wire)